The signs of the times are all written in the stars. Using the program called Stellarium, you can track what is happening during this incredible time period. I find it really amazing!
I first saw this through Freedom Force Battalion and was so fascinated that decided to download the program myself. Melissa is very studied up in the Word of God and very excited about the times we are living in.
Go ahead and watch Jupiter (Jesus) defeating Saturn (Satan)…
Update 5th Nov 2020 – I have always wondered why my dates for when Jupiter catches and crushes Saturn was a day or so later that others. They say it's the 21st November. Just recently I realised it was because I am on EST Australia and the others live in the States. We always have to wait until the other side of the world tries to catch up… not that they ever do, of-course! So sometime between 21-23rd December, depending upon where you live, this event will happen.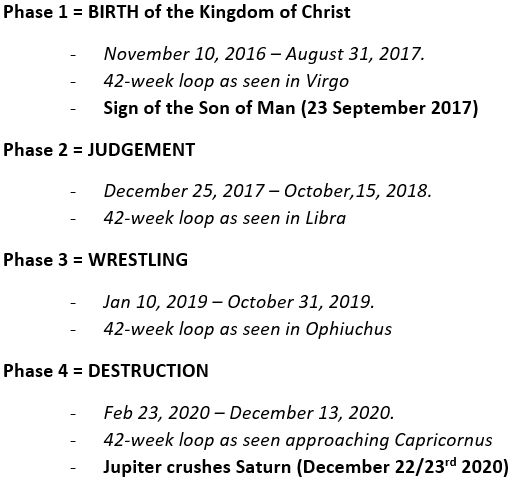 Watch for the Sign of the Son of Man… it's all written in the stars!
It happened on the 23rd September, 2017
"There appeared a great wonder in heaven; a woman clothed with the sun, and the moon under her feet, and upon her head a crown of twelve stars. And she being with child cried, travailing in birth, and pained to be delivered." Revelations 12:1-2.
"Then there shall appear the sign of the Son of Man in heaven; and then shall all the tribes of the earth mourn, and they shall see the Son of Man coming in the clouds of heaven with power and great glory." Matthew 24:30
The Sign of the Son of Man was part of the beginning for the four phases that we are experiencing right at this present time. Three phases are over and we're currently moving through the fourth phase.
As you watch towards the end of the video, you will see how Saturn appears to be chasing Jupiter for a time. This was during the time period of May 2020 to beginning of October 2020.
I've not heard anyone speak of this, but to me it means a time when Satan will be pulling out all the stops! He will be fighting with all he's got, as he knows his time is near.
Red October
We have been warned about October… it's known as Red October. It's during this time that the ride could become a little bumpy with a lot of things taking place. Maybe even into November, it could be particularly difficult as Saturn runs for it's life with Jupiter hot on its heals. Especially so for those enduring lock-downs etc.
In all, it could be quite a difficult period for us. So it's a time to stay focused. Focus on the fact that the New World Order is being defeated. Once and for all. What great joy will greet us on the other side.