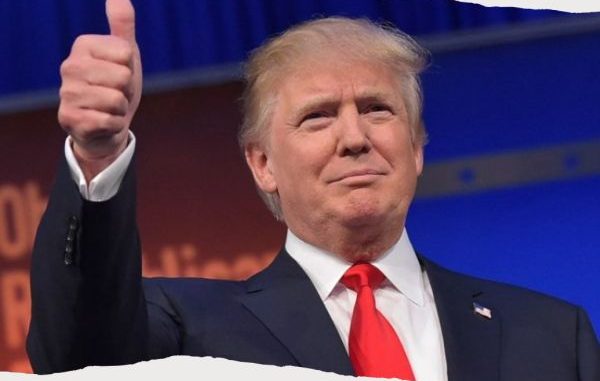 When people hear news that Trump is to be arrested, many say, oh no… that could never happen! Others, on the other hand, can't wait as they believe he really deserves it. It's so sad.
Read what Ricardo Bosi says in his explanation as to why…
~Begin Transcript~
Many of you have heard that Donald Trump is about to be arrested. The first question is… why would this be telegraphed to the world?
There is a reason for that… they want people to watch!
But why is Trump going to be arrested?
Let me answer it this way… you've heard of predictive programming. You know that they've been showing us movies for years so that when it actually happens in reality there is no surprise.
This is called predictive programming.
Go back a little while, remember when Mara Largo estate was raided by the FBI. There was shock, horror, how dare they! You shouldn't do this!
You see, the first time anything happens, people get very agitated and very exercised over it.
But the purpose of that was… (it was a setup too. You are watching a show! Please go get your soft drink and your popcorn and watch the show.)
The reason they did that to Trump (it was all set up), was then they can target Biden and go through his stuff. So when they went through Biden's papers there was no surprise and shock for the people. Psychologically, they had already watched Trump get raided. They say, well if Trump got raided, fair enough if they want to investigate Biden and go through his papers, no problem.
The same thing is happening now. Work it out for yourself… see if you can put the last piece into place!
Trump's about to be arrested… why?
It's in order to begin the arrest of the others!
See how it works?
The guy actually being arrested won't be Trump… he's a double. That's all part of the game too.
But they have to arrest Trump so that the normies out there will go through the shock, horror, oh my god it's terrible. It's over what? Stormy Daniels? Please!
They get that psychological shock out of the way and then when Biden gets arrested they go 'oh yeah, that's fair enough… they arrested Trump last month, so they can arrest Biden this month!'
And Obama… and Clinton… and Pelosi… and all of them. The arrests are starting. That's what they're trying to show you.
That's why Trump is being arrested.
~End Transcript~
After all, you cannot indict a sitting President!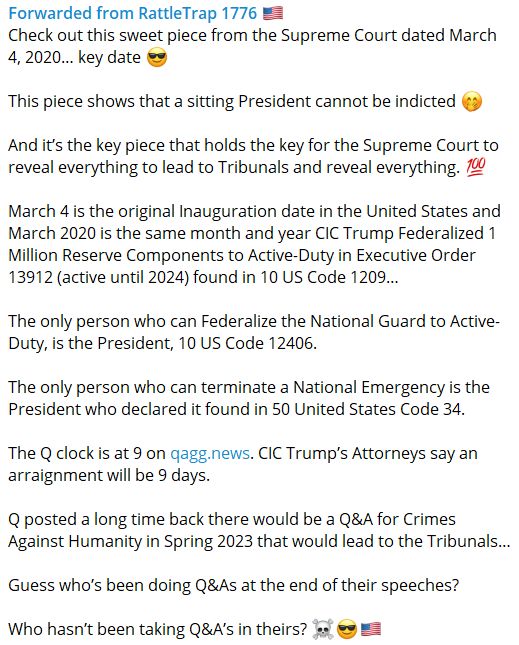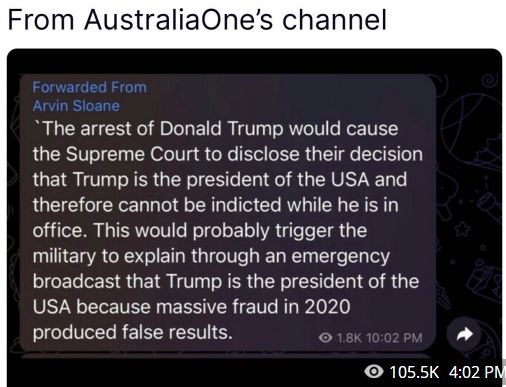 No matter which way you look at this, it's quite exciting! How long we have been waiting for this action to take place!
So, these explanations above help us to comprehend why Trump is being arrested. Let's now, we watch to see. Yes!