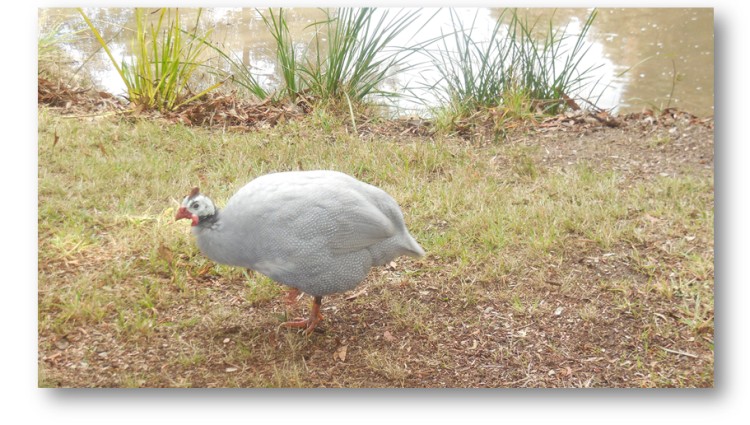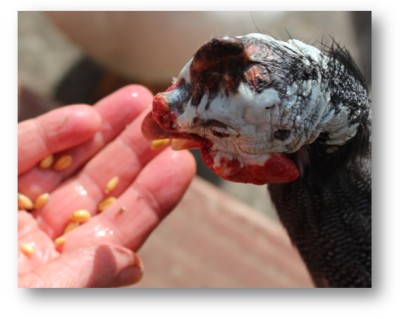 Want to know what it's really like to care for these unique birds and have them running around on your own property?
Care Guinea Fowl Facts – Part 3 brings to you stories to help you understand how unique these birds really are.  They're fun and very entertaining.
How to Raise Guinea Fowl Keets (up to 8 weeks old)
Care for Guinea Fowl Facts – Part 2 (facts and features)
Care for Guinea Fowl Facts – Part 3 (facts and stories) – this page!
I've given many facts about Guinea Fowl in general, but now I'd like to share some entertaining stories with you:
Help!  Come and Get Me!
This morning my husband and I were in the lounge having a cuppa. As we were relaxing, we could hear the keets chortling… loudly. I mentioned to Selwyn how they really only make that kind of a noise when there is something wrong, so I went outside to investigate.
I saw the problem almost immediately. Two of them were outside the fence, and crying to come back in with the others.
The other 5 keets were all chortling in alarm. Three of them were up on our verandah railing, while the other 2 were running around most agitated. I'm quite sure they were calling for us to come and rescue the two that were outside.
Now, these keets have all 3.5 acres to roam on… and they use it all, although they have their favourite places. But, sometimes when they are alarmed they take to the wing as a group, chortling in alarm as they go. The problem is this… when they're on the ground they recognise the fence as the boundary of their territory, and for them to be outside of that area is unfamiliar and very scary. The boundary fences are certainly not bird proof at all as we only have normal farm fences, say 1 metre high, that's all.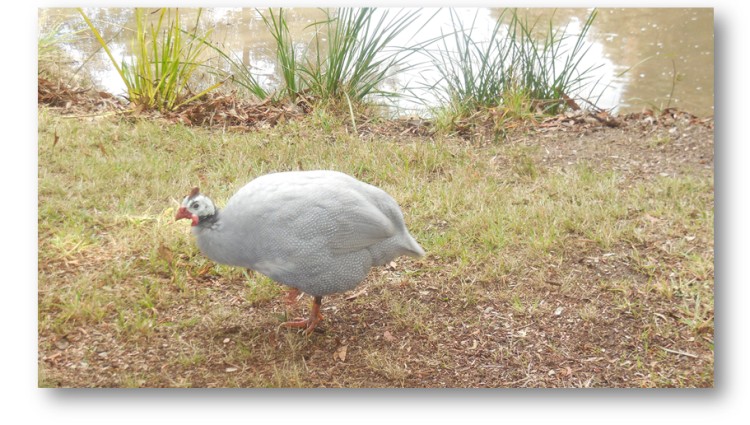 You need to understand that Keets are perfect flyers. They were flying by 2 weeks of age, and have the ability to fly wherever they want… and as high as they want. They have decent wings for the size of them, and even when they give their wings a flap, like stretching, they lift off the ground. It would be so easy for them to go up, up and away into the wild blue yonder… but they don't want to. They know where home is and that's where they want to be.
But, when they become alarmed and take to the air, from there they don't recognise the fence line… it's confusing. As they land, some of them can mistakenly land on the other side of the fence. This doesn't happen very often, but it's happened a few times.
Once on the other side, they run up and down calling out and peering through the fence as they can't work out how to get back again. They so easily flew over, but once on the ground they look through the fence and have no idea how to get back over it. Hmm… what's that I hear about "bird brain"?
So I grabbed a broom and went over to help them back inside. I use the broom like a long arm to stop them running up and down. Usually when I close in on them they fly up the fence and over… as simple as that.
But this morning I managed to get one of them to go back over this way, while the other one was a bit more obstinate. I chased him up and down until finally he ran around the front and came back in via our gate. I think it was the same bird I have trouble with most nights when I'm putting them to bed, as there is one bird who just runs here and there and won't go in the pen. If I close the gate to the pen he complains… "Oh I can't get in!" So I open it and he says, "I'm not going in there!"
I think he enjoys being a challenge – you know – there has to be one in the group! All the others go straight in as they want their dinner.
Keets are very fast runners. They remind me of the Roadrunner! Actually they look like mini emus when they run with their head held high and very upright.
Once I read online where someone said that once the keets reach 6 months old, if they give their alarm call (this is what I call chortling), you can virtually guarantee there is something wrong. I've found this to be pretty true, although some seem to be a false alarm.  Hard to tell because sometimes you have no idea what got them going.
Hawk!  Alert everyone, Hawk!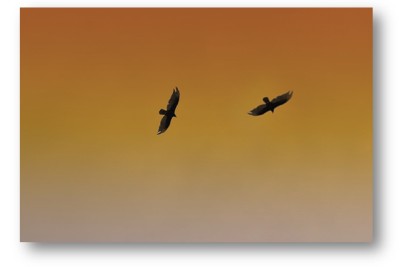 About a week ago, Selwyn and I just happened to be sitting on the deck, once again cuppa in hand. The keets and chooks were all under the deck where they sometimes like to indulge in a dust bath in the dry soil.
As they were bathing and preening themselves, they were chirping quietly to each other, I happened to mention how much I loved to hear that gentle contented sound they make… when all of a sudden, one of them ran out and began to chortle.
Next they were all out, chortling loudly.
Knowing there is usually a jolly good reason for this we looked around and then to the sky. Sure enough there were 2 hawks circling high above. The keets were most upset about this, but rather than stay nice and quiet under the deck and therefore in safety, they ran out into the open to challenge the hawks.
Eventually the hawks gave up as I guess they saw us staring up at them too, so off they went.
Who's that?  Go away!  Go Away!
Another day, our next door neighbour's young girl was nearby our dividing fence and calling out to her mother. This was unusual as it's normally pretty quiet over there. The keets immediately ran to the line of trees on our side of the fence and chortled loudly at the girl. She responded by clapping her hands and calling to them to be quiet. They only chortled louder! She eventually went away, so they stopped. Peace reigned!
What are you doing?  What's all that noise?
You really can do anything you like on the property and it won't upset the keets. They are quite happy with noisy motors such as the ride-on mower. It doesn't bother them AT ALL! Too much so, in fact. Instead of running from it, they will often run over wanting to know what you are doing, and why. This habit of theirs is a little annoying with the cars. As there is nothing to stop them from getting on the driveway, we always have to make sure they are out of the way when taking the car out. They have no road sense. They seem to have complete faith that you wouldn't do anything to hurt them and are not afraid of any "normal sounds".
xxx

A short version of the 'Chortle"
Watch dogs!
In fact, they are interested in everything and seem to be afraid of very little. There is a laneway down one side of our property and we've observed that when people walk down it, especially if they have a dog, the keets will run up to the fence and chortle loudly at them. It's like they are prepared to challenge everything.
Hard Workers – a foraging we will go!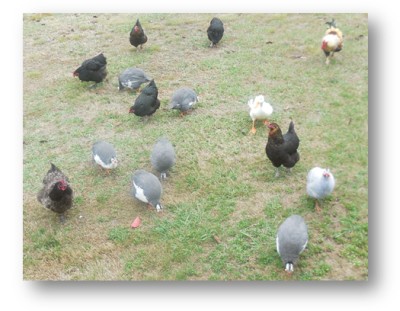 One of the reasons I wanted to have these birds was because I had read they were marvellous for keeping down insects, ticks and even snakes. Now I liked that! Here in Tasmania we have only 3 kinds of snakes… all of them poisonous.
Apparently these brave little birds will challenge a snake and drive it off the property. In fact, I've even heard that if they can corner it they will kill it. They do this by using their numbers against the snake, as they work as a group. But thankfully, to this day I've not seen a snake around anywhere and would like to think that will continue.
The keets will scratch around a bit in the garden but we've found the main reason to be to have a nice dust bath.  They love that with a passion!  But the soil has to be dry and powdery to attract that type of attention.
They spend all day grazing on the grass and looking for tasty treats, so much so that it's not totally necessary to feed them any additional feed.  We do though, not a lot… but just something to look forward to and encourage them back into the enclosure to roost.
Wild Birds at Heart – Don't Fence Me In!
These birds originated in South Africa and are still in essence a wild bird. They've not been bred and 'improved' in the same way chooks (chickens) have and to all intents and purposes the keets are still wild. But I have tamed them to a degree… not as much as I would have liked to but I didn't handle them sufficiently enough when they were growing up. Never-the-less they like to follow me wherever I go and are always curious little creatures about everything I'm doing.
If you wanted to own your own Guinea Fowl you would need to live in an area where the neighbours don't complain about the noise. Fortunately our neighbours are far enough away and we have no problem that way. But they're country folk around here so I don't expect there would be too much problem… but you never know.
Apart from that they are wonderful, curious, fun to watch birds who are out there doing a good job on our property, keeping insects and whatever at bay. I wouldn't like to be without them.  They provide us with endless entertainment and really are quite unique little creatures.
I hope you've enjoyed this post – Care Guinea Fowl Facts – Part 3, and that you've learned much valuable information.  Don't forget to leave me with a comment or of-course, if you have any questions you'd like to ask, don't hesitate.  I will come back to you.
Warm regards,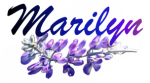 Marilyn Williams