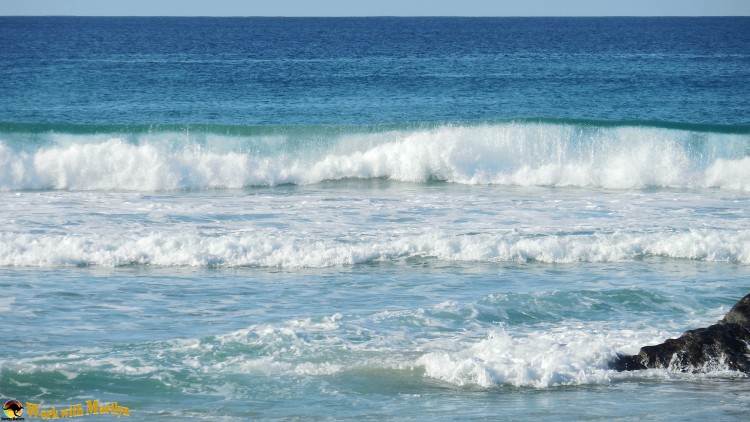 When you set off for a day trip somewhere, how far do you go?  Are you a little crazy like us and take off on a trip that really needs a couple of days to do?  Oh well, we were just wanting to "get on out there" so off we went!  Let me tell you about our quick trip to St Helens from Launceston in Tasmania.
xxx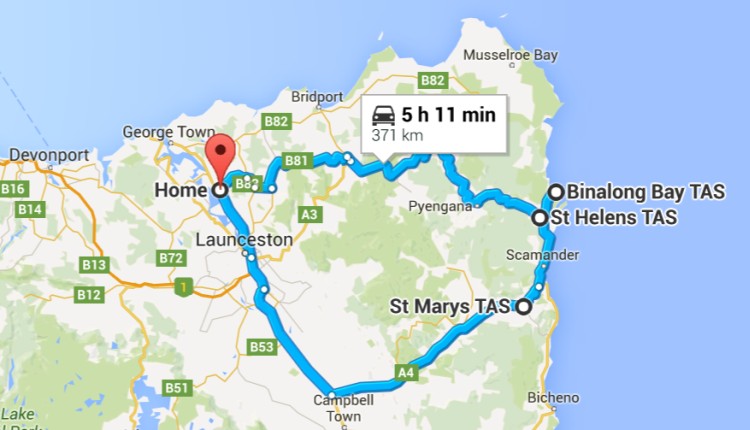 Here is the trip map of our journey. As you can see we made a round trip starting from home which is about 20 minutes north of Launceston.  We went clockwise and covered about 371 kilometres.  It took us longer than 5 hours 11 minutes as shown on the map as we had lots of photo stops.  Anyway, I'll walk you through our journey and give you a bit of an idea what you can see.
From our place there are two ways you can travel from Launceston to St Helens.  The way to the south is longer in kilometres but much easier travelling.  The way across the top is very windy as it snakes its way through the hills.
We were very happy we chose to go south first as once we got onto the other side of Launceston we ran smack bang into fog. We were a little surprised as we didn't get away from home all that early and it must have been at least 10.30.  Fortunately we could see our way through the fog without too much problem because it lasted on and off for an hour or so.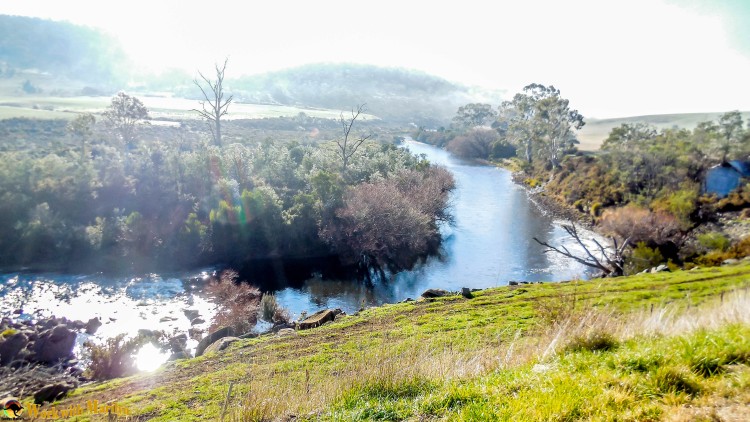 Although we couldn't see the surrounding hills and mountains for the fog, it still has its own kind of beauty. As we passed by the North Esk River which joins the Tamar River at Launceston, I just had to take a photo in all that swirling fog.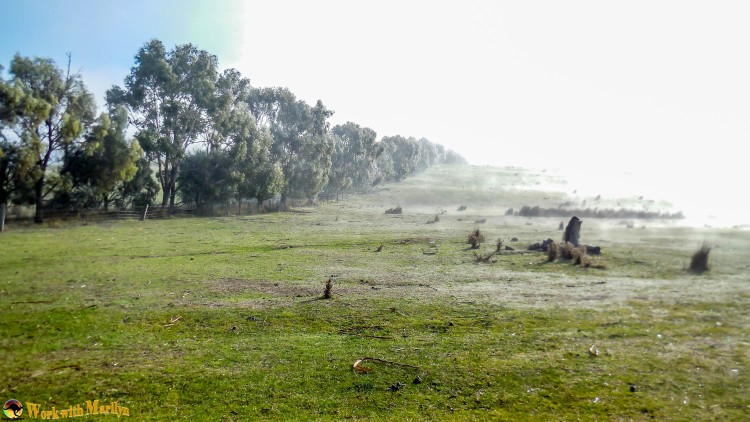 A little further on there was obvious frost on the ground and as I stood there I could hear the trees dripping quite loudly.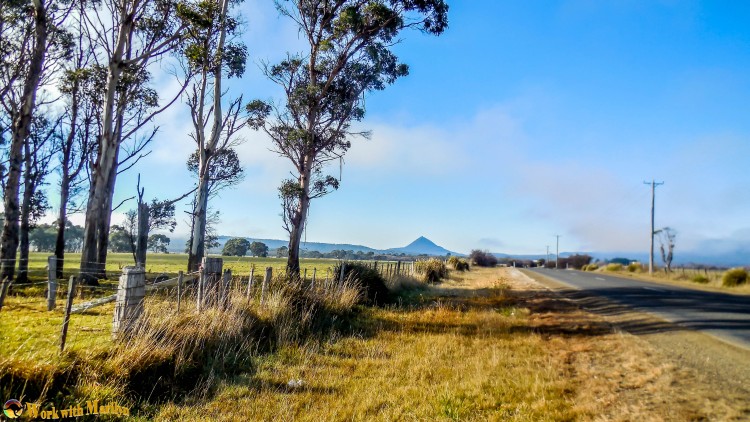 Still travelling east we could see this definite pyramid in the distance. As we approached closer it was gobbled up in fog but fortunately, after passing through St Marys, there it was again.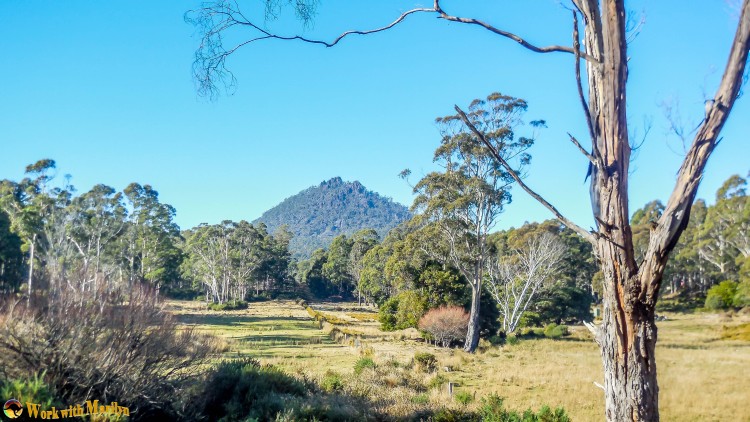 Doesn't look so much like a pyramid now but you could easily see the rocks on top.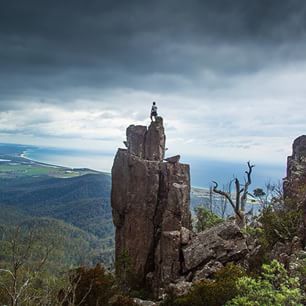 This is the top of the "pyramid" we saw.  It's called St Patrick's Head. We didn't have enough time to go check this out… another time.
Fun Historical Fact:
St Patrick's Head was named by Captain Tobias Furneaux way back in 1773 when Captain Cook was on his second journey around Australia. Nobody was interested in this corner of Tasmania, or Van Diemen's Land as it was called back then.
It was another 67 years before they began to build a station of probation to house 300 convicts near St Mary's. These guys had to build the road to the east coast, crossing the mountains which became St Mary's Pass. And what a road it is!
Before we knew it we were going down and through St Mary's Pass.  Unfortunately we couldn't find a single place to stop to take photos within risking another car running into us.  It's a shame really as I'd love to show it to you.  I've been on scarier, but it sure was interesting enough.  Narrow, winding, and a long way down over the edge!  You could see the ocean in the distance… East Coast, here we come!
Occasionally St Mary's Pass is closed for repairs which causes a lot of headaches for the local people.  It's hoped they can keep the closures to a very minimum otherwise St Mary's would be in jeopardy of becoming a ghost town.  But the pass is quite something to have to negotiate and slips and landslides do happen.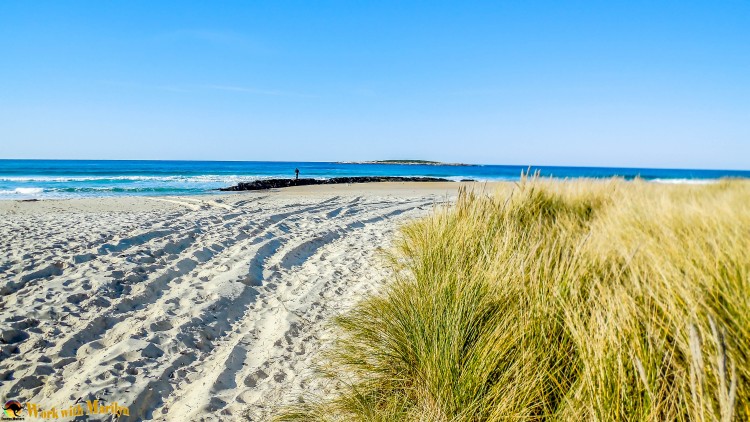 Taken near Scamander.  It was just so lovely.  The first thing you notice is how clean it is.  The water is crystal clear with the brilliant white sand stretching far into the distance.  The only person I saw was this lone fisherman on the rocks.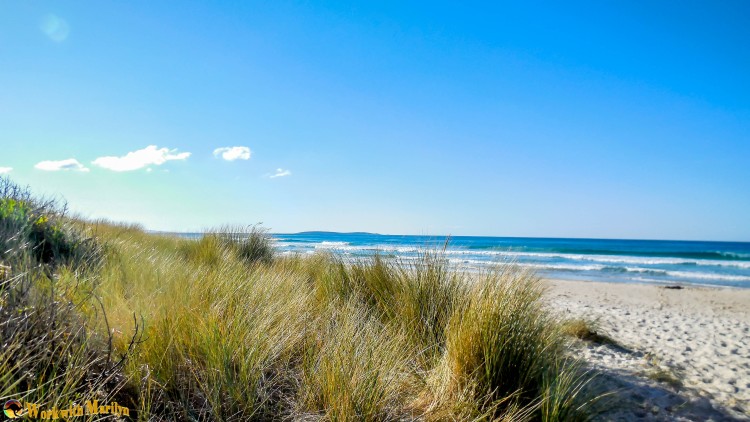 This is taken from the same spot looking up the beach. A couple of nice little islands out there.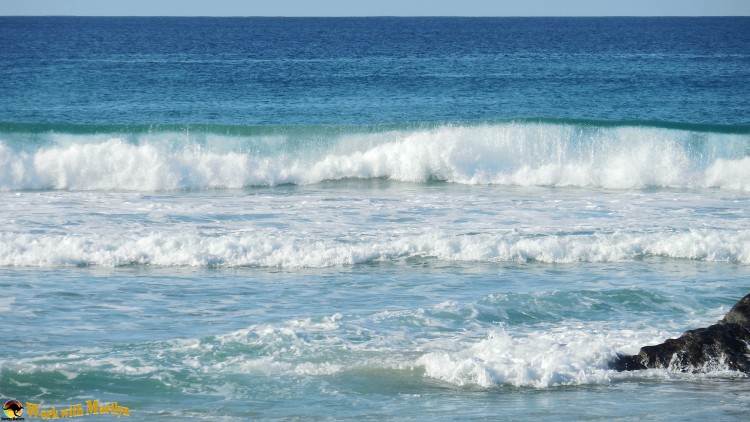 A close up of that gorgeous water… wonderful.
xxx
Here we are at St Helens, Tasmania's most remote town.  There's lots of saints around here… have you noticed?  Anyway, St Helens is situated on George's Bay (it's a wonder it's not St George!) where there's a lot of boats moored, both big and small as the harbour is very sheltered.
The East Coast is known for its warmer weather than most of Tassy and we noticed it almost immediately.  They call it the "Gold Coast" of Tasmania.  Far stretch from the Gold Coast in Queensland in just about every way, but never-the-less it's really a beautiful place.
Fun Historical Fact:
St Helen's was never a very important place until they discovered tin in the surrounding hills in the 1870's, then it became a very busy port. Today it feels like a "happening" place with all the modern conveniences you could expect.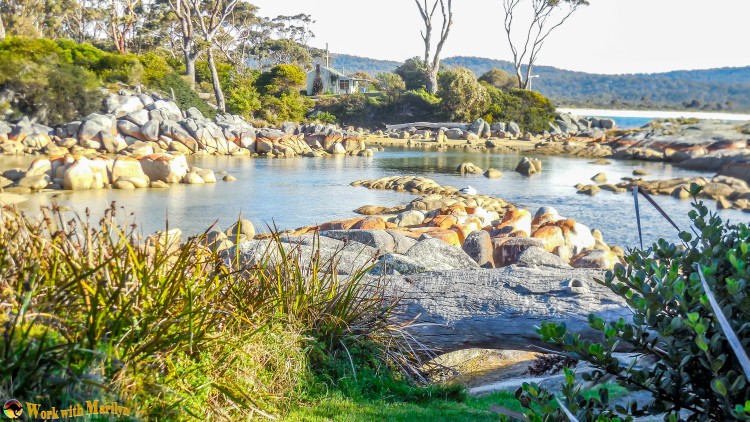 From St Helens we travelled out to Binalong Bay.  I have memories of this place when we visited here long ago.  Selwyn's cousin took us somewhere there to swim.  I've dreamed of it ever since!  I remember the big smooth rocks and the wonderful aqua water in the deep pools.  Well today it lived up to my expectation in its beauty.  Look at the little shack on the bluff all by itself!  Imagine the holidays spent there… fishing… relaxing.  Magic outlooks… secluded… it's someone's holiday home for sure.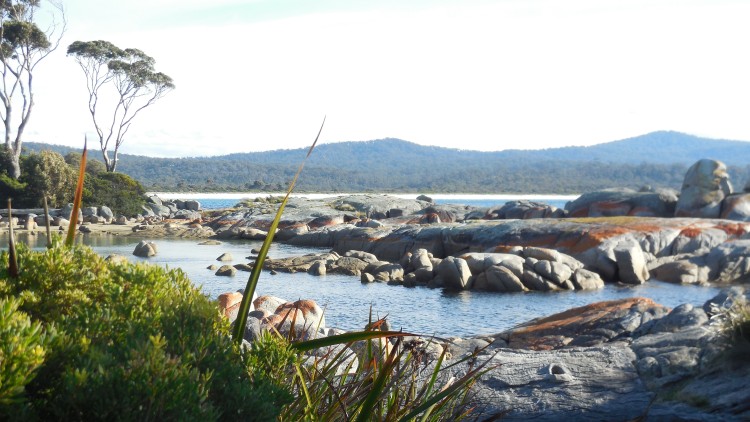 This area is known as the Bay of Fires.  Can you see the interesting colour on the granite rocks?  It's actually produced by a lichen.  This whole area is known for the blue colour of the water; the incredible white sand and the granite rocks with the orange coloured lichen.
This place started out as only a fishing hamlet but it's grown, mainly with holiday dwellings.  This place also comes with some history:
Fun Historical Fact:
Apparently when Captain Tobias Furneaux sailed past on his way to New Zealand, he could see little fires right along the coastline. Those fires were Aboriginal camp sites. Imagine what it was like back then… just Aborigines and nature!
Australia was originally claimed for Great Britain in 1770 and they began bringing the colonies into Sydney in 1778.  So along came the white man to Australia with all his trouble!  Kind of sad.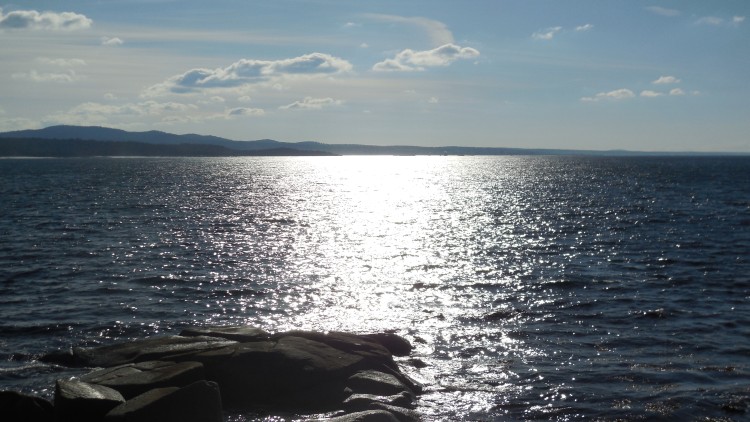 Taken from the same spot. Trent took one look at this photo and announced he wanted to sit on that very rock to go fishing!  We must take him there one day soon.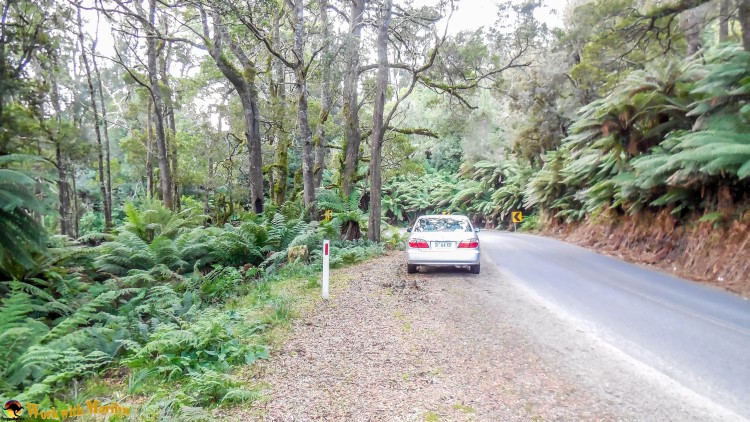 OK, the day was marching on so we had to make tracks homeward.  We travelled back to St Helens and headed north west.  The route through here was wonderful, but as I said before, I'm glad the fog had long gone.  Would have been tricky driving home with that.  Look at all the Tree Ferns… opps sorry, they call them Man Ferns down here.  Same difference.
I don't think this particular area sees too much sun judging by the amount of moss on the trees.  The dominant species of tree in that cool temperate rainforest is the myrtle-beech tree and as soon as I saw them I knew they were not something I was accustomed to seeing.  Apparently it's a Tasmanian tree, although there are a few of them in Victoria.  They can grow up to 50 metres tall and in excess of 500 years old.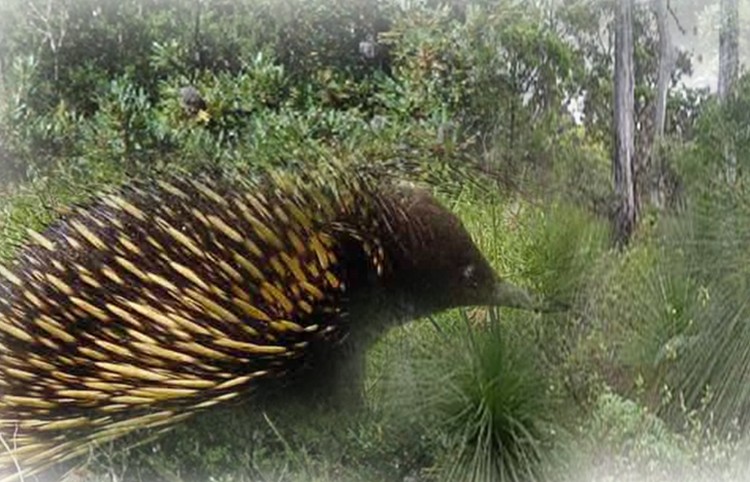 Just as we were leaving the rainforest behind and the bush started to open up we spotted an echidna.  It was so lovely to see, although we have seen them just outside our property. He was lolling along and disappeared into the scrub almost immediately.  Geez you've got to be quick! Photo is a little bit blurry in my hurry to bring him up really close… but I wanted to show you anyway. 🙂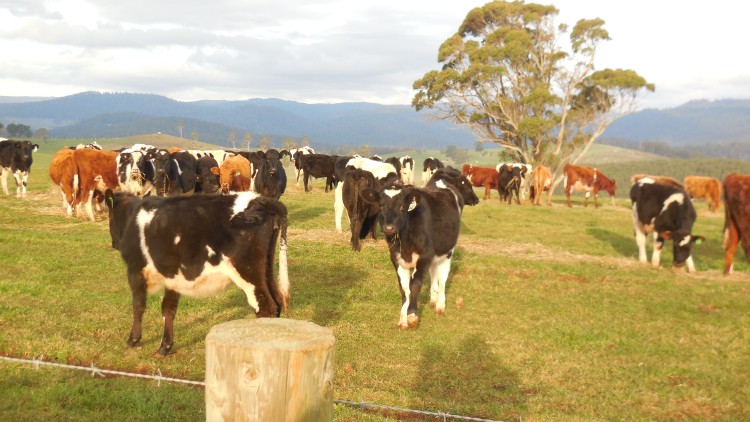 Finally we left the rainforests behind and the road opened up into some wonderful cattle country.  I'm a real sook when it comes to cattle and couldn't resist these gorgeous calves.  Here we are approaching Scottsdale which is well known for its rich soil surrounded by these lovely blue hills.  It was so pretty.  Scottsdale has a mild climate as well.  Lovely area.
See what I mean?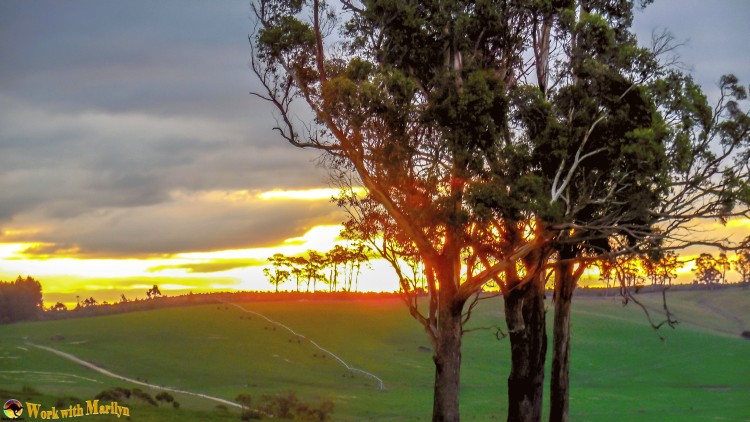 Oh well, still on the homeward journey while the sun is setting.  I told Selwyn this was the last photo!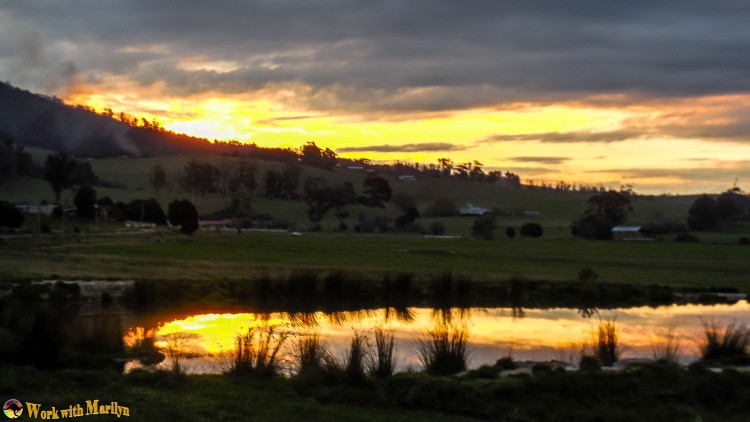 Opps, couldn't help myself!   As we whizzed past I caught a glimpse of the setting sun in this little dam.  Backed up and finally took "the last photo"!!!
So after travelling over 371 kilometres from Launceston to St Helens in a round trip, was it worth it?  Well, we really enjoyed the day, but come on… really… it was too far for one day!  Too far to take in everything we would have liked to have spent time with.  So decision made… we will do it again, but next time we'll stay over on the East Coast.  We'll take the morning to wander over, spend that afternoon and the next morning looking around, and then may be we'll drive home in the afternoon.  I guess we got a little carried away. 🙂
So do you want to come with us?  Next time we go to St Helens from Launceston, I hope we have you in the car with us.  How about it?
Warm regards,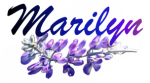 Marilyn Williams