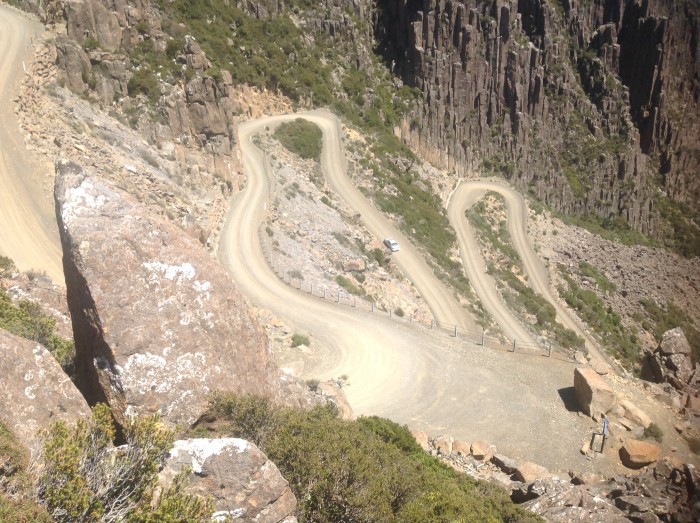 Are you ready to ascend the precipitous side of a high rocky mountain?
Want some scary stuff, with your adrenalin pumping…
bonk-a-bonk-a-bonk – your heart in overdrive?
Then stick with me!
It was a lovely clear day when we decided to go to
Ben Lomond Ski Resort.
xxx
It's only a day tour, in Tasmania, in fact it's less than 2 hours to the actual ski resort from where we live.  Ben Lomond from Launceston is only about an hour and a half at a leisurely pace.
Both my menfolk (husband and son) had the day off together and we wanted to do something as a family. What to do?
I piped up and suggested "How about going on a discovery tour to Ben Lomond?"
Oh OK, they said… so not long after we were off and away.
Now we knew nothing about what to expect or we might not have been so keen.  Don't know, as we really do love our little exploration trips… I guess we would have gone just because it was there and waiting for us.
So who's going to drive?  I said I would. So off we went.
xxx

The scenery as we approached the mountain was really lovely, rich and green with the deep blue mountains in the distance. We were feeling good, nice and secure, and enjoying each others company.
Finally we arrived at a big sign that told us we were entering into the Ben Lomond National Park. Cool – we're here already!  As we drove on by we caught some of the other words… what were they?… said something about Jacob's Ladder… heart conditions… beware!  Gosh, couldn't be that bad… don't worry about it.  We didn't really take the time to read, so confident were we!
xxx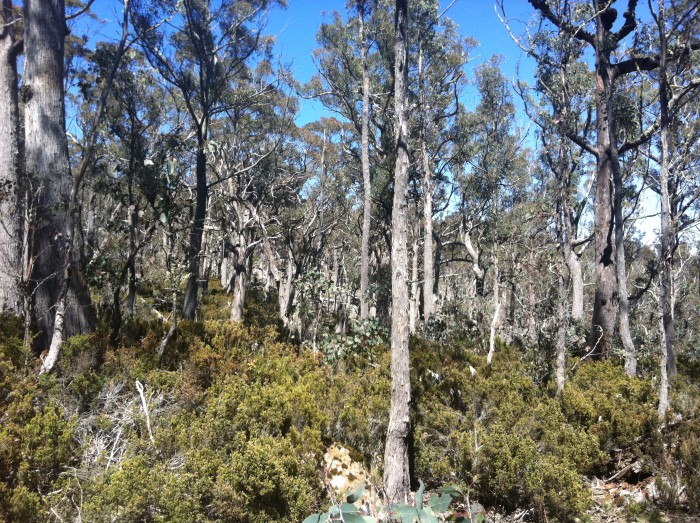 For some time we drove up through the eucalyptus forests going up, up, up!  Eventually the type of trees changed. I'm not sure what they were but they looked very scraggly as if they were used to having a hard time!  Hmm… snow country.
Finally we arrived at the entrance to the park and were required to leave $24 in an envelope. We ripped off the end of the form we had to fill in,  and that became our Park Pass, and needed to be displayed on the front dash of the car.  Our adventure continued.
xxx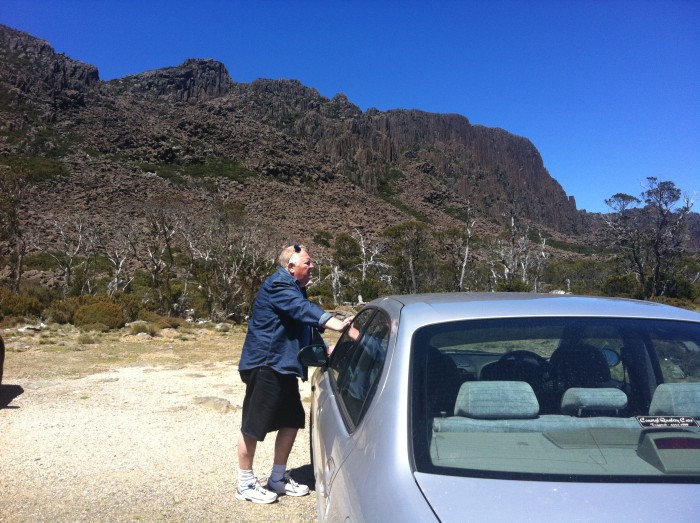 As we approached closer to the top of the mountain, high and imposing cliffs loomed over us. We found a car parking area and got out to take it all in. As I looked around I realized what I was looking at was very unusual for me. I don't believe I'd ever been anywhere else with a mountain top that looked quite like this one did.  Those rocks all seem to be pointing to the sky.  I wondered why.
xxx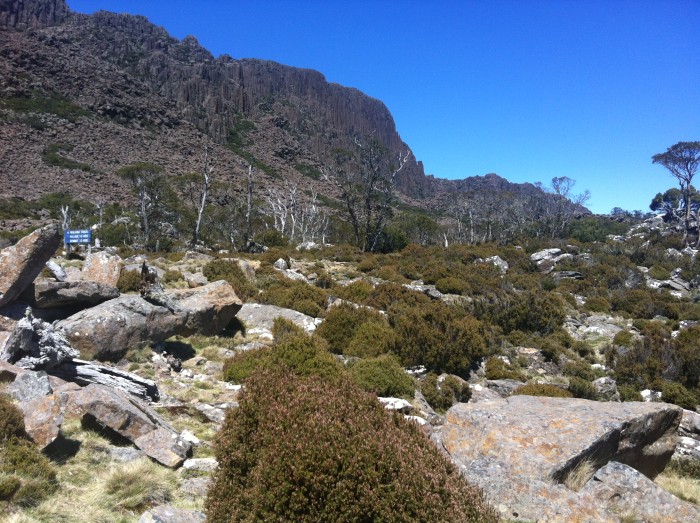 The cliffs were massive with all the columns of rock reaching for the sky. Since coming back home and doing some research on the mountains I discovered what I had been looking at was solidified lava called dolerite. Oh, an extinct volcano!  In Australia we can hardly even imagine a volcano but certainly at one time, as a country, we had an awful lot of them.  There's evidence everywhere.
xxx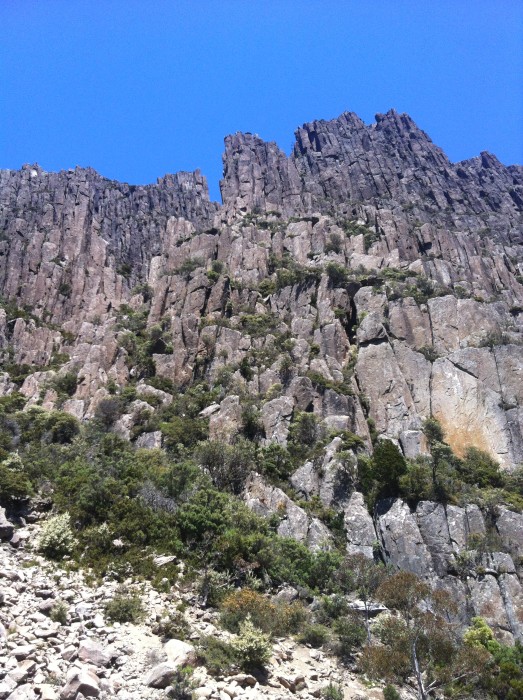 These dolerite cliffs looked like they were just stacks of rocks all sitting one of top of the other.  Nothing looked safe. I mean, the evidence of rock fall was all around me. Wow!
xxx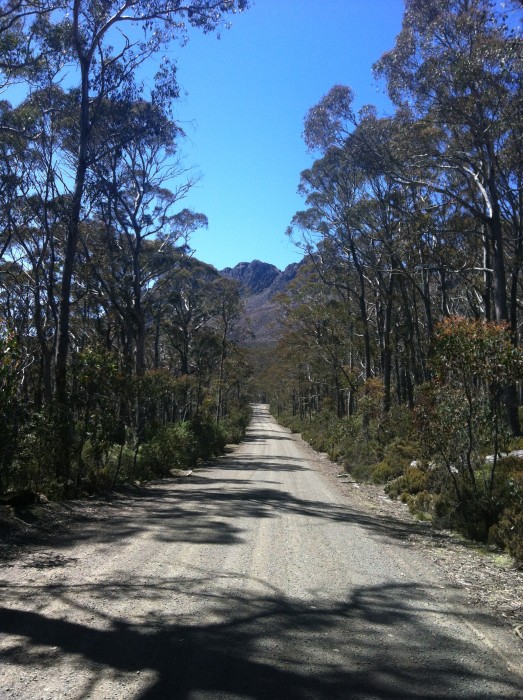 We continued on and as we were travelling down this particular part of the road I was reminded of my mother. My mum always loved to travel on dirt or gravel roads. She said they were the prettiest of them all. I'm sure she would have loved to have been travelling along here with us.
xxx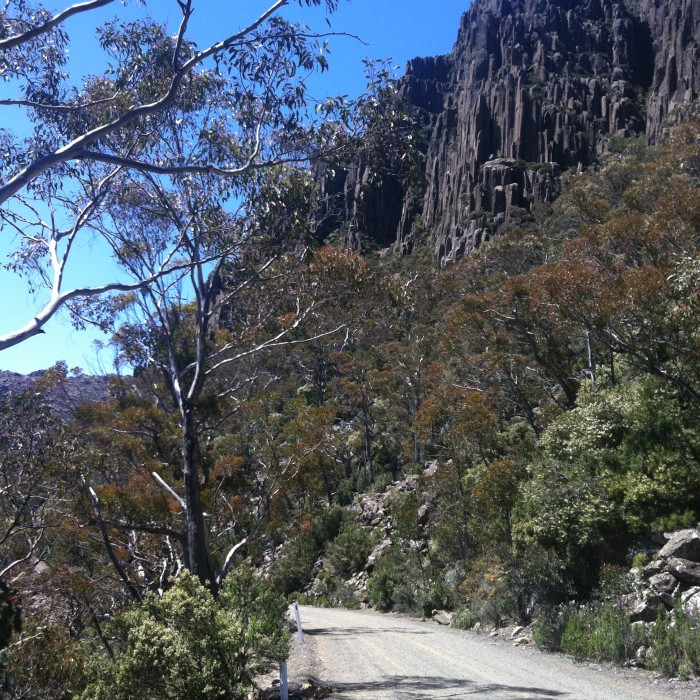 We came closer and closer to those precipitous cliffs and one couldn't help but be conscious that at any moment… ouch, better not go there!  Got a job to do and that's drive!
xxx
Here we go… Jacob's Ladder looms before us
xxx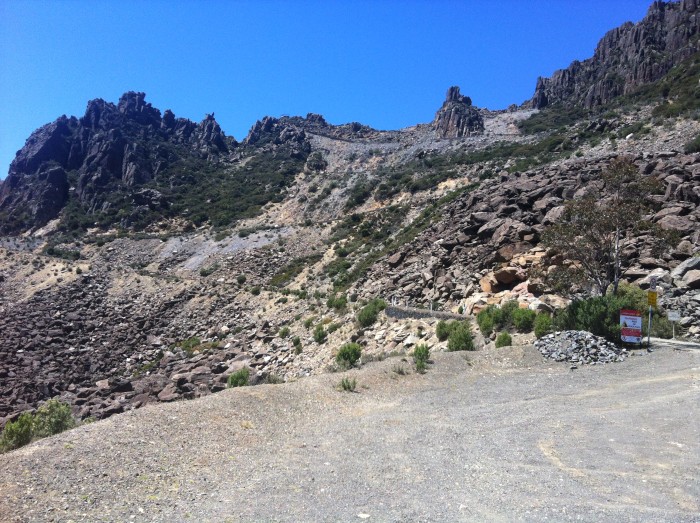 Finally the road opened up and there before us was the most amazing site! The road suddenly took an upwards turn far up into the sky. You mean, we've got to drive up there? Really? Never in my life had I driven on such a road. We had arrived at Jacob's Ladder.  Remember the warning that we didn't really read?  Heart conditions and all that type of thing?  Now I could see why.
Both Selwyn and Trent said they weren't going to go up that.  I got out of the car and videoed the surrounds while I thought more about it.  I looked up and thought… how can we come so far and not go to the top?  We've just got to do it!
xxx
Back in the car and made my suggestion… let's go forwards!  Trent said I was absolutely mad (maybe I was) and my husband asked me if I was really sure.
"Yep, I'm sure. It's just a road and it's made for cars. Others can do it and so can I",  sounding much more confident than I felt.
With yet another sign to warn us of the hazards… falling rocks at any time. Hmm… not hard to imagine!  I wonder if Mum would like to be with me now?
xxx
Slowly we climbed up through 6 hairpin turns on a single lane gravel road with hardly any side-fencing. I soon realized that the best thing I could do was to look solidly at the road and to hug the gutter… anywhere but get near those soft edges!  Not  much of a safety fence in place… hmm… just keep going.
Now being all a single lane presented its problems. The rule was that as we were going up we had to give way to any down-coming traffic. This meant that at each turn we'd have to look carefully to see if there were any cars descending before continuing onwards and upwards. Fortunately for us we didn't meet any other cars. Phew!
xxx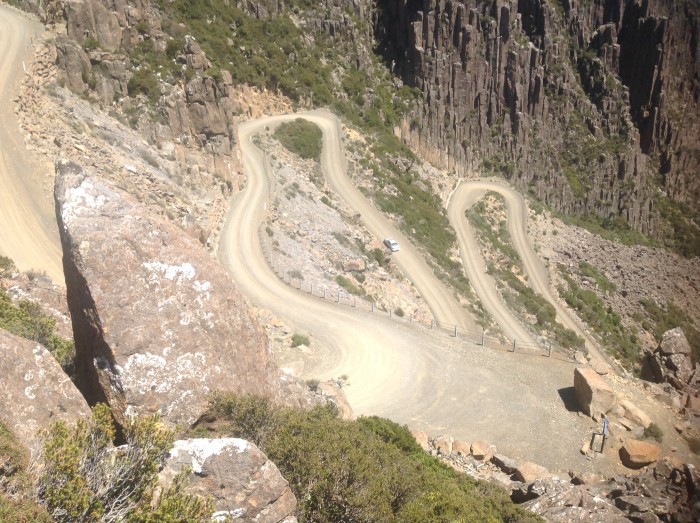 We got talking to a couple up at the top and they'd run into someone wanting to come down. They had to back all the way back to the last hairpin turn to allow them through. They said it was quite hair-raising.  (Hairpins and hair-raising… there seems to be a theme happening here!)  This photo was taken by them and they offered to email it to us as that car about half way up is us.
xxx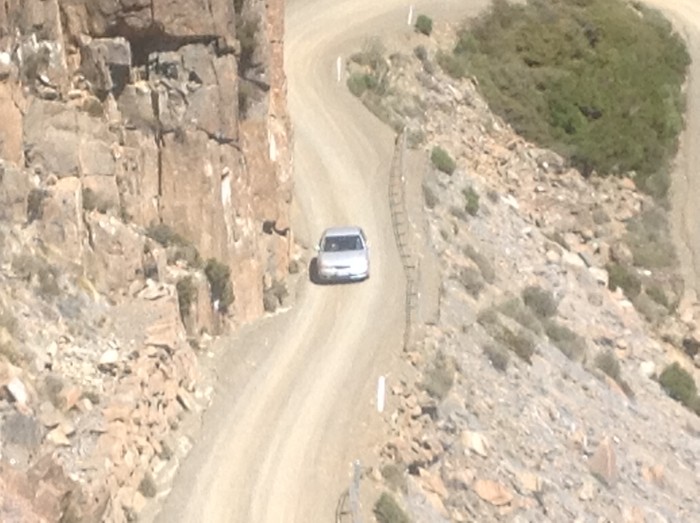 Here's another one they took.  That's really us!
Right at the top of that climb was a lookout and the views from there were amazing. We could see so far… right out into the distance to Bass Straight (the stretch of water between the Australian mainland and Tasmania) and even to Flinders' Island. Looking straight down over the railing we had a birds-eye view of Jacob's Ladder and it was from here the other folk had taken the photo of us coming up.
xxx
Ben Lomond Ski Resort – we made it!
xxx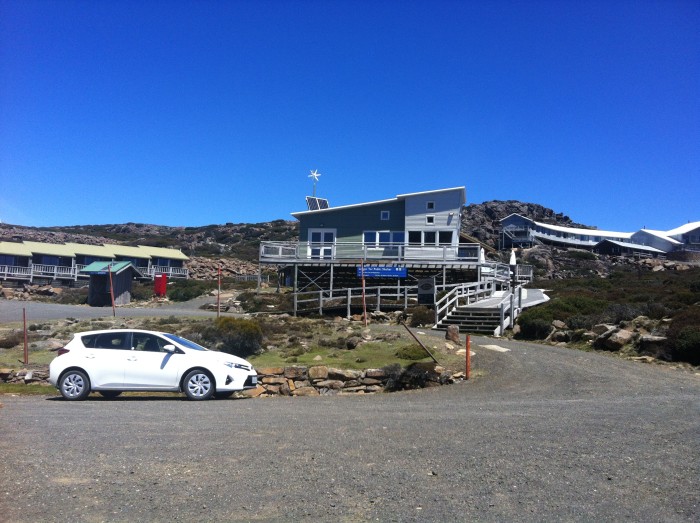 A little further on and we arrived at our final destination which was the ski resort.  That little mound you can see behind the village is Legges Tor… the highest point on the whole Ben Lomond Range.  See, it's nothing dramatic once you get up on top… where the village is.
In we went for some well deserved lunch to calm the nerves.  I asked the lady if there was another way down off the mountain and nearly feinted when she said "No, only one way up and down"!
"Oh no! You've got to be kidding me! You mean I have to drive back down that road?" I felt a strange quivering inside.
Lunch was good and the Chai Latte even better!  I enjoyed talking and eating and only occasionally felt a little tingle of the nerves about descending the mountain. I'd say to myself… it's just a road…cars go on that road. They can do it. So can I.
xxx
Geographical Fun Fact:
Ben Lomond Ranges contains several high peaks, the highest being Legges Tor. Ben Lomond is a very large plateau of approximately 78 square km or 30 square miles and is basically without features on top. On this relatively flat space it has some places that are a little higher than others. The highest mountain in Tasmania is called Mt Osso and it's only about 40 metres higher than Legges Tor.
Other peaks on the Ben Lomond Ranges are:
| | | | |
| --- | --- | --- | --- |
| Legges Tor | 1,572m | 5,157′ | 2nd highest in Tasmania |
| Giblin Peak | 1,569m | 5,147′ | 3rd highest in Tasmania |
| Markham Heights | 1,542m | 5,059′ | 7th highest in Tasmania |
| Hamilton Crags | 1,540m | 5,052′ | 8th highest in Tasmania |
| Stacks Bluff | 1,527m | 5010′ | 9th highest in Tasmania |
| Misery Bluff | 1,510m | 4,954′ | 14th highest in Tasmania |
| Ossian's Throne | 1,498m | 4,915′ | 17th highest in Tasmania |
| Coalmine Crag | 1,498m | 4,915′ | 17th highest in Tasmania |
| Magnet Crag | 1,464m | 4,803′ | 24th highest in Tasmania |
| Mersey Crag | 1,432m | 4,698′ | 35th highest in Tasmania |
xxx
So up there where we were, there are 10 of the highest peaks in all of Tasmania.  Amazing thought, but I didn't realise this until arriving home.
Although Tasmania is apparently the most mountainous island in the world, the mountains themselves, although beautiful and come with their own dramatics, are not that high.  Not when you compare them world-wide.  The thing is most of the island is kinda flattish and the mountains rise out of that.  This makes them look superb.
I remember when I've been to Mt Kosciusko, Australia's highest mountain. You can drive virtually to the top of it on a far from spectacular road.  I first went there when I was about 12 years old and can remember thinking that all we are doing is just rising higher, a little at a time and then finally we came to the highest point. Tasmania's mountains are far more dramatic and there's an awful lot of them I probably will never see unless I'm prepared to go on a 7 day trek.  They are that far out in the wilderness.
Back to my story…so the time to return down the mountain had come!  By this time I had managed to think calmly and rationally so I was ready for the drive.  I took hold of myself (mind you I didn't allow any of these inner thoughts or feelings to have voice and share with my menfolk… I kept it all to myself so they could have confidence in me) and drove towards the top of the descent.
xxx
I really do think that was the scariest part of all… just that first dipping over the edge.
xxx
You know what it's like when you're on a roller coaster, the way it slowly pulls up…up…up…up…up…up…up… and then over the top, and before you is the great descent?  That's what it felt like to me… the great descent!
I engaged low gear and was very careful once again not to look out over the valley… or down over the edge.  I kept my eyes firmly on the road and took great interest in the gutter.  Haha!  I bet that gutter gets a lot of undivided attention!
Down, down, down we went until finally there we were back down again!  Can I plant a flag at the bottom?  Felt like I wanted to.  I felt elated that I had brought the car back down safely and we were now on an easy journey back home.
One thing that occurred to me as we were travelling through there was what would happen if an earth tremor happened right at that moment?  I don't think I would be around to tell the story.  All those piles of rocks down below Jacob's Ladder and everywhere else have all fallen there naturally over time.  Oh well, no use thinking of  "what if?".
xxx
The Journey Home
xxx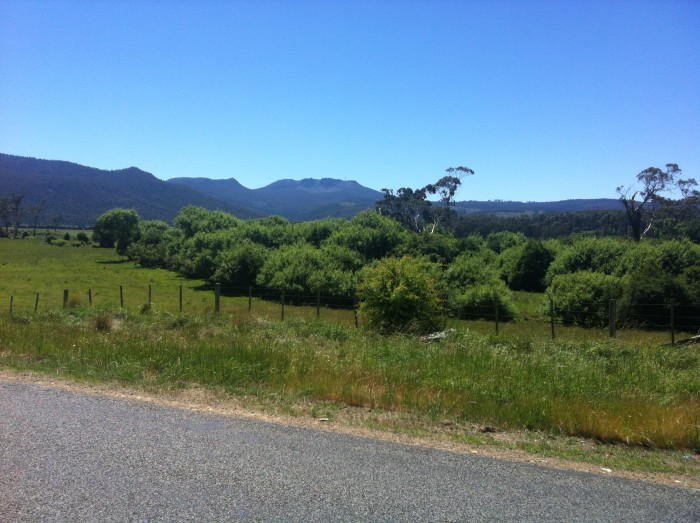 There are 3 mountains close to Launceston, the furtherest away being Ben Lomond.  This mountain in the distance is Mt Burrows and I'm not sure if I'm going to be able to plant a flag on it.  Apparently the road up is definitely 4 wheel drive.  Oh well, we are talking about getting one of those… kinda wouldn't go astray on this island!
xxx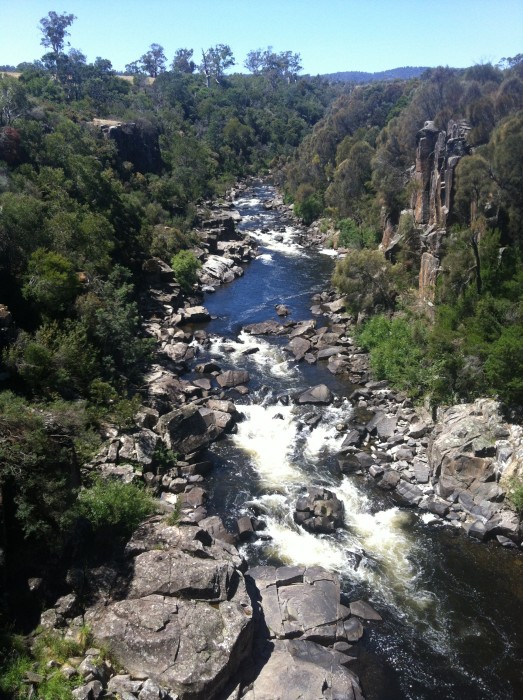 We made this trip up to Ben Lomond  Ski Resort in the summer time… it's now mid winter.  We passed over a high bridge with the North Esk River flowing under.  As you can see there is not a lot of water as the wet season is during the winter.  Mind you, let me tell you it doesn't rain all the time even then.  Most of our days see no rain at all, but during the summer we hardly get 6 spots!  Would be interesting to see this river again when the snow has just melted.
On returning home I decided to do some research on Jacob's Ladder, and to my utter surprise I found that it is mentioned as one of the world's most dangerous roads!!!!!!!!  I thought, wow and I drove up and down it – and lived to tell the story! 🙂   Would I have even gone there if I had known that?  A quick look at some of those other roads though make me realise it's fairly low down on the list.  Still and all, it's me here we are talking about and really, I've no desire to travel on most of the roads mentioned on that site.
xxx
Are you ready to come?
xxx
What a wonderful day we had… what a beaut day tour Tasmania has afforded us!  Are you considering coming to our wonderful island some time?  Ben Lomond, Launceston (an hour and a half away), and the infamous Jacob's Ladder is waiting for you!  Come!
I forgot to mention that the Ben Lomond Ski Resort apparently serves wonderful dinners but do you know what?  I would recommend you stay there overnight.  I can't even begin to imagine coming down that mountain side with a few drinks in you.  Oh my!
So what do you think about this story?  How do you think you would go on something like this?  Leave a little message for me and tell me your thoughts, and I'll be sure to come back to you.
Warm regards,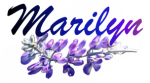 Marilyn Williams