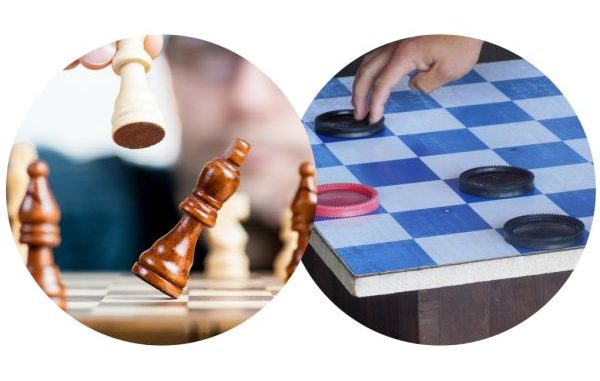 This really is the most amazing game of 5D Chess that has ever been played. Brilliant minds have been working together, under the inspiration of God above, to bring about the most earth shattering change ever experienced, maybe ever… but certainly since the Flood of Noah!
I received what's written below in upper case, from a friend on Messenger. I asked him if he knew the source but unfortunately he couldn't remember.
If there is any reader who recognises these words, please send me the writer so I can relate it back to the original source. Thanks.
The upper case came in one long block. I have divided it p so I could add a few words. Other than that it is exactly as it was written… except… I took out a few swear words!
Nobody has 100% of the Picture
NOBODY HAS 100% OF THE PICTURE – AND TALKS. REMEMBER THAT, NOTHING HERE IS HAPPENING BY HAPPENSTANCE. IN OTHER WORDS, THERE ARE NO COINCIDENCES. SO WHEN THINGS ARE RELEASED, THEY'RE RELEASED FOR GOOD REASON.
That's right! Those that really do know the full picture, are not talking about it. As for us, we only receive little clues, here and there. We all have to watch closely and research deeply so we can know enough to encourage others.
5D Chess versus Checkers
TRY TO IMAGINE THE MOST BRILLIANT GAME OF CHESS EVER PLAYED ONLY THE GAME WAS PLAYED BACKWARDS. WHERE THE VICTOR (WHITE HATS) BEGIN THE GAME HAVING ALREADY WON. SO NO MATTER WHAT MOVES ARE MADE, THE GAME WAS OVER BEFORE IT EVEN BEGAN HOWBEIT, A SHOW IS BEING PUT ON FOR THE SPECTATORS. BUT BECAUSE IT'S A SHOW IT'S BEING SHOWN TO THEM BACKWARDS (MAKING IT 'APPEAR' AS IT'S BEING PLAYED IN 'REALTIME') WHEN IN FACT, IT'S NOT.
This is mind-blowing! Imagine trying to play chess backwards… imagine playing any game backwards… no, it's way too hard. But the ones at the top of all this do know the end and therefore are able to step it back so they can show us the depth of depravity that's been going on in our world.
What this means is… many who we think are still living among us, are not necessarily so! Or… many who we think have passed on, may not have! Think on that for a moment… can you work out what it means?
Can you imagine?
TRY TO IMAGINE SUCH A THING WAS POSSIBLE. COULD YOU? OBVIOUSLY THIS WOULD REQUIRE 'TIME TRAVEL' AND GOD BUT FOR WHAT PURPOSE??? LET'S COME BACK TO THAT IN THE FUTURE.
Is there really such a thing as time travel? Really? Is it possible? I'm sure in time to come all will be revealed.
Do not be distracted!
I OFTEN SEE PEOPLE FRETTING OVER PETTY DETAILS, MORE OFTEN THAN NOT THESE THINGS ARE PURPOSELY CONCOCTED FOR DISTRACTION – AKA OPTICS. REMEMBER HOW MAGICIANS PERFORM THEIR MAGIC TRICKS MISDIRECTION LOOK HERE NOT OVER THERE
This is what I've been saying all along! I see people everywhere being distracted by the optics… the distractions. Yes, we all know how the magician works his magic by causing us to look 'over there' while he does something else. Clever for sure. Sure it is… and it's all for entertainment purposes. Keeps us amused.
But this is not the time to be amused! We are living in the most crucial time of all history! What's happening is so big that there is NO WAY humanity could perform this by itself.
Distraction is required…
5D Chess brilliance at work against evil – this is God!
IN THIS CASE, I ASSURE YQU THE WISEST AMONG YQU ARE MERELY THOSE WHO AWARE OF THEIR OWN IGNORANCE. BECAUSE WE'RE WAY OUT OF OUR LEAGUE HERE. WHAT I MEAN IS, IF YOU'RE FEEBLE LITTLE MIND SEES FIT TO BERATE THE [Q] PLAN, TAKING DOWN THE BIGGEST CONGLOMERATE OF EVIL THE WORLD HAS EVER KNOWN IN IT'S ENTIRE HISTORY, WE'RE TALKING ABOUT A 6000 YEAR OLD Satanic CABAL THAT HAS INFILTRATED WORLD GOVERNMENTS, AND IS NOW BEING FOUGHT AND WON WITHOUT A FULL-BLOWN CIVIL WAR – CAUSING MASSIVE MASSIVE CASUALTIES…
Did you get that? Did you really? If not, take time to read it again. How could it be possible that we could be part of the biggest war the world has ever seen, and yet so many, the churches included, are fast asleep and don't see what's going on here!
This is what I mean about them all being caught up with the distractions. Why are their eyes so blinded to reality? Even though I see such a little bit of the overall, I still see enough to know this is of massive proportions.
We will NEVER return to NORMAL! Praise God for that! Who wants to really go back into a world full of such depravity and where our children are treated worse than the lowliest of animals?
Are you still playing Checkers?
THEN ODDS ARE YOU'RE A %#@*&%# IMBECILE. YOUR 100-140+ IQ's ARE PLAYING CHECKER'S IN THE GREATEST GAME OF 5D CHESS EVER PLAYED.
That's right… checkers! It's like setting up your little checker board during a 5D chess game being run by the most top class, professionals the world has to offer! Come on!
BIBLICAL
This is BIBLICAL! Take your eyes off the distractions for just a moment and truly see. Ask God to open your eyes… and He will!
Enjoy the Show!
SO HAVE SOME %#@*&%# RESPECT I'M NOT BUYING YOU A VOWEL, I'M BUYING YOU ALL THE VOWELS, YOU'RE SO FAR OUT OF YOUR LEAGUE HERE THAT IF YOU WERE INDEED SMART, YOU'D STFU AND ENJOY THE SHOW.
We have been told right from the start, (well, from when they first released the v/o/v/i/d drama), that we are to watch the show. We've been told the ride would be bumpy along the way, and that we don't know where this journey will take us… but that we do know where the destination will be.
Do you know where the destination is? Have you thought about it? Does it occupy your mind? Are you asking God? He knows and is more than willing to show you too.
Jeremiah 29:11 "For I know the thoughts that I think toward you, saith the Lord, thoughts of peace, and not of evil, to give you an expected end." (KJV)
The Deceiver is being removed, together with all his cohorts and minions
THE GREATEST THREAT THIS REALM HAS EVER KNOWN Satan (CALL him WHATEVER YOU DESIRE, he HAS A THOUSAND NAMES), IS CURRENTLY BEING DEFEATED, IN A WAR THAT IS SO PEACEFUL THAT MOST ARE EVEN CLUELESS TO IT'S EXISTENCE. ARE YOU %#@*&%# KIDDING ME??
Is this Armageddon? I believe it is… we are living right through it this very moment!
I am come that they might have life!
LOOK, I GET THAT MANY HAVE BEEN SEDUCED BY FEAR, I MEAN THE little b!tch ISN'T CALLED THE GREAT DECEIVER FOR NOTHING.
John 10:10 "The thief cometh not, but for to steal, and to kill, and to destroy: I am come that they might have life, and that they might have it more abundantly." (King James)

John 10:10 "A thief has only one thing in mind - he wants to steal, slaughter, and destroy.  But I have come to give you everything in abundance, more than you expect - life in its fullness until you overflow!" (The Passion)
Opposite of fear is….. you've got it… FAITH!
FEAR IS THE OPPOSITE OF FAITH THE BIBLE PROCLAIMS 365 TIMES FOR US TO NOT HAVE FEAR. IT BLINDS THE EYE'S BUT MORE IMPORTANTLY IT BLOCKS OUR SOUL CONNECTION TO GOD. AND THIS IS A SPIRITUAL WAR. ALL OF IT!
Absolutely true – fear causes us to be consumed with it. We can't think straight! We cant think at all… only thoughts of fear!
Wearing of masks dulls us down and stops our ability for critical thinking. This is a well known fact and one of the reasons they threw masks on all who would submit to them, and punished the rest of us because we won't.
I have inputted 'Fear not' into Bible Gateway and that alone came out 170 times. Variations of 'Fear not' would account for the balance of 365.
The saving of countless souls
SO WHY THE SHOW THEN, WHY ALL THIS GRAND SPECTACLE??? IN ORDER TO SAVE SOULS, THE MASSES MUST PULL THEIR BRAINWASHED HEADS, OUT OF THEIR APATHETIC ASSES AND CARE
People, I'm sorry to say, have got themselves so caught up in distractions that they've failed to find out what is really going on. Many have been completely caught up in the mainstream media news and wouldn't miss it for anything.
Saving souls is not just relating to where you are going to spend eternity… there's been hundreds and thousands of little souls, lost to our line of sight… wondering… waiting… crying out in absolute distress…
"I'm waiting for Jesus to save me"
. BUT YOU SAY, I HAVE JESUS TO SAVE ME. WOE TO YOUR LUKEWARM IGNORANT ASS, NO CHILD OF GOD CAN BE UNRESPONSIVE OR CALLOUS TOWARDS CHILDREN BEING BRUTALLY RAPED/TORTURED/MURDERED/EATEN BY A Satanic CULT OF PEDOVORES. I ASSURE YOU IF YOU ARE INDIFFERENT ABOUT THAT, YOUR SOUL IS DAMNED. AND THAT'S EXACTLY WHAT'S GOING ON HERE.
Here are the hundreds of thousands! If we ever hear about just one, we feel distraught, but there are so many being found that we have no idea of the extent of it.
This is not the time to sit back waiting for Jesus to come and save you. No! This is the time to join in the fight.
How?
Simply by forwarding on this post is doing your part. Anything you can do to help alert others during this critical time.
Souls being ignited, lit on fire!
THE WHEAT IS BEING SEPARATED FROM THE CHAFF. WORLD EVENTS ARE IMPORTANT BUT DON'T MISS THE FOREST FROM THE TREES IT'S SOULS THAT ARE BEING IGNITED, LIT ON FIRE TO CREATE LIGHT THAT'S WHY THIS IS CALLED THE GREAT AWAKENING DARK TO LIGHT AND EVERYONE WILL BE MADE TO PICK A SIDE AND NO CHOICE, TAKES THE SIDE OF EVIL. PRAY PUT ON THE FULL ARMOR OF GOD
Wow… it's happening folks! I know what I think is going on, but what about you? Do you have any idea?
Please seek God on this. Try to put aside everything you have ever been taught and ask God to show you where we are up to in time.
But I have come to give you everything in abundance, more than you expect – life in its fullness until you overflow!
WHAT IS COMING IS GLORIOUS BECAUSE GOD IS COMING BIBLICAL
This is it! We have a glorious future. God is coming! This is what the Bible talks about… it's everywhere for those who are looking.
Please be encouraged by this brilliant 5D Chess game. I don't know about you but I could sit and watch Chess being played and wouldn't comprehend the value of the moves. Whether I do or not, I do know that God is ultimately in control and is cleaning up the world we live in.
I only want to know that I'm an integral part of this 5D Chess game and that I'm on the winning side!