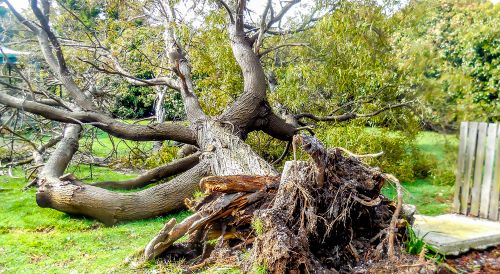 Newsletter – (S & M News)
Dear friends and relatives,
I'm wondering… how the heck are you? Are things going well for you?  Well, I hope so!  Yeap, things are fine with us too, we're bopping along and haven't froze yet!
Today is a yuk day, overcast and threatening us with rain… yet again!  Oh rain, rain, go away, and please… don't come back another day!  Well, not quite, but you know what I mean!  Yesterday was perfect too, so sunny and hardly a cloud in the sky.  But I'm really over the rain.

July has now disappeared into the past and August spreads before us.  Let's trust that something wonderful will happen for you this month… you know, that "thing" you are waiting for!

Oh, let me tell you about the tree: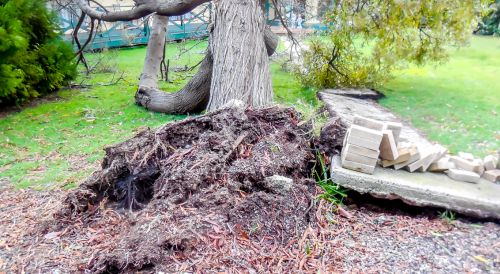 Due to cyclonic wind conditions, silently during the night one of our trees kneeled over in our front yard. I say kneeled because it was left resting on a couple of limbs, and I must say it looked as solid as a rock.
The path was lifted up but there was no other damage. The closest portion of the tree was only about .5 metres away from the front of the house though.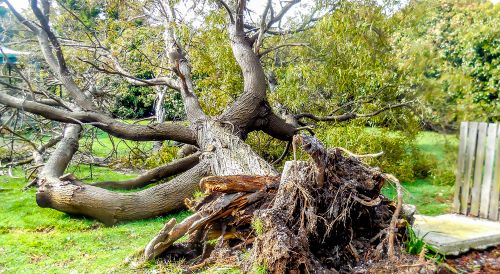 But a couple days later the wind got behind it and rolled it sideways… fortunately away from the house!
Now it no longer rests on its knees (limbs) and as you can see it just about pulled it right out of the ground.
The good thing about it is that it rolled onto the path and pushed it back into place again and lying on the ground it's now about 2 metres away from the house. 
This tree is called a Blackwood tree.  In fact that's the main tree here on our property, with just a few gums down the back.  The Blackwood has beautiful timber and is used to make fine furniture and musical instruments.  Apparently home hobbyist will pay good money for some of it.  Haha, maybe this is the way we'll make our fortune!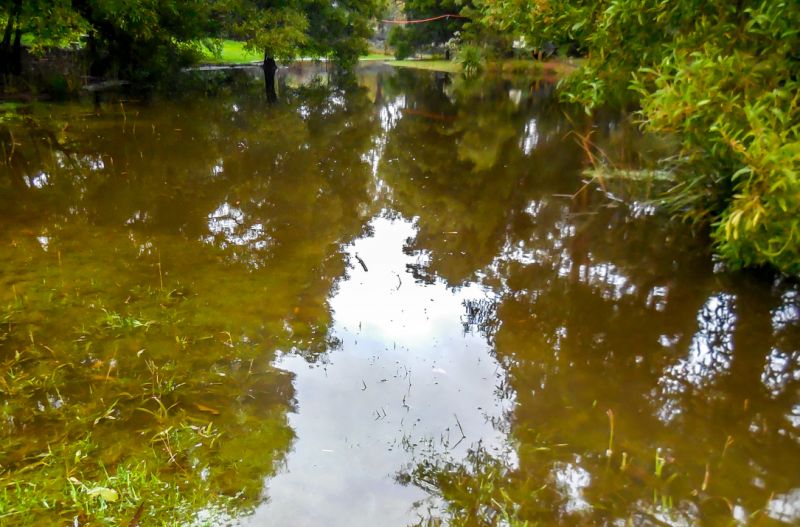 For those who were here at Christmas time you'll appreciate the amount of water shown here in our dam. When we think it's as full as possible, it seems to fill up even more.
We had a fellow here the other day and he raved about our "lake"! Oh I was so pleased to hear him use the term "lake"… see, it's not just a dam! Haha, loved it!
July has been a month of very heavy rain, cyclonic winds, snow in many parts (but not here), even a mini tornado in southern Launceston. I've never in my life heard the roar of the trees like I've heard in the last few weeks. My goodness, it never ceases to amaze me how sheltered we are here. The chimes hanging on our back deck hardly moved but the noise in the trees next door was deafening.
Two trees fell next door (I'm surprised there weren't more)… but get this..one fell to the north and the other to the south. Our own tree fell towards the east. Did I say it was cyclonic???
Along with the wind came the blackouts. They were just about everywhere. As our area was a low priority, it took 24 hours before it was restored. A blackout to us means:
No water (our pump is electric)
No toilet
No shower
No tap water of any kind
No lights
No working fridge
No heat source (our gas heater requires electricity to run)
Ugh, the l list goes on and on!
Apparently the only answer to our problem is to get a generator.
You know, there are many things I love about this country living, but it's interesting when you l lose all your mod cons.  But it is what it is and you make the most of it.  
I'm always telling Trent "it's fun!"  I don't  know why he doesn't believe me!  
But, you've got to look on the bright side – we have a little camp cooker and were able to heat up soup and cook some toast, and eating via candlelight is quite romantic!  Hey, we're living the good life!
Well that's it for this month.  We  have a whole new month looming before us with many more adventures to live through… so I'd better get on and begin to discover what they are! ?