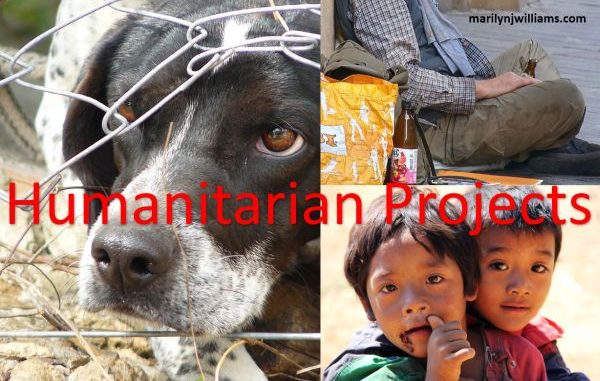 There are many really good people in this world. We look around and we see such need and they dream of having a humanitarian project… 'If only I had the money!'
Look at what this dear person wrote to me:
I understand it all but the facts about retired people who don't have anything to exchange but want to do a project?  Will we be able to?  Do we go to the redemption center at all, or wait for Nesara?

BJ
I'm sure there are a host of people, who just like BJ, would love to work on a humanitarian project to help out where they can.
They dream as God gives them wonderful ideas: 'What if…'
Of course, many can hardly make ends meet themselves let alone trying to help out others, and this is where the problem lies.
But a time is coming when this will all change!
We hear of all this abundance that's coming our way, and those with a good heart immediately begin to think of what they could do to help out others.
Would it be:
Feeding the hungry
Looking after abused children
Creating homes for the poor
Rescuing sad and lonely animals
…this list could go on and on… but you get the picture!
But how can they help? It takes money!
The really exciting thing is that money is coming our way. Those who have attained foreign currency are about to be able to exchange what they have as the currencies revalue. These are chiefly, Dinar, Dong & Zim.
When the Zim is revalued, it is expected to be so high that it's been tagged to use only for humanitarian projects.
Others will exchange either Iraqi Dinar or Vietnamese Dong which they will be able to use for their own use.
A window of time is coming when people holding international currency (Tier 4B) will be called into a Redemption Centre to exchange their currency. When this window closes, it will be reopened to the general public.
But what if I don't have any foreign currency?
Currently, I don't believe those without foreign currency will need to go into a Redemption Centre. It's only for those who need to exchange.
Does this mean you miss out? Are you then not able to carry out your dream for a humanitarian project?
Well, that's not necessarily so!
Coming to a place where we lose 'money consciousness'!
People shouldn't panic if they have not been able to purchase foreign currency… after all, that would be most people in the world.
We are coming into a whole new place. It's hard to imagine, or to fathom how it will work. It's really hard to let go of the 'money consciousness' into thinking that money won't be an issue anymore. But it's coming.
It won't be a matter of whether you can afford to do these things, it will be a matter of your desire.
OK, so how?
Will it come from NESARA-GESARA?
NESARA-GESARA represents the greatest transfer of wealth from the D/S to 'We the People'. This is mentioned in the Bible and it's very real.
The funds have already been transferred into the QFS. This is from the HUGE stashes of gold and precious metals that's been discovered in the und/er/ground tun/n/els. These funds will be dispersed into our QFS accounts. Every living person will receive a goodly portion.
Through NESARA-GESARA, we shall receive a whole lot more than we could ever conceive. Everyone will benefit. It will be on a tiered system where the elderly will receive their share up front, while the younger people will receive 'x' amount per year etc.
What about the Crypto-currency window of opportunity?
This will be yet another window, but be REALLY careful not to run out to buy any old crypto right now. You must do your thorough research on this one. It's believed a time is coming for an amazing investment into the future!
I'm not recommending anything, only that you make up your own mind.
Mel Carmine provides wonderful information:
There are Humanitarian Funds that will be made available
I also know that there are HUGE funds put aside to assist people to run their own humanitarian project. As far as I can ascertain, your project would first need to be approved. Then, the funds would be given out as you require them. It will be progressive payouts. Use what they give you, let them know what you've done and what you are trying to do… if they approve, more will be given to you.
You see, there is going to be a LOT of money available, more than we could ever need. So if your desire is in the right place, funds will be given to you to use in this way.
We are entering a different kind of a world and eventually it most probably won't rely on money at all!
Yes I know, it's hard to get your head around that, but that's where we are headed. It's likely that having an abundance is to prepare us in changing our outlook on how things work.
So as you can see, there are various opportunities still available to us all who wish to be involved in a humanitarian project. No-one needs to be too concerned. At the moment we can plan, but then we wait.