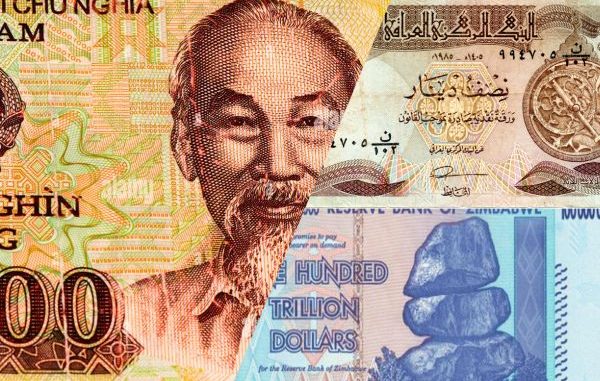 I'm writing this post specifically for those who are waiting to exchange their foreign currency. More specifically, its the process you will go through.
Who will need to go to a Redemption Centre?
Have you got Iraqi Dinar? Vietnamese Dong? Zimbabwe Zim etc?
Did you buy some over the past number of years as an investment because you heard that one day these currencies would be revalued?
If you bought a little of some of these currencies and have been holding them in a safe place, wondering how long before they can be redeemed, it appears your time has almost come.
Here is the latest information that has come through on Restored Republic:
Tier 4B and Zim Bond holders Currency Exchange
That activation of the gold/asset-backed US Note will trigger liquidation funds of the Global Currency Reset and make it a go for Tier 4B currency and Zim Bond holders *(us, the Internet Group) across the globe to receive notification via email from Wells Fargo Bank to set exchange/ redemption appointments near their place of residence.

*(us, the Internet Group) represents all those who have already bought currency waiting for the exchange.

Restored Republic
In order for Tier 4B to receive the higher special exchange rates and redeem Zim Bonds, those appointments would need to be made at specially set up Redemption Centers as outlined in the email. That information will also be available at various Dinar Websites and through this Restored Republic via a GCR Update.

Restored Republic
At this point in time we have no idea where we will need to go for currency exchange. The email is to tell us all these details in due course.

*The General Public can exchange their foreign currencies at a bank, where they will be given the new rate as it appeared on the Forex at the time of the exchange.

Restored Republic
*The General Public represents everyone else who may have foreign currencies tucked away that they wish to exchange.
The Redemption Process
Station 1: Present 2 IDs (license, passport, State ID, Government ID)
Station 2: Present your currency and/or Zim
Station 3: Open your QFS Bank Account, provide a password, receive a QFS Card
Station 4: Receive new Q Phone,** Receive new Computer,*** Login to your account.
Station 5: Open and create subaccounts and transfer funds into those accounts for your personal use and for use in your project.
Station 6: Given your ATM Biometric Vibration Card (no spending limit for currency); Card will only work for one person. It would be non-transferable.
Station 7: You can ask for $10,000 in cash and 100 checks.
Station 8: You can request proof of funds letters (in different amounts).
Station 9: Give a copy of your project**** to RV personnel.
** New Q Phone
Soon we will all have a new Q phone. It will change the way we do business. A tool for direct credit and expenditures in daily life. For use in consumer retail and business commerce. Available domestically and internationally.
*** New Q Computer
I haven't heard that much about the new quantum computer except that apparently we will receive a new one when we go in to exchange. Computers as we know them will become obsolete.
**** A 'project' is a Humanitarian Project that you have made good notes on what you want to do and how you will go about it.
Reminders:
Safety is paramount.
Security is provided.
You are in the front door and out the back door.
Get business cards or contact information of RV personnel.
Trusts are recommended.
For your own protection purchase everything from your Trust Account.
NDAs are 30-60 days.
How can these funds be used?
Use our currency exchange on ourselves
A great many people will know what it's like to have real money for the first time in their lives. But this in itself, can be quite dangerous.
People used to living off welfare will find they want to spend a lot of money on themselves and anything else they can lay their hands on. A time will come when potentially, their money will run out. This is very sad, but a fact of life.
Virtually everyone will have need to spend in various ways to enable themselves to be fully self-sufficient, and of-course there is no problem with that. Part of that is creating proper investments to ensure you always have more than enough for you and your family.
But the test will be, especially for those who stand to make millions, will you spend your money to benefit others?
Use our currency exchange on others
The redemption of Zim is ear-marked and must be used on humanitarian projects. This is amazingly exciting because the world is full of need. Fortunately, there are a lot of people who really want to become involved in helping other people.
One little example would be:
Homelessness!
Imagine a world where homelessness is no more.
Fortunately there are a lot of caring people who have seen the revaluation as an opportunity to create wonderful projects to help those who are not as fortunate. These past number of years we've seen cities where there are streets filled with homeless people… a very sad sight indeed.
But I've been hearing of many projects where people want to not only provide a roof over the less fortunate, but to train them into being self-sufficient. Beautiful.
Gesara
From what we are hearing, a time is coming when we will all be rich. In fact, it's believed that a time's coming when money will not feature in our lives, or the lack of it control our lives, the way it does today.
When Gesara comes through, the rules on how we currently live will change. People will not be able to keep multiple investment homes receiving rent from the occupants. Gradually, there will not be any need for people to rent homes as everyone will be able to live in their very own home.
Will it happen overnight?
I seriously doubt that, but gradually… as humanitarian projects kick in, we will go from people living on the streets to owning their own home.
I'd really love to believe this to be true!
This information is coming out because it is believed that the currency exchange is now very close. Not giving any dates of-course, but we do expect it very soon.