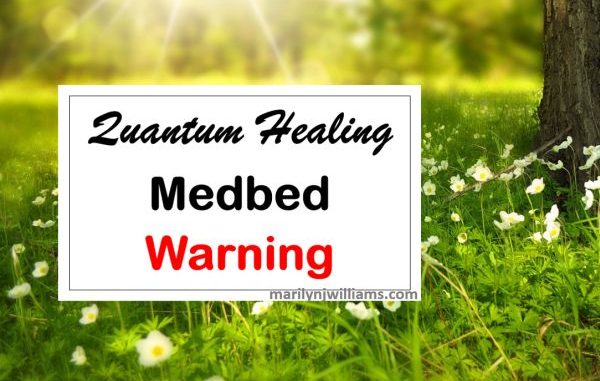 We need to be very careful regarding medbed scams. Unfortunately, they are going around everywhere.
I have no reason not to believe that medbeds are coming out for the benefit of humanity. But please beware of the scams.
Here is an email I received just this morning from a KC who is in severe pain, which obviously encouraged him to reach out to Skye Prince in desperation.
I just wanted to share with  you my experience in attempting to get an appt. schedules for a med bed.  I contacted the med bed center listed on Skye Prince's website/Telegram account.
I have been trying to get a session scheduled since March. Finally, I had appts. scheduled for April 4 and May 5, but before I received final instructions and an address, they kept asking for more money:

First was the $300 application fee. 
Then the $1500 insurance fee (supposedly refundable). 
A $2500 fee. 
Then a $500 per session accommodation fee (I needed 2 sessions) for a total of $1000. 
Later on, at the end of May, they said the application fee had expired and I needed to pay it again, $300. 
Finally the bombshell: they said the accommodation fee ($1,000) had expired, even though I did not use it, since I never had a session. 

It certainly was not my fault I did not receive a med bed treatment. I have practically begged them to schedule me since I am in extreme pain from a degenerated disk and sciatica, among other things. 

I refused to pay the additional $1000, and I have heard nothing from them since. 


Is this one of the medbed scams?
While reading this email, my heart fell! Oh no!
All along we have been saying that the medbeds are free, and yet we see sites wanting payment after payment for all manner of reasons.
Could this be true? Do they really require all these other payments so that you can then use the medbeds for free?
Has the green light been switched on?
So it's time to use a little bit of critical thinking. What have we been told to look out for?
Will the medbeds be released in a world that still contains evil minions running around?
Have we been told they will come out under J/B's watch?
Isn't the technology being used for medbeds, part of NESARA-GESARA? Has it been released to the public yet?
So…

Do we still have lower level evil minions running around? YES!
Has J/B been removed from his fake office? NOT YET
Is NESARA-GESARA public knowledge? NO
Am I saying that all the last of the minions will be taken out before the medbeds will be released? Maybe not completely. The job is more than massive and potentially they might still be digging them out for months or years to come.
But, the medbeds will only be fully released when it is safe for the Military Alliance to do so.
From what I'm hearing, it won't be long before the removal of J/B in the public's eye. I certainly hope so.
Although NESARA-GESARA is being gradually outworked around the world, it's not at this stage, public knowledge.
As everything is building up to the most amazing climax the world has ever seen, we can anticipate the release of the medbeds to come very soon. But as everything is 'events driven', there is no possible way of putting a date of when this will happen.
A list was put out that we have to see the public collapse of:
Stock Exchange
Banking system
Housing market
Food chain
All this will be accomplished behind a lot of distractions. Be aware, if it's in the news, LOOK elsewhere to see what's going on…
Arrest and removal of the B/i//d//e/n family
EBS (Emergency Broadcasting System) also know as the EAS (Emergency Alert System)
I have no idea if this is a specific order or not. It doesn't matter. It is a list you can tick off in your mind as it goes public.
After this is when we can most probably expect NESARA-GESARA, the medbeds and whatever else.
I definitely smell one of the medbed scams!
My poor dear email contact continued…
I smell a scam. 
I asked for a refund. 

Contacted Skye Prince for help with a refund, and she deleted me from her Telegram account. 
I wouldn't mind betting that Skye Prince knows absolutely nothing about this. Once the scammer realised that someone was on to them, they'd be quick to delete.
The question here is, was it Skye Prince's Telegram account?
I seriously doubt it. How easy it is to open up a Telegram account under any name you choose. I have people impersonating me on Telegram. Only the other day someone contacted me to ask me if they had been chatting with me! No, I hadn't seen anything from that person. Of course there was something a little strange in the way the scammer spoke that made her ask me that in the first place.
No-one else can answer as me! But they try to… fortunately people that have an idea of who I am usually smell a rat and often contact me to confirm it or not.
But scammers are out to get you one way or another. Because Skye Prince is 'out there' with a lot of information (I'm not confirming what she says, remember), she would have dozens of imposters making out they were her.
Beware!
$4,300 gone on another scam
In total I paid $4,300, and I have had no correspondence from them since. 

I guess I have been a fool; I have been scammed and I am out $4,300, at a time when I have financial challenges and cannot afford the loss. 

I do believe that the med beds are for real. 

I guess I just have to wait for a public announcement and try to schedule with a legitimate med bed center. 

My experience certainly makes me wonder about the legitimacy of Sky Prince.
KC could not afford to pay out all this money. I seriously doubt he will ever see it again.
But then again, I do have a thought:
When I responded back to KC I was reminded that the QFS is mirror imaging all bank accounts. The (Quantum Financial System) QFS would know where that money went to, and why.
Is it reasonable to think that in due course he could be refunded?
I'd like to think so, but it is just my thinking. I do not know for sure.
The long and the short of the medbed scams
Be careful!
Please do not part with your money on medbed scams without first checking and double checking if it could be the real deal. Talk to others. Ask questions.
I quite understand why KC parted with his money in the hopes of obtaining medbed treatment as soon as he possibly could. He's is great pain. He needs help now!
This is just one of maybe countless other medbed scams out there waiting to take your money. While I have no reason to not believe that the real medbeds are on the way, meanwhile I do know that there are others out there who have developed their own style of medbed.
How good, or not good they are, I cannot say, so this is not a recommendation. It's just that potentially others have managed to bring out their own private version sooner than us waiting for the military version.
In most cases, and probably all, as these are privately owned, there would be fees to pay. If you have the money available to try them out than why not? It's up to you. Just as long a they're legitimate.
So we have three different kinds:
The medbeds that President Trump told us about… the ones that will be operated by the military.
The privately owned variety.
The medbeds that don't exist that the scammers are putting out there!
Please choose wisely and don't choose the third one!
Note: Please be aware this website is copyright. All posts and images are freely available to the public to circulate just as long as they link back to this original source…. marilynjwilliams.com.