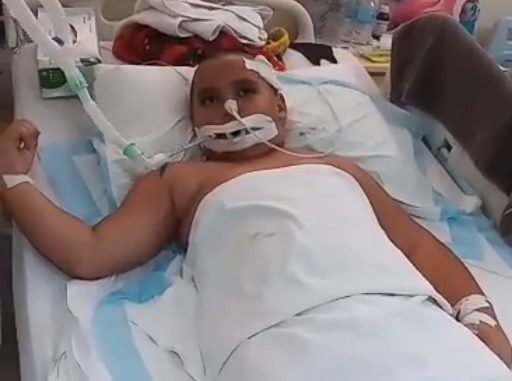 I want to update Martin, our little 7 year old who received brain surgery to remove a tumour.
After the surgery, they did another CT scan and discovered only one side of the brain was draining fluid. So his parents had to sign another Consent Form for them to put a second drainage device on the other side of his brain.
After the first operation, he woke up blind!
Each operation costs 30,000 pesos. ($542 US)
At this unfortunate news, they requested all please pray for little Martin. I'm so sure that many of you did. Bless you.
Martin is in Heaven now
This morning I received news put out by Martin's pastor…
Last Sunday Martin was here and he was sharing with everyone that he is not afraid to die because he has Jesus Christ in his heart!

Martin is in Heaven now. Another Angel got his wings! The family now has to cope with all the expenses. Pray for their coping and help any if you can, even 5 bucks.

Bless you one and All !

Pastor Walter
We are so sad to hear this news and although we know that Martin has passed to a better place, we are so conscious of the heartache of the family and all who knew him.
He was an awesome child with a blind faith in GOD to help him. Now the decision has been made.
Joy is on the way for this family
I have a beautiful friend, a true intercessor. She had prayed deeply on behalf of this boy. When I sent her the message that he has passed she told me she was filled with so much joy that tears streamed down her face.
I gave Elizabeth a call and for sometime she could hardly speak to me for the tears.
Tears of joy, when so many tears of sadness were being shed?
As I said, she's an intercessor. She told me that she didn't know what it was, but something incredibly beautiful was going to come out of this. That family, once they come through their time of mourning, need to sit quietly with God and ask Him the purpose of it all.
More tears were shed as she told me… it's something wonderful!
Martin update – the reality
My friend Jack shared with me that the GoFundMe fundraiser he'd organised, came to around $850 so far… (46,971.71 pesos).
Not knowing how that equates with cost of things in the Philippines, I said "That should surely help, shouldn't it?"
Jack replied "Maybe for a coffin and a headstone!"
Oh!
I realised that 46,000 pesos is not even enough to pay for the two operations he had which came to 60,000 pesos. But the total hospital bill came to $12,680 US…(694,000 pesos).
Oh top of that are all the other needs, not the least the cost of the funeral.
Cremation Packages:
Prices start at 70,000 pesos. Urns are sold from 2,500 to 17,000 depending on the materials used.
Funeral Packages:
Funeral expenses range between 8,000 to 15,000 pesos at the cheapest.
Mid-range funeral services may cost up to 250,000 pesos.
While a high-end funeral package may start at around 300,000 to half a million pesos.
Costs:
694,000 – hospital bill
8,000 – 70,000 minimum funeral costs
Randy (father) had to give up his job. Three years to retirement.
Living expenses nearby the hospital… it all adds up.
Help Martin's family in their desperate situation through GoFundMe HERE
Give willingly out of your heart and God will bless you
Please, if you can find it in your heart, give even a little. Do it for this family.
I know many reading this will be thinking to themselves that they need a GofundMe just to help them get by. We don't live in easy times and yes, many of us are doing it tough.
Then there are those of us keen to run a humanitarian project when the Nesara/Gesara becomes available. I'd like to say that this is a wonderful opportunity for us to give out of our heart… expecting nothing in return. This is true giving.
Give, and you will receive. Your gift will return to you in full—pressed down, shaken together to make room for more, running over, and poured into your lap. The amount you give will determine the amount you get back."

Luke 6:38 – New Living Translation – Words spoken by Jesus Himself
This update on Martin had to share some very sad news. Your continued support through either your prayers or from your giving will be appreciated more than you could ever know.