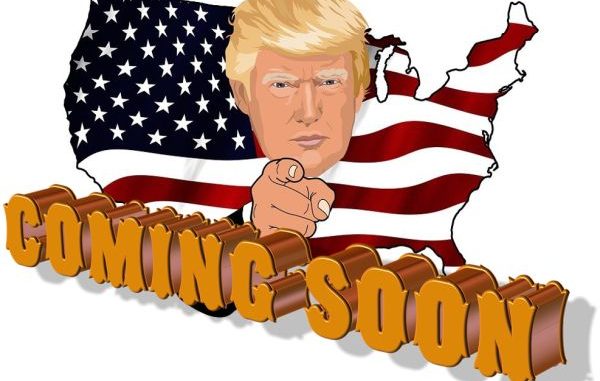 It's so exciting that very soon, a Trump announcement will indeed rock the earth… yes, all the way to the core! His re-inauguration is almost upon us, and when he comes back, he will blow the lid off the global plandemic!
Chosen by God for such a time as this
Currently he has been taking some very well earned time off to regroup. On his return to office, he has an enormous job to attend to… blowing all this fictitious Delta variant, and everything related to it, right out of the water. This has to be done before he can begin the rebuilding of America.
Other countries will observe and follow suit. It will all disappear. Currently many people are worried that our life will be this way for ever, but no… it will go away. Just as it came quickly, it will disappear quickly.
A Trump Announcement, and then…
President Trump is an amazing leader, recognised world wide. I am confident that here are many good solid citizens in each country that are able to rise up and follow his wonderful example. Each country needs to turn their backs on most of the current politicians. We need to look for a new breed of beautiful, caring people to lead our countries to where they need to go.
It's interesting that he acknowledges the fact that he was tricked into supporting the vaccine. It is believed he will apologize for that to the people. This is the kind of man that makes you want to support him all the way.
A new era coming…
A whole new era is coming… just as soon as these horrific minions of Satan are removed from the face of the earth. It's hard to imagine, but it's really happening!
The [New World Order] have had a stranglehold on the world for a very long time. We need to praise God that just in the nick of time, God raised up an army of people from around the world, and showed them how to take the evil ones down.
People have been so scared, but retribution is on the way!
So many people you talk to are convinced that a time is almost upon us when we will be living according to what the Globalists, the Elite, want of us. They have heard of The Great Reset and believe it's what's ahead. Time and time again I have to say 'Hey, it's not like that!'. I know you do too.
It almost was though, truly we have been saved from their ongoing tyranny by the skin of our teeth. But isn't that typical of God? Let's it play right out and then lifts His hand and says 'No more!'
People all over the world have been scared out of their wits. More than scared really, because people have suffered greatly over the past months as this has been playing out. Lost jobs, and lost businesses, and so much more.
The people behind all this will pay the ultimate price for what they have done. So many of them have already been dealt with, while others are still at large, but their time is short.
The penalty for crimes against humanity or treason is death.
Through lack of research and total belief in the 'system', many people have suffered terribly…
Because most people have been completely brainwashed to believe the news media, countless millions of people have done only what they believe they have to do. Mask wearing, social distancing… all of it. With so many prominent doctors endorsing these measures, and endorsing the 'vaccine', people have simply followed blindly.
Of-course, all those who have been labeled as 'conspiracy theorists' have been ridiculed and put down. Family members have been against one another because of this… children against parents; friends against friends. The emotional trauma this has brought will take time to heal, and all thanks to the Globalists who clap their hands with glee.
Emergency Broadcasting System
It is also expected that soon after the Trump announcement, the Emergency Broadcast System will be enacted. This is when the truth will go out far and wide… all around the world.
Stocking up for a blackout
We have received many warnings that you need to stock up on some food items, drinking water etc. This is not anything to do with 'doomsday prepping', but rather, a possibility that maybe the shops will be unable to open for a period of time. The length of time is usually stated at between 3 – 10 days.
I don't know if the electricity will be also be affected, but if so, unless you have a generator, you need to stock up on food items that do not require fridges or freezers. Torches or candles… whatever you would need if you were in an extended blackout.
I don't know for sure if this will ever happen or not, but better to be prepared than sorry.
We live in a time of so much fantasy and fabrication that at times it can be very hard to know what is and what isn't. But that time, thankfully, is coming to an end. As the White Hats drive the last of these evil people out, a time of incredible truth will reign supreme.
You can read a full report here from Real Raw News:
I can hardly wait for his return and I'm not even an American! We all love him as if he were our own. The Trump announcement of the fallacy of the pandemic will truly rock the world, and as everyone is exposed to the truth of what really happened we need to be there to support and help them transition their thinking.