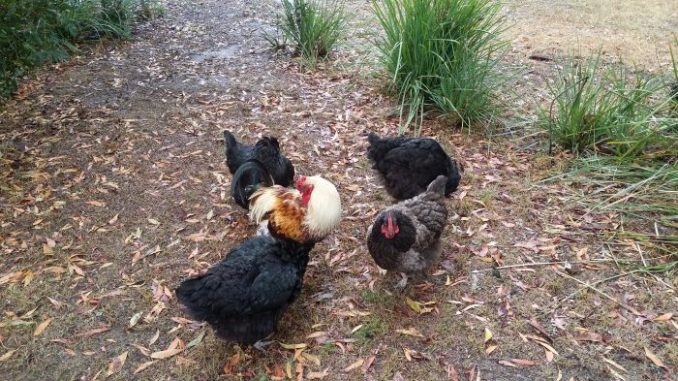 What is the difference between free range eggs vs regular eggs?  Have you ever wondered why free range eggs are supposed to be better to eat?  They all come from the chicken don't they?  Let's take a look at the benefits of free range eggs and why you should bother to pay that little bit extra.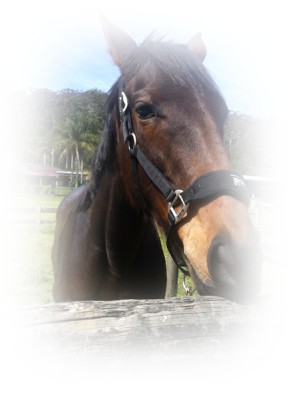 When we moved states here in Australia and came to Tasmania, we bought a 3.5 acre property.
Originally we were after room to have the  kids' horse but the way the property is set out we weren't prepared to give her as much room as she needed.
Bit sad but there wasn't enough feed so they've since agisted her out elsewhere.   I didn't really like seeing her go but in some ways it was liberating… we now had all this land to do something with.
While we still  had Aggy, we bought 5 ducks and a little later were given a rooster with 4 hens and 2 more hens came a short while after.
And so now we were off and away!
Currently we've extended to 23 birds:
7 Chickens

9 Ducks

7 Guinea Fowl
At this point in time we are not yet receiving any Guinea Fowl eggs, but we do from the chickens and ducks.
Chickens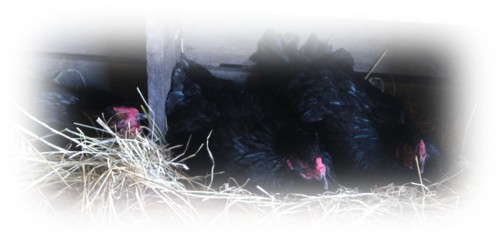 So why are free range eggs better?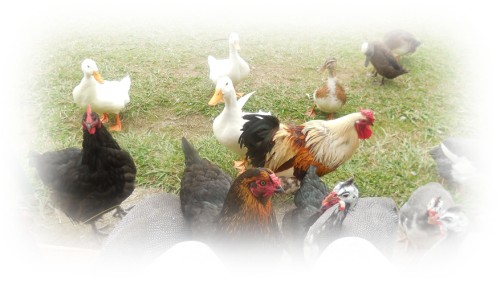 Take a look at my birds, what do you see? This is just some of them and as you may notice they all mix together.
Here they are coming together to receive their "afternoon tea"!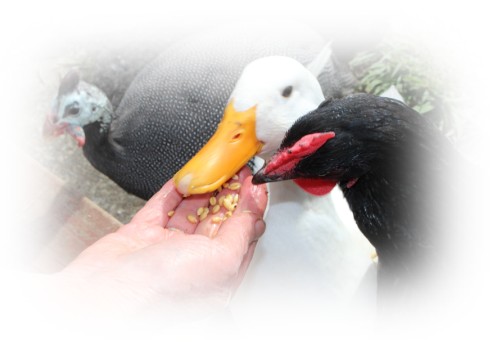 You see, each day I give them sprouted wheat that I've prepared and they sure know when it's time to come.
They love it, and the sprouted wheat loves them… it's very good for all of them.
The ducks have a dam they happily swim on for about half the day, and other than that, all the birds spend the entire day foraging around for every succulent bug and insect they can find, and they all eat grass and weeds all day long.
Can you imagine what this does to their eggs?  Instead of the pale yellow egg yolks found in the barn laid/caged bird eggs, we are blessed with egg yolks the colour of the above duck's bill.
Now here is a warning… don't be fooled by the claim on the cartons that the eggs you are buying are "free range".  Unfortunately this is a misleading statement to the consumer.  The legal definition of "free range" is that the chicken must have access to the outside for 15 minutes per day!  What does "outside" mean?  Usually it's a paved or concrete area and provides virtually no benefit to them at all.  Often, to fulfil the law, a little hole about the size of a chicken is placed at the end of the huge building where they keep these poor battery hens by the thousands.  Yes, it does mean if they ever found the hole they could go outside… so this is allowed!
The truth is that the keepers of battery hens which provide the vast majority of the eggs in our food chain, are not in the slightest bit interested in your health, or really, the health of their chickens.  When you have the chance to come alongside these wonderful birds and begin to learn their natural ways, it breaks your heart to even think about how so many of them are treated.  Each one of them has their own little personality… quite distinct from each other.
I  know when you go to the supermarket and pick up a carton of "free range" eggs, a little image floats into your mind of chickens running around in a paddock, pecking at the grass, picking up insects and enjoying life.  It makes you feel good.  Please don't be fooled as nothing is further from the truth.  My chickens lay in all sorts of places.  Sure I've provided nests for them but every so often they decide they want a change… in the garden shed… in the garage… where the ducks are nesting… or even under the deck!  Can you imagine these large commercial places wandering around large paddocks searching for nests?
Here is a short video which shows the way it can be done humanely, with 400 birds… (love the alpaca looking after them!).
xxx
But do they taste any different?
You'd better believe it!  These eggs are packed full of taste – they are a true delight.  To start with they're fresh… they don't come any fresher then what we get here.  Older eggs lose moisture so they don't whip up like fresh eggs do, but when boiling them they're actually easier to peel than fresh eggs.  But when it comes to taste, you can't beat them.
What about the nutrition?
Did you know that many "free range" eggs are sold when the only "free" bit the hens enjoy is to be let outside onto a concrete slab, or hard soil that no bug could live in?  Yes this life is a touch better than being caged all your life with only half the size of an A4 sheet of paper to move on.  Those birds can't even stretch their wings or preen themselves.  Imagine an itch you have no hope of getting to!  Millions of poor birds spend their entire short lives this way, and it makes my heart ache.
My birds have the good life, like others who keep their own little flock to feed their families and a few others.  But what about you?  You can't keep hens, or don't want to… I understand.  So how can you receive the benefits of eating quality eggs from humanely cared for chickens?
Well, you can buy from a local farmer somewhere near where you live.  These guys deserve your support.  Even if they have hundreds of birds, it's still possible to treat them humanely.  These bird farmers let their birds out to feed naturally as nature intended them to do, and like I do, lock them up at night to keep them from predators.  Hens are happy to have a safe place to roost and are not stressed by it at all, because they know the next day will see them out and about.
To claim they are also organic depends upon the feed… was it organically grown?  As for me, it's not always possible to buy organic feed so sometimes I fall down on that count… but I'm working on it.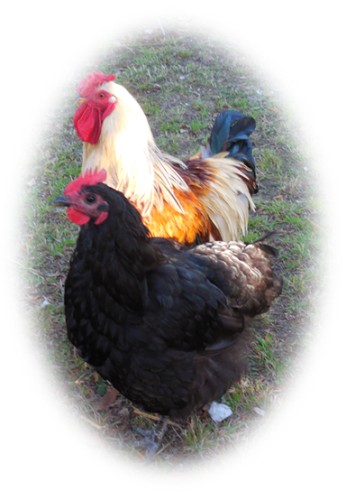 With regular/caged/barn laid eggs you run the risk of salmonella and other issues best avoided.  Plus, if it's possible to buy the "real deal", why support those people who run horror egg houses?  Honestly, if you were ever to visit one of those places you would not want to eat another egg produced like that.
Our rooster, "Roosty" is a genuinely friendly guy.  I love to see him looking after his girls.  The way he sounds the alarm if a crow or some other bigger bird flies over.  The way he calls them when he's found a succulent treat for them to enjoy.  The way he keeps them in check and breaks up fights/arguments as they try to organize a pecking order… he tells them he's the boss and that's all they need to be concerned with!  He sleeps right in the middle of them, and will change places until he feels surrounded and better able to protect them if harm was to come their way.  What a boy!
Does he crow?  Yeap!  Loudly!  But I love it… it's all part of who he is.  He's letting others know (whoever is within range) that this is his turf and they'd better keep away.
All this goes in to making a happy place for us all to live.  I tell them all they're to get along with each other and that my expectation is peace for all.  Generally speaking, this is exactly what I get.  I've actually learned to understand much of their language which is quite fascinating.
Ducks

The ducks lay me quality eggs also but they are a little more of a challenge to find.   Making up nests for them can be a complete waste of time although in more recent times I've managed more successfully.  The main thing is to make sure it's dark and snooky for them.  All the birds enjoy privacy when it's egg laying time.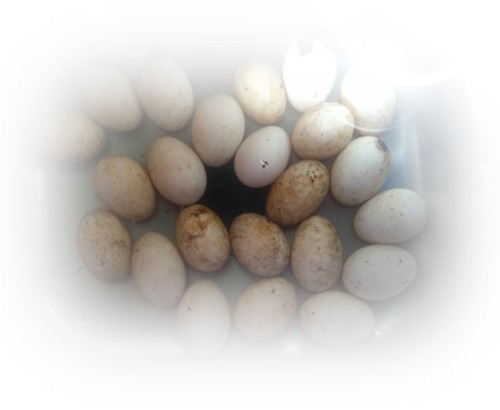 Many times though, it's scouring around the grasses and bush near the dam until you find them.  They are masters of hiding them and it's easy to look into a nest and think there are no eggs in there… but when you feel around you find them hidden from the world.  When they finish laying, normally they push the egg well down in the nest and cover it over on top.  Clever thinking don't you think?

I've found heaps of eggs at a time in well concealed nests.  I thought they weren't laying, but all the time they were sneakily laying a huge pile of them. 
Here I have this dirty lot of eggs (mainly from the grasses and mud the nest was in) in a sink full of water to test them for freshness.  Bad eggs tend to float.  I didn't know how many birds were laying here so couldn't really estimate their age. 
This has happened a couple of times to me, in fact the second time I found 48 eggs completely concealed around the edges of the grass nest they'd made.  Keeps me on my toes!
xxx
Guinea Fowl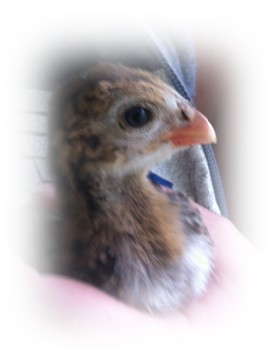 We expect to receive eggs from our 2 female guinea fowl but they are still too young to lay. I am to believe they start laying at about 12 months of age… they are about half way now.
BTW … young guinea fowl are called keets. We raised our keets from eggs that were given to us and used a broody chicken for the job.  She was a wonderful mother to them.  At the same time she hatched a little duckling so the duckling and keets were siblings, and had a chicken for a mother…interesting times.
Which is better… duck or chicken eggs?
Free range, they are both wonderful.  The duck eggs are larger and generally speaking contain more nutrition.  The shells are tougher and harder to break than chicken eggs, which gives them longer shelf life.
One very interesting point is that it's believed that duck eggs help to alkalize your body as opposed to chicken eggs which are acid. If this is indeed so, it would make ducks eggs far superior to chicken eggs.
Personally, I go for both and wouldn't want to be without either.  Duck eggs make wonderful quiches and cooked foods in general… lighter and fluffier.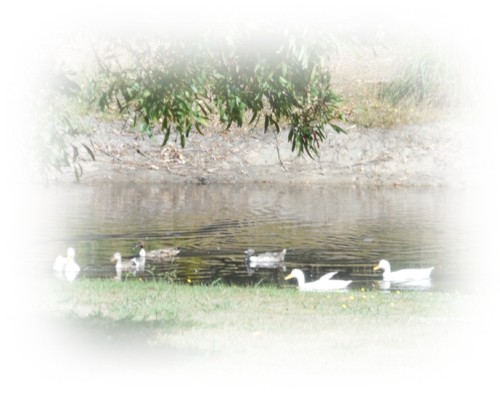 If you haven't tried duck eggs, may I suggest you give them a go.  The taste is the same; the texture is slightly different… they are wonderful birds to keep and don't do any damage in your garden.  I  have to keep my vege patches netted to keep them safe from scratching chickens, but ducks give me no problems.
I've had it said to me that ducks are smelly with their watery "droppings" but I can testify that if you don't keep them locked away in a small yard you'd be hard pressed to find any of it around.  There is no smell at my place just as long as I change the straw every so often in the shed where I lock them at night.
As you can see there are lots of benefits in free range eggs and certainly a lot of difference between free range eggs vs regular eggs. The only thing left to decide is whether you want chicken or duck eggs!  What are your experiences?  Are you able to purchase from a local farmer?  Can you find genuine free range eggs?  Maybe you keep your own… share with us. 🙂
Warm regards,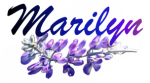 Marilyn Williams