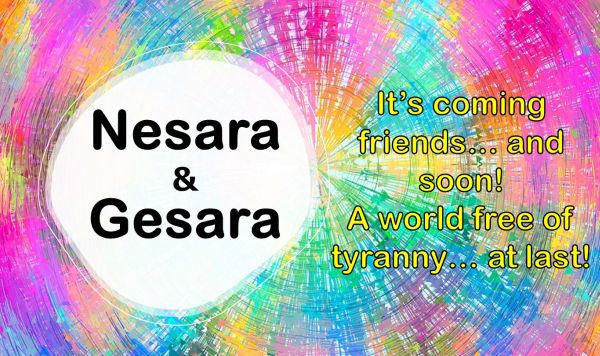 Nesara & Gesara in simple words explains the most ground breaking reformation sweeping the world in its entire history!
Nesara = National Economic Security and Reformation Act (America)
Gesara = Global Economic Security and Reformation Act (Global)
It's SO exciting and definitely the best thing to ever happen to all people worldwide. We have all regarded the way the NWO has been treating us as normal, without realising that what they were doing was completely unlawful in every way.
No more! Their end is near!
Be patient people for the list below to be fully realised, as first the complete removal of the evil satanic-worshipping cabal tyrants that have been running our world.
Nesara & Gesara… here we go:
Debt forgiveness (Jubilee). All illegal banking and government activities such as credit cards, mortgage and loans or fees forgiven
No more Income Tax
Abolish tax collection agencies
Food, medicine, sale of old homes, or any essential items will be tax-free.
A flat rate tax (could be somewhere between 14-17%) on non-essential new items only as revenue for the government.
Senior citizens will receive increased benefits
Law and legal matters returned to Constitutional Law
Reinstating of the original Title of Nobility amendment
Establishes new Presidential and Congressional elections within 120 days after NESARA's announcement. The interim government will cancel all National Emergencies and return us back to Constitutional Law.
No more fraudulent elections owing to the new Quantum System
Creates a new U.S. Treasury rainbow currency backed by gold, silver,
Taken from the old fiat currency (what we are currently used to now) to a gold backed standard (including silver and platinum precious metals) on the new Quantum System
Forbidding the sale of Birth Certificates and/or Baptism Certificates as currently happens
Initiates new Treasury Bank System in alignment with Constitutional Law
Eliminates the Federal Reserve System. During the transition period the Federal Reserve will be allowed to operate side by side of the Treasury for one year in order to remove all Federal Reserve notes from the money supply.
Financial privacy restored
Retraining of all judges and attorneys in Constitutional Law
The cessation of all aggressive government military actions worldwide
Peace established throughout the entire world
Enormous sums of money for humanitarian purposes released
Over 6,000 suppressed technology patents released. Previously withheld from the public by the NWO. These will include free energy devices, anti gravity and sonic healing machines.
For a full description on the history of Nesara/Gesara
The Roll-Out
We don't know if the roll-out of the above will actually come under the names of Nesara & Gesara. In actual fact, who cares what they call it, just bring it on!
You may say, but this all seems too good to possibly be true! I quite understand where you are coming from!
I've heard about this for so long now from reading about it online to hearing many folks discussing it on Youtube etc., that it no longer effects me in that way. So I'm fully expecting it… in fact, I know it is already rolling out in dribs and drabs. Millions have already received debt forgiveness.
I guess President Trump and the 'team' are setting things into motion only when it's safe to do so. We are in a war after all, so much care must be taken.