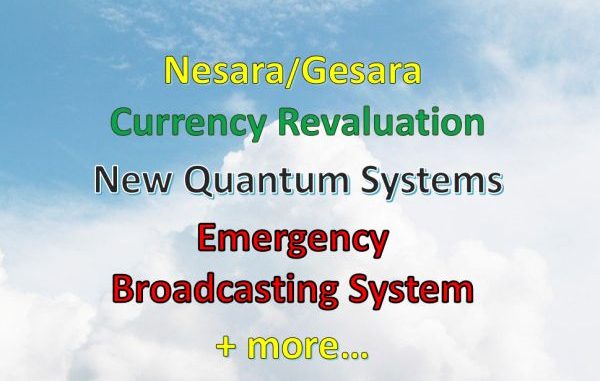 Quantum Nesara RV and EBS are almost upon us! It will roll out any day now.
To learn more about the Quantum systems, Nesara/Gesara, what's happening with the RV (Revaluation) and the EBS (Emergency Broadcasting System) I recommend you check out Judy Byington's page. As you know, I also write about all these things however, for a quick update, I would definitely bookmark her page.
She scans the Internet for many of the most trusted sources and compiles a post on what she finds, so if you are not already a follower of Judy's page, it could well be worth your while.
But can we rely on it as truth?
That's a really good question!
As you know, we are living in a time when we have to be very careful with everything we hear.
Therefore, we need to read what others say and then do our own research.
We cannot rely on any single source of information. We who write posts or put up videos, do the very best we can. Of-course, we may not always get it 100% right, but it is as we find it to be at that time. That doesn't mean we are never to be trusted again, it just means, well… we are in a war, and not all information revealed to us can be released so the enemy can see it. Hope you see what I'm saying?
Yes, it's a war and nothing less. Sting operations and stealth moves. The guys at the fore-front of the battle can't always simply say how it is.
Here is a list of expectations from Restored Republic (Judy Byington):
Planes & Trains grounded
Lights/Power switched off
Changing over to Tesla Free energy
Bitcoin Servers/Data Center hit and turned off for good.
99.5% of Crypto gone China Coins. Enter ISO20022 Coins backed by Precious Metals.
WW3 Scare Event. Nuke Sirens
Water Event
Stock Market Crash
Global Martial Law
Quantum Systems. Project Odin Switched on.
Nesara/Gesara/RV
10 countries will be running EBS to cover the whole World.
Reveals.
We expect it to happen worldwide any moment now.
Quantum Systems Nesara RV EBS… all mentioned here:
This is the link to the page that my post relates to: Dinar Chronicles and Judy Byington
Some dates mentioned have already passed, however don't be too concerned! Just know it's a-coming, soon… sometime… any time!
We are at a very strategic time in history. We are dealing with all the propaganda in the world on a daily basis, plus many times the White Hats put out misinformation to direct everyone away from what they are really doing.
As I say, it's not always easy!
For the latest update by Judy Byington, please do the following:
Go to Restored Republic (Bookmark this page)
Click on down button in Menu called Top Gurus
Select 'Judy Byington' which show all her posts
Select the top post for the latest news
Note: At the bottom of the post page there is a link that will take you through to the full version of that current post. It will open up on Dinar Chronicles. I'm not sure why it's done that way.
Please keep calm!
We have been told not to be concerned by the Global Martial Law. It has to be this way. For a tong time the White Hats have been telling us that the transitions within our countries must be carried out by the military.
Loss of electricity could be anything from between 3 hours to 3 days. Let's hope it's closer to 3 hours for the sake of many. This is when they will switch over to the Tesla free energy.
One more thing I'd like to mention is the WW3 Scare Event and Nuke Sirens which all sounds terrible for sure. However, please mark the words 'scare event'!
Whatever is going to take place at that time, it's not going to be real. It's not designed to scare us! They are working against the enemy.
Therefore, stay indoors if you can… go hide under your bedcovers if that makes you feel better… but really, it's not going to amount to anything. Please remain calm and trust in God.
Although we cannot see it, they are working as quickly as they possibly can
Everything is being done behind the scenes as quickly as they possibly can. Remember, it's a war! There are moves and counter-moves. Sometimes two steps forward and three steps back! It's likened to a five dimensional chess game, which I don't know much about it, but it sure sounds complicated. And this war has been very complicated.
The final take-down of the Ca/bal
Apparently, we are very close to the end of the take-down of the Cab/al. This will go down as one of the greatest feats of history.
Are we excited or scared? Many things we hear of sound very scary if we have no idea of what is going on. This is the time to stay near to God. Pray for those on the frontline of this war. It's dangerous for them… they are relying on us to keep their backs.
The EBS
Imagine a world without the tyranny! As the EBS shows us all what has been happening in our world unbeknown to us, seeing them tell their story at already held tribunals, with their final judgements will help to bring comprehension to a world full of pain and suffering.
It might not be easy for us, in fact, I don't believe it will be, but it's necessary.
As we near the climax and finality of this take-down, and Quantum Nesara RV and the EBS enter our world, we will embark on a time of much learning. Over the coming years we will need to unlearn previous education we thought was based on truth, and relearn how it really is. Are you ready for it? I believe I am!