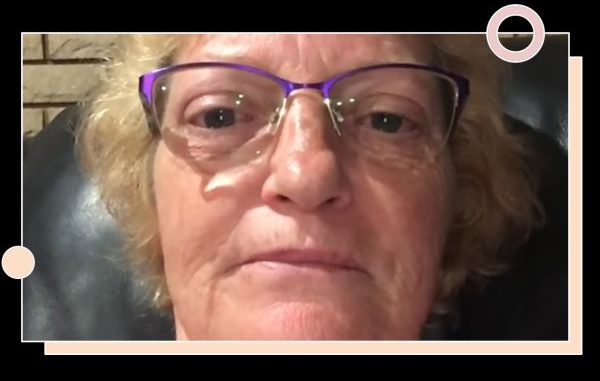 What happens when ordinary people move? Extra-ordinary results! It's so exciting after all we have been through. This is exactly what's happened right here in Australia.
These very same results can be achieved in any country around the world. It just takes one person to say 'enough is enough', then get off their backsides and decide to change their circumstances. This is what happens when ordinary people take it upon themselves to change the world.
This is what Lyn Bennetts decided to do.
Exactly, who is Lyn Bennetts?
She's a representative of 'We The People'! She should be an inspiration to all of us. This is what any one of us can do if we are serious enough.
She is just 'someone' who has risen up at such a time as this. No-one particularly special, but now the government officials are quaking in their boots!
What is the Velvet Revolution?
'Velvet' means NO BLOOD SHED!
The first Velvet Revolution took place in the fall of 1989 in Czechoslovakia. You can read about it here: https://fb.watch/alWiyNYuH2/
The Velvet Revolution Australia, United We Stand… led by Lyn Bennetts
VELVET REVOLUTION AUSTRALIA UNITED WE STAND are…

Challenging the "Constitutionality and Legality of the Australian Government; registered as "COMMONWEALTH OF AUSTRALIA" under OUR Constitution Of The Australian Commonwealth Act 1900 UK.

United to lawfully & constitutionally remove all sitting members from parliament.
(To stand truly united, side by side, again tyranny, fraud, treason & political corruption)
Velvet Revolution Sanctioned Lawful Moratorium
Please read this document to fully comprehend what this is all about. Written by Larry Hannigan.
Here's what happens when ordinary people take on the government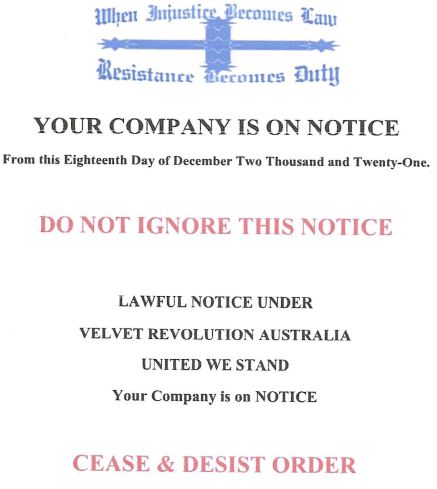 Here is a transcript of a video made by Lyn Bennetts (video below. She explains exactly how they delivered these Cease & Desist Orders in the city of Melbourne:
Transcript begins…
What happens when ordinary people lead a revolution?
Hi everyone. This is Lyn Bennetts, Velvet Revolution Australia United We Stand.
What we achieved on the weekend was nothing short of a miracle. God has been on our side this whole time and we need to trust in Him. So I thank God for everything we achieved on Saturday.
We went down to Melbourne. I can only speak from my own sight. You can catch any updates of people who issued the Sheriff's Degree and the Lawful Notice of Trespass.
I am proud of every Australian that put in on Saturday to stand up and take this country back. As you know on last Friday we served on every government corporate member the sanctioned lawful moratoriums. This officially removed them from office. When we issued the Sheriff's Degree and also the Lawful Notice of Trespass, and we put them all over our buildings, we lawfully claimed them back under a Velvet Revolution.
You have committed treason!
This was the people standing up and saying we're not going to take this anymore. You have committed treason against your own people. You have killed, injured and maimed many people by a vaccine, untested, experimental concoction of drugs. Deadly drugs. Drugs that have injured them to the point that they may not ever get back.
I'm disgusted with how you have gone about this and you cannot seriously call yourself leaders. If any one person was injured, it should have been stopped. That experimental jab should have been stopped!
You now will face the people under a competent jurisdiction.
Some signs removed
I noticed that some of the signs have been taken down off our buildings. The people's buildings. The people have every right to go and replace those notices. It is the Sheriff's Lawful Decree, and the Sheriff's Notice of Trespass. The Lawful Notice of Trespass. Those are our buildings.
People, if you see any action in our buildings, our establishments, that we claim back you are to videotape them, take photos of them and we will ensure that something is done within our lawful capabilities.
When a government is so entrenched in corruption and treason people need to stand for what is right
We achieved a great thing. I'm very proud of every Australian who participated. Sometimes when a government is so entrenched in corruption and treason the people need to stand for what is right.
Our Anzac's died, our soldiers, many soldiers, by the tens of thousands of soldiers died on the battlefields for our rights, our liberties and our freedoms. We don't take that lightly. Every right has been written in blood. Our soldier's blood. And we won't back down from that. Our grandparents, our forefathers, would be rolling in their graves at what this country has come to. We will look after our vets. We have an obligation to look after them.
So proud of our police!
I was so very proud of our police on Saturday when we marched through Melbourne. We had a bit of trouble at Parliament House in Melbourne. I'd already rung ahead to the police and to the Anti-Corruption Terrorist Commission. I spoke directly to them and they assured me that everything would be OK. Under a Velvet Revolution, as we promised, no bloodshed, no animosity or violence. I promised that to the police.
That was why when we got to Melbourne, I don't know whether the young officers who were fronting us actually knew what was happening. They obviously hadn't been told. But when we finally got to the top of the steps, the Senior Sergeant came down and called me up and I was able to go up and hang those notices on the doors of the Parliament House in Melbourne.
We then went around and we claimed back our police officers. Our police offices, not the officers. But we are more than willing to have those police on our side. Yes, we need our people to believe in our police, but we need our police to be lawful.
The High Court in Melbourne – the Family Court, Supreme Court & the Anti Corruption Commission – all fired!
(Cutting what Lyn said short, she explains how all these courts an commissions were all fired!) Then on to the overnor's House…
Governor's House – she has no right there!
What a walk! Every person in that park walks behind us under Velvet Revolution. that was an inspiring moment. They kept pulling me back because I was walking too fast, but I just wanted to get there and do it. So when we were walking up to Governor's House, I walked straight up to the Seal of Great Britain which is clearly marked on the front of Governor's House.
We placed the Sheriff's Lawful Decree on the left gate and we put the Lawful Notice of Trespass on the right gate. There's no way that she could miss that. That is not her property! That is our property! It was inspirational! I was crying… but we did a brilliant thing. You should all be proud of yourself. I'm proud of all of your. We have finally taken this country back, and that was the completion of it on Saturday.
So where do we go from here?
What we're trying to do we then went to court today I haven't gone into the details of what needed to be happening in the court. So I was being guided by Sheriff Sandra Crack and I think that we need some adjustments made. Obviously we're trying to just get it happening and we need some directives.
So I will be talking to Sandra and we need to discuss that. But this is all about being honest with the people about what's happening. And I intend to keep you informed. So we need some assistance in the Common Law courts, we need jurors, we need you to step up and we will be reading out prior to all of the charges that we have laid against our government.
We will be seizing the assets and the funds of every politician
The corrupt… sorry, I shouldn't have said that. I'm so used to everyone saying 'our government'… but they are actually a corrupt government. They are a corporation registered in Washington DC, and that means that they are a foreign entity.
They are a foreign corporation and they cannot sit in our parliaments. They've been there squatting in our buildings. They are a company and haven't been paying rent. They've been using the taxpayer's money to pay all of their expenses.
We will be seizing the assets and the funds of every politician. Every agent, we will be seizing your assets to pay out compensation for what you have done. And we need to make this happen so bear with me. We will get this. We have already got this.
I will keep you updated.
Lyn Bennetts
Velvet Revolution
End transcript…
For great encouragement of what they have actually done, please read the Cease & Desist Orders delivered on 23rd December, 2021
'We The People' ae charging ALL ministers, premiers, governors,, prim ministers past and present including all heads of political parties with Misprision of Treason, treason, Tyranny, Fraud, Treachery and Political Corruption and they have each received the Criminal Charges brought against them.

Cease and desist Orders 23.12.2021
This is exactly what happens when ordinary people make it their business to learn Common Law and how to apply it. Don't allow her to be lonely, we must all join together and finally get this job done. Be encouraged world, this is where we are headed.