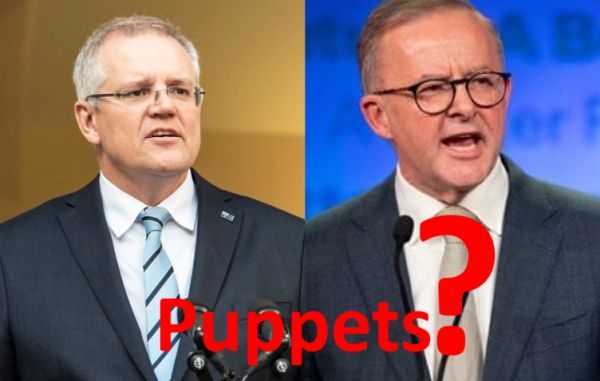 Have you ever believed you live in a free and democratic society? If so, you need to think again! In
Australia we have a new Prime Minister, but like the 2020 elections in the States, it fraught with fraud.
So many incidences prior, during and after the elections, were strange and unusual, and not according to the so-called law of the land. If you are interested in learning what many of them were, there's a video at the foot of this post.
For now, we're going to look at how our new Prime Minister is sworn in… and the farce it represents.
Is this treason?
First up, the only way an incoming Prime Minister can be sworn into office is through a Governor General who is the Queen's Representative here in Australia.
It is to be according to the below document.
I know you can't read it, but it does contain the correct Seal. The Governor General is the Queen's Representative in the 'colony' of Australia.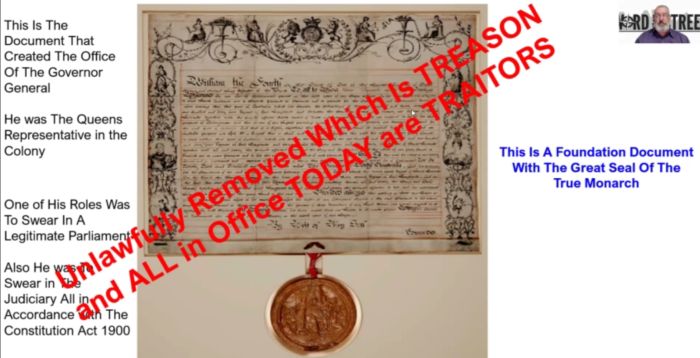 One of his roles is also to swear in the Judiciary, all in accordance with the Constitution Act 1900′. This was unlawfully removed back in 1970's! Now, as stated in red above, it means all in office today are traitors!
So onto how they Swear In a new Prime Minister
To become a Prime Minister, you must swear an oath or repeat an Affirmation. So let's look at what it is.
They swear an Oath if they pick up the Bible, or an give an Affirmation if they choose to do it without the Bible.
Here's what they are supposed to say according to the Parliament of Australia website: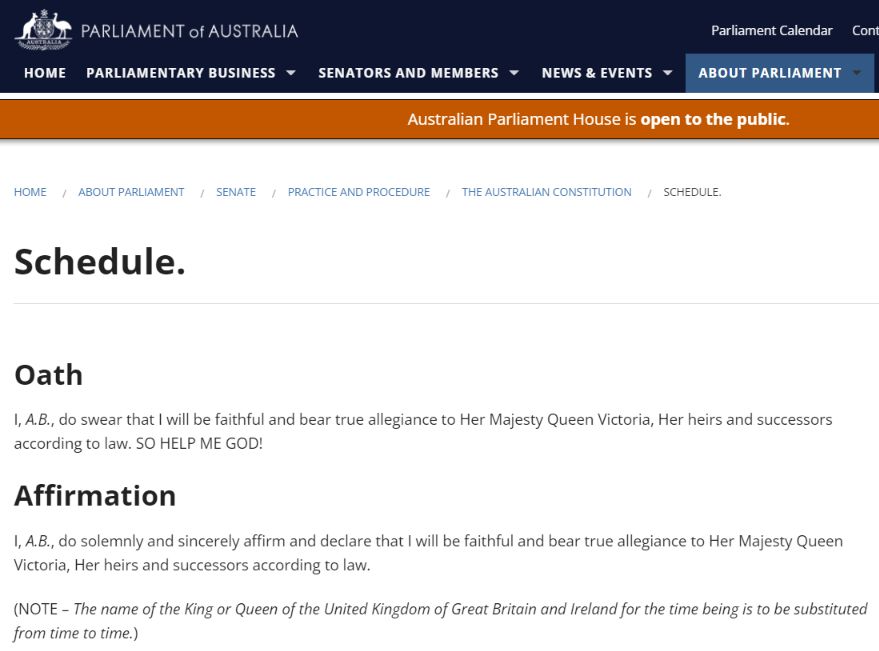 Well, now let's see the swearing in of the current and former Prime Minister in action:
Previous Prime Minister – Scott Morrison
We see Scott Morrison (our previous 'Prime Minister') pick up a Bible and say:
"I, Scott John Morrison, do swear that I will well and truly serve the people of Australia in the office of Prime Minister and I will be faithful and be a true allegiance to Her Majesty, Queen Elizabeth 11, Queen of Australia, so help me God!"

Scott John Morrison
Here's what he should have said:
I, (name) do swear that I will be faithful and bear true allegiance to Her Majesty Queen (Elizabeth 11) Her heirs and successors according to the law. SO HELP ME GOD! – (see document above)

Australian Parliament House
So what is this about a 'Queen on Australia'?
Who is she?
'She' is a fictional character which means Scott John Morrison swore a false Oath. Of-course, according to the Oath written in the parliamentary document above, how come what he said was different to the official document?
New Prime Minister – Anthony Albanese
Now let's see what the new Prime Minister says. Remember, it's supposed to be the same as the parliamentary document… let's see how he goes:
This time he quotes the Affirmation and doesn't pick up a Bible.
'I, Anthony Norman Albanese, do solemnly and sincerely affirm and declare that I will well and truly serve the Commonwealth of Australia, her land and her people in the office of Prime Minister.'

Anthony Norman Albanese
Now what should he have said?
I, (name) do solemnly and sincerely affirm and declare that I will be faithful and bear true allegiance to Her Majesty Queen (Elizabeth 11), Her heirs and successors according to law.

Australian Parliament House
He didn't make any mention of the monarch or their successors. In fact, how close do you feel it was to the parliamentary document up above? Hmm…
How come, in the swearing in of the highest office in Australia, they can seem to say whatever they like?
How would this be for you and me in a legal office? Would they just wave aside any variations we made on a document, just cause? I don't think so!
It's time for us all to rise up against these unlawful acts happening, not only here in Australia, but everywhere you look. They're doing it right before us. No hiding what they're doing… it's right out there!
Are they just puppets?
This does not suggest that these men are for real. It's like they're playing a game, and I suggest, they are laughing at us for believing what they do!
Who's fault is it really?
People watch television and see the new Prime Minister being sworn in and pay no attention to the words they say. First of all, they have no idea of what words are supposed to be quoted, and they make no effort whatsoever to check up.
I mean, who thinks of doing that?
Look, if we had been doing that years ago, these people wouldn't have gotten away with what they have. We would have realised.
But we didn't!
Would we have gone all out against it?
But, would we have acted? Would we have said 'That's not right!'? Or would we just think that somewhere along the line they must have changed the wording without giving it another thought?
I guess we all, me included, have only got what we deserve!
Whilever no-one knows, or has any idea of the lawful words, 'they' can take advantage of us hand over foot.
Mind you, I need to add here, things have not been lawful here in Australia for a very long time. Even if they did read the correct wording!
I want you to remember that nothing they do in any of our parliamentary systems is lawful. They have changed the laws at will and usually get away with it because most of us have no idea what's at stake.
Fake elections abound!
Does this sound familiar? Didn't we watch as the US had their elections 'stolen' from them? Sure we did! We felt sure who the winner would be, but not so. This is thanks to a lot of corruption.
(Remember the plan was for Pre/sident Tru/mp to 'stand aside' and allow Bi/den to do his dirty work. But never fear, Trum/p is still at the helm!)
That very same corruption is right here in Australia, in fact, it's virtually in every country over the world. Don't think it won't happen in your country… oh no… if you have elections on the horizon, guess what… it's a'coming!
But don't get too riled up about it, it has to be. We don't understand the whole plan, but we must trust it.
It has to play out…
If my intel is correct, our Australian parliamentary 'ladies and gentlemen' have already been removed from office. It is believed they've already been arrested and are awaiting their tribunals. I cannot prove this one way or another, but from all we're seeing, it's most probably true. Don't take my word for it, do your own research!
More people need to become aware of the reality… so this very long theatrical production keeps playing until eyes open and comprehension dawns.
There will be happenings coming out very soon, from what we are hearing, that will shock them into realisation. It has to be. There appears to be no other way.
But we will keep calm. Although we will hear of much being talked about around the world, fear not!
Tim Dwyer speaks out
I gleaned some of my information from this video by Time Dwyer. He brings out a lot more interesting info about this 'election'. I would encourage you to listen up.
People in other countries can learn by watching it too, because this is the kind of thing happening everywhere.
For further information, this is a very good video to watch to learn about the kinds of actions 'they' get up to before, during and after an 'election'!
We will continue to see the fake Prime Minister do what he has to do. Try to remain calm even as 'they' threaten us with all kinds of things. We are on the winning team and it will end. Think on these things.