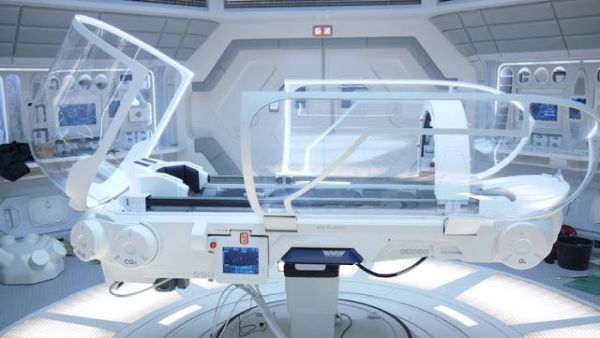 I was watching a Charlie Ward 'Question and Answers' Video last night where a woman asked 'My husband has MS. Would the amazing Med-Beds be able to help him?'
He answered 'Yes, for sure!'
Charlie went on to say that they are 'unbelievable and can cure almost anything!'
He couldn't say much more than that, as although he knows much more, he couldn't share because of an NDA.
For those who don't know what an NDA is:
An NDA (also known as a confidentiality agreement) is a legal contract, which should be used when sensitive information needs to be shared between two parties. It ensures that the person or organisation who gains access to sensitive information doesn't disclose it to a third party.

https://www.ipaustralia.gov.au/ip-for-digital-business/idea/non-disclosure-agreements
This prevents Charlie from sharing too much, as you can see.
So back to these amazing Med-Beds
What can we find out about them?
Do you remember President Trump made mention in a speech:
Wow, what did he mean?
We know the president is a very clever man and never makes mistakes with what he shares. Even apparent mistakes are actually coded messages for the savvy.
He was referring to the amazing Med-Beds. This technology has been suppressed for ever and ever. It's been hidden from the public – ugh, can you imagine that? And even though they knew what they could do, and the countless lives they could save, they chose to hide it away.
Why would they hide these Med-Beds if they are so amazing?
One reason springs to my mind instantly. It's obvious that Big Pharma would not want such an item out and about healing the people they were desperately trying to keep sick! They are making too much money off sickness and disease to fall for that!
The methods available to us for healing and wellness have been hidden for potential decades. It's believed it could even be for centuries! Is it true or not, I don't know, but it's what they're saying.
There are three different types of Med Beds:
Holographic Med Beds
Regenerative Med Beds – regenerates tissue and body parts
Re-atomization Bed Beds – takes about 2-3 minutes to regenerate the whole human body from head to toe.
This is truly an amazing technology and hard to get your head around. I mean, it sounds totally unbelievable! It's like what they make movies out of, and you walk out of them saying 'ha-ha!'
Could it be true?
Why is President Trump talking about them the way he does?
I've tried researching and I still can't work out exactly what we are looking at. I know they are true as I've heard too many people talking about them. There are pictures of them too.
Movies have been made about them, and something I find interesting is the fact that all the 'way out' movies are usually based on truth. We think it's all fiction.
There is a lot of talk about how the technology comes from Extra-Terrestrials. Quite honestly, that's where it leaves me for dead!
I am not New Age. I do not believe in the New Age theory. But, I have to say that I'm open to the fact that there are a lot of things we don't understand, and also… I don't think everything is bad.
If these beds have the capability of healing bodies and repairing DNA, then I think that's wonderful. Humanity has suffered for a very long time, and all the more because these technique's have been kept from us.
There are a lot of incredible technologies that could have improved our way of life that we have not been allowed to use on earth. The ones who have been responsible for keeping it all from us have used it for themselves, deep down in their underground cities.
We have no idea really of how held-back we have been.
Look to the Future
Yes, let's look to the future, rather than spending time being miserable for what we haven't had. How about we look forward to what is coming.
It is said that these med beds will be available in every city. Does that mean they will be installed in every hospital throughout the land? In every country? Maybe this will be the case.
What about the need for vaccines? No… we will not require them anymore.
Cancer? Autism? All other diseases? Apparently, the med-beds are capable of addressing all these problems.
I've heard Charlie Ward say on many of his videos that diseases such as C[ancer, Polio, Aids and many more, were all diseases created by the D]eep State and Big Pharma! This is to keep us sick and using their drugs for 'healing' as they rake in huge dollars.
These people are truly sick. As each and every one of them is ferreted out of the miry pits they squirm in, don't ever allow yourself to feel sorry for them.
What if you've had an organ removed from your body… a Gall Bladder for example? Imagine it being totally regenerated just like it was always there!
With this type of technology around, this is why there is a great need of ridding the earth of all the evil swamp rats. Imagine these wonderful technologies in the hands of evil people? It doesn't bear thinking about!
Well I don't know about you, but I'm more than ready to see these amazing Med-Beds being rolled out. Everyone would want to use one, that's for sure. I really do hope that they are a reality. I don't have any reason to disbelieve Charlie Ward and others I've heard talk about them, but you know… are they really true? Oh I hope so!