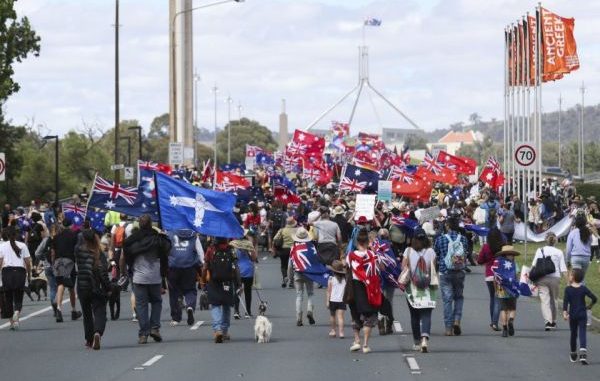 Australia standing up! Many more photos can be seen on their page regarding the Australian convoys. This Image is courtesy of The Sydney Morning Herald, showing protesters in Canberra.
I love the way the Australian Convoys are joining in with all the other convoys from around the world, in particular, our inspiration being ignited by our brave Canadian brothers and sisters.
This is exactly what is needed!
We need to be proactive and do something. Sure it's great to share on social media our thoughts and opinions, but that doesn't do a lot to bring this whole saga to an end.
Sitting behind our computers is only half the job… getting out there is what counts.
Convoy to Canberra – The People's Revolution
Maybe we've all heard that here in Australia a convoy of truckers, cars, bikes and you name it, have landed at Parliament House in Canberra.
Australia's numbers are not huge, but even so, they are pouring out. People who have lost their jobs have nothing to lose by joining others there.
I invite all Australians who read my post to sign the form produced by The People's Revolution which is going to be given to the Prime Minister, Scott Morrison, on the 8th February.

Folk were converging on Canberra from every direction…
So how do we join in the Australian Convoys when we live on the island state of Tasmania?
Many of us here would have loved to have joined in but weren't sure how!
Nevertheless, the way was made by some quick thinking Tassy folks, who through social media, pulled off our own convoy called 'Dover to Devonport'! Yay!
As soon as we heard of this we knew we wanted to be part of it. Unfortunately for us, we had another important meeting planned right at the time they were coming through.
The convoy started off rather small but gathered as it went along. Folk were encouraged to join in from all over the island by gathering a few 'like thinkers' in your own town, convoy together and meet up with the main convoy travelling north.
I believe on arrival at Devonport, they could fill out cards. These were to be placed in a large bottle and then presented to the Premier of Tasmania.
Good job organisers! We are ready for next time!
Considering they pulled this whole thing off within a 24 hour period, I'm ever so proud that so many managed to join in. If we had a bridge crossing the straight, you know, about 200 kilometers long, for sure we would have continued right up and would be gathered in Canberra right now.
For those who are wanting to contribute in some way, be careful of GoFundMe. Instead, if you know of someone on the mainland attending the event, share some money directly to them… I'm sure they would be more than appreciative.
Whether or not you can join in any of these worldwide convoys, be mindful of what you can do. For example, you can share this post! Get it out there. Show others what people will to do to make their voices heard.
The message they are trying to convey is:
Stop the mandates
No more jabs for 5 – 11 year olds
Close down the 'vaccination' centres
Quit discriminating against unva/xxed… it's their choice!
Open up the borders
Simple and to the point.
Australian convoys are proud to participate with their brothers and sisters worldwide. Now what we are looking more than forward to, is that they achieve what they are trying to do. And for that… we will all be thankful.