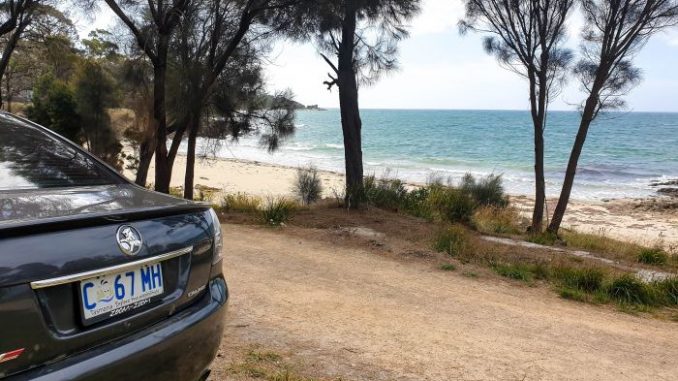 We were off again! When we made our last trip up the the North-Eastern tip of Tasmania, we saw a couple of different things that made us want to explore the area more. We had one full week at home and then headed back to Bridport on the North Coast of Tasmania, to make it our base.
Day 1
The first day we travelled from our home base in Devonport, down to the city of Launceston, then chose the middle road north to Bridport.
Bridport North Coast Tasmania
Although a tad overcast when we arrived at Bridport, we were directed to a beautiful camping spot right near the ocean. We couldn't resist the spot and the breeze was gentle.
No sooner than we opened the boot of the car to take out the tent, the wind arrived! Apparently it was quite unseasonable. Everyone was telling us how wonderful the weather had been right up until that moment. 🙁
Oh well, once again, we experienced a challenge pitching the tent. We never did manage to get it quite straight!
Shoreline walk to the east
Once we had all that sorted, it was off to follow the walking track that passed right past our tent. We headed towards the east to where the 'Trent Waters' flowed out to the sea. It was really windy there so we didn't stay long. But never-the-less, we embraced it and thoroughly enjoyed. the rest of our walk.
Although the wind continued to blow during the night, it was OK and we found we slept soundly to the sound of the waves pounding the shore.
Day 2
Tomahawk
Today we wanted to go explore a little further out. Tomahawk was a little off the beaten track, but not too far. Actually, there wasn't a great deal out there really, just a little village and the beach.
We were fascinated by this fellow who told us he spent his days walking the beaches looking for coins. Turns out he had a bad back so began this activity because you are constantly walking at a slow pace, as the swinging of his body side to side was great exercise for him. Now he felt great.
Over the past two years he'd found 24 rings of which 14 contained valuable stones. Today he pulled out a handful of coins of all kinds, some of which had been in the sand for a long time.
Apart from him, there were no other people on the beach!
Mt Paris Dam Wall
Next we were off on a real adventure. On our last trip this way, I had seen a sign post pointing to the Mt Paris Dam. As we were wanting to get back home, we sailed straight past it. But I did some research and found that we were definitely going back again to see this.
We followed a road called Mt Paris Dam Road. The write up had warned us that the turnoff sign can be hard to find. As it turned out, someone had scrawled it on these trees "Dam Wall" with a couple of arrows. We figured this must be it. The proper sign post had lost it's sign with only the posts remaining.
We drove in about 50 metres and then walked about another 50 metres. Wow… here in the middle of the forest and becoming totally overgrown, was this dam wall.
It no longer contained water… just a dam wall.
Not a large dam by any means, with a wall just 16 metres at the highest part.. It's history was that it was designed in 1939 and held 21 hectares (52 acres) of water. We found it strange and a little eerie!
There was a relatively short history connected to it. At the beginning, it was used by the Tin Mine with an 11 kilometre water race carrying the water across to where it was needed.
Sadly, it was sold in 1939 to be used for water storage but all operations ceased in 1947.
They tried various other options but finally they blasted an opening at the base of the dam wall to allow the natural flow of the Cascade River in 1970. It's been empty ever since.
They ended up cutting four holes into it and then left it for nature to take it's course.
I found the last remaining Foxglove flowers (poisonous little critters), but pretty as a picture against the forest backdrop.
Heading back to camp along Mt Paris Dam Road
This photo was not taken by me and belongs to Peter Whyte Photography, but it shows exactly what we were up against as we continued our journey along the Mt Paris Dam Road.
Just a little word of warning to any taking this trip.
I was driving along the road which looked pretty similar to the one in the photograph, when around a corner a huge loaded truck came barreling along. These guys move fast, and all I can say is praise God there was an area to the side I could duck in to.
It made me very cautious for the rest of that road!
Shoreline walk to the west
Once we arrived back in Bridport we followed the walking track to the west.
Here is what remains after it was burnt down under suspicious circumstances in 1938.
We walked on as far as the Mermaid Pool. This is a very popular kid's swimming spot that's nicely sheltered from any wind. They love to jump off those rocks when the tide is in. Obviously, the tide was quite out at the time.
There is not just one beach, but lots of little beaches with lovely granite rock outcrops in between.
The gorgeous colours on the rocks is caused by lichens. It certainly adds a lot of beauty.
Some of the rocks were made up of strange combinations.
Day 3
It rained a little overnight, but by morning the tent was thoroughly dry. We decided not to chance getting it wet again as the skies were still clouded over.
We packed up quickly. It didn't take us long as we had no wind problems.
As we missed out on breakfast, we decided to have brunch up at the local cafe and then followed another walk heading away from the beach. This part was through a swamp of Paperbark trees.
Exploring more of the North Coast of Tasmania on our way home from Bridport
We had made arrangements to visit our friends in George Town at around 1pm, so on our way there from Bridport we took the time to visit some of the coastal areas along the way. Weymouth, Lulworth, and Beechford.
I don't think any of them had any shops of any kind, and the villages were very small. I didn't see anything there that would attract me to live out that way.
Sure, the beaches were lovely… and deserted…
And the tracks to the beaches surrounded in gorgeous foliage… but not for me as it seemed very isolated and I couldn't imagine what you would do there… fish? Not really into fishing!
Our short time away to Bridport on the North Coast of Tasmania turned out to be a lovely, lovely time, fueling our desire to go away again!