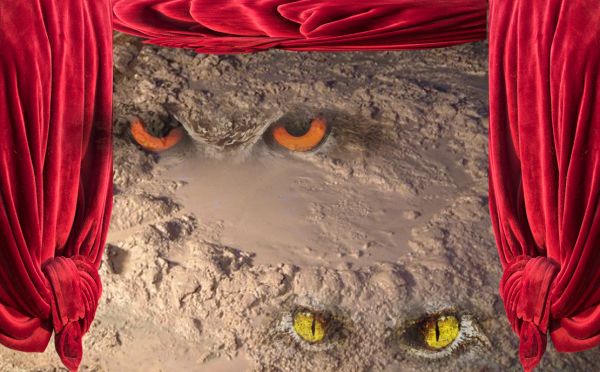 This is definitely the Greatest Show on Earth! It's a huge pantomime that's both dangerous and exciting… all at the same time.
This is the time when the swamp has finally been drained and they are dredging the bottom to make sure they have all the swamp creatures taken out!
First they removed the 'head of the beast' but as time went on they found it best to arrest the minions… the little fellows who squealed on their 'bosses'. This way they found all those hiding in the thick ooze of gooey slop.
If you are accustomed to watching the msm, you most probably have no idea of what is going on. But while most people are caught up with the 'virus' etc, others are enjoying a huge real-life pantomime that's playing out before our eyes.
Do you understand that the NWO are endeavouring to bring out 'The Great Reset'? You have probably heard about that.
Do you understand what it's all about? It's really scary if you understand exactly what it is they were trying to do.
They wanted to take us to a place where we owe nothing, but you don't own anything. If you need to be brought up to speed, read this great post for detailed information:
Very Detailed Explanation Of The Great Reset And The New World Order
Two sources of our information
We have listened to a lot of Dr Charlie Ward's videos. He has given an enormous amount of no-nonsense information, in a way that most people can understand and relate to. Charlie is in contact with intel that comes directly from 'the horse's mouth' which he shares… as he is allowed to.
Another great source we have found along the way is Simon Parkes. He is in contact directly with the Team that works alongside and behind President Trump. He gives good, no-nonsense information also.
Here is a short video just released where he is explaining about what's happening right now with Martial Law etc. Very interesting.
President Trump vowed, he and his team, would drain the swamp. It turned out to be world-wide and very, very deep.
He has continued to dredge through the murky waters, bringing to light the most amazing amount of swamp dwellers. They are catching them out in their dirty deeds and rounding them up, one by one.
Watching the pantomime from our homes
We were alerted to the fact that the swamp drainage had been completed… and so it had… but remember, this is now pantomime! Many of the evil players are role-playing their part. Maybe that's a bit hard to understand, but the real person they represent has already been arrested and taken to Gitmo awaiting tribunal.
Even though it's pantomime, it's still very dangerous. This is the time when the 'stand-in, look-alike' person is being removed. (I am not sure if it's CGI, clone, or look-alike… they have got very good at this these days.)
During the next 30 days or so, the final mopping up of this thick, goopy, disgusting, stinky swamp will be completed.
It doesn't matter whether they are democrat, republican, or any other party name. It doesn't matter which country they live in. If they have not stood for truth and well-being and have been involved in satanic rituals involving human sacrifices, and/or pedophilia, they have been/are being arrested.
In fact, anyone involved in the network of the NWO and guilty of treason, are being herded into Gitmo where they will meet their fate.
We have all suffered under their tyrannical government. Now is the time we will see the reveal of an enormous amount of people who have been hell-bent, not only in stealing elections around the world, but stealing our very lives.
The ending of the Greatest Show of Earth!
It's our turn to enjoy the show. It is not a time to worry and be scared. But, it is a time to pray!
The next few weeks could be rocky. We do not know what twists and turns it will take, but the main thing is to remain steadfast in your faith that it's all going to plan.
'We know the destination, we just don't know the journey'

Favourite saying of Charlie Ward.
Remember, we are told to trust the plan. They tell us everything is as it should be, right now, so we need to trust that it is so.
Break out the popcorn, sit back and wait it out patiently as the greatest show on earth plays out for us all to see.