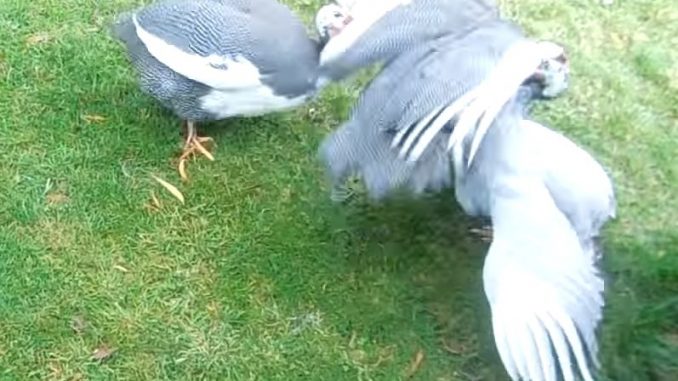 When looking at Guinea Fowl behaviour, it's good to realise right up front that they are very different to hens and roosters.
These birds are a breed of their own and act accordingly.  Whatever you are used to, trust me, it will be quite different with these wonderful, crazy, and thoroughly entertaining birds!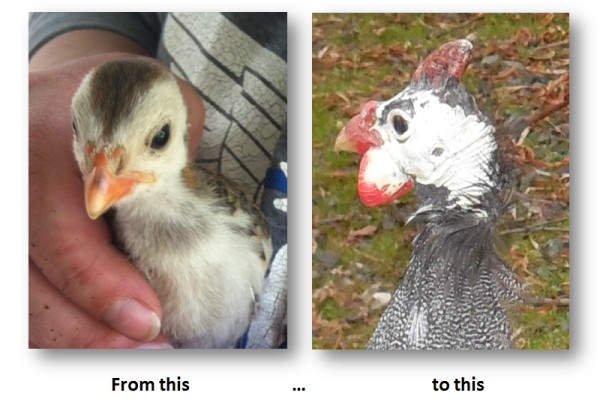 As mentioned in some of my other writings, I started off with just seven of these creatures as little baby keets.  How cute they were, but they were hardly a week old when they were flying all around the little coupe I had them in, together with their mother… a hen. I had to get to work and create a much larger pen to house them safely.
Their wings are amazingly strong… in fact, we are told never to pick a guinea up by the legs (or a keet) as they have the potential of breaking them when they swing around.  I recently watched a man I bought a silver guinea from, catch the bird by its wing… it definitely worked and didn't harm the bird.
Guinea Fowl behaviour when finding a girl
The guineas have two seasons.  In Australia, from October through to March is when they mate and the females lay their eggs.  From April through to September is when they all come together and move around the property in one group.  During this period, they lay no eggs at all.
A couple of weeks before mating season is when the serious business of choosing a mate takes place.  Now most people online say they mate for life, but my birds can tell you quite different to that!  If it was up to the girls, I believe they would stay with their mate forever.  If they could choose, they would remain with their mate year round… but you see, it's the boys who decide.  The girls just have to get used to whatever arrangements the boys sort out.  I mean it, the boys will fight until it's sorted.
This is Silver and Streak fighting over a female… not sure whether it's Penny or Grace.  Notice how upset she is over the fighting and the way she runs at them to try and break it up.  That kind of behaviour doesn't always happen, but can on occasions.
Let me give you an example of how they can change mates…
Silver

started off with

Sally

.  The next year he was with

Lavender.

  The following season, he again took

Lavender

until she died.  Then he fought for

Grace

and changed midstream for

Sally

.
Meanwhile,

Pied

and

Penny

have always been a couple except for one year when another male claimed her.  That year, Pied didn't take another female but instead formed a threesome with

Gray

and

Grace

… two males and one female.

Streak

, on the other hand… one year he had two girls,

Lavender

and

Sally

, which created another threesome… one male and two females. Usually he had either

Lavender

or

Sally

but this last year

Sally

was taken from him and he ended up with

Grace

… who was also pinched off him at the end!  He always tended to be happy with whoever was left over.  He was a great friend to all.

Both the threesomes happened two seasons ago.
I do not believe there is any 'normal' behaviour when it comes to sorting out who will go with who.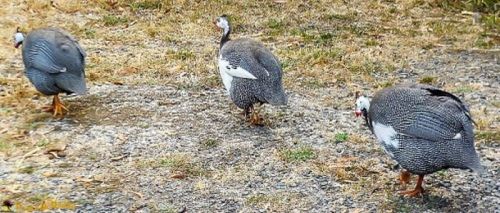 How the females call
During the pre-mating season, the girls will call.  My men dislike this time as they say it drives them crazy.  The girls continue to call until a male responds to them.  They might have it in their minds which boy they'd like to have, but it will be whichever male decides on her.
A female calling for a male.
I've had guinea fowl for approximately four and a half years at this point in time, which means we have been through four pre-mating seasons.  The first three times we had to put up with a lot of calling from the girls, but this last time it was quite different as they all just fell into having the same mate as the year before.  We couldn't believe it was all accomplished so easily.  No problems.  My menfolk were very happy!
But… catastrophe struck!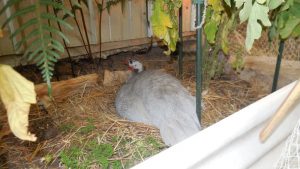 I had four pairs, but Lavender, my silver female, died.  (Lavender is the name of the colour of the silver looking birds.  Some call them 'silvers' and others call them 'lavenders'.   They are definitely silver in colour but with a nice lavender hue, especially around the neck area.  They are very pretty.
Anyway, back to my story… Lavender died, which left both me, and Silver (her partner), very sad.  He cried out for her for days.  I made sure that he got to see her so that maybe he could understand that she was gone… whether it helped or not I have no idea.  But he truly missed her.
After his mourning period was over he set his eyes on one of the other girls called Grace.  The problem was, Grace was with Streak at the time.  (She originally was Gray's girl… Gray & Grace I called them back then).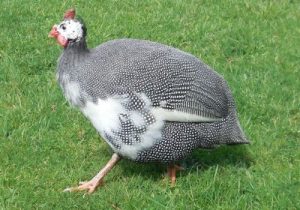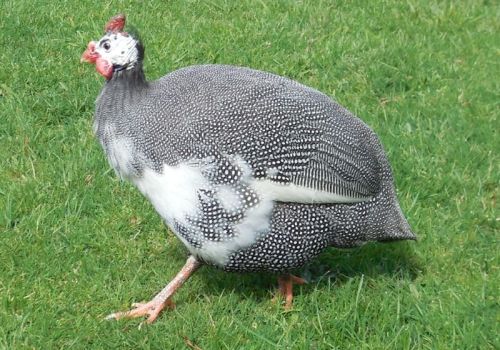 Streak was my overall favourite bird as he had such a wonderful, friendly nature.  I called him Streak because of the white wing feather that showed only on one side.  On the other side you could only see grey feathers.
He wasn't a bully as male guinea's can be, especially towards the hens who they love to terrorise!  I didn't have to teach him to eat out of my hand, he just did.  One day he simply jumped up on my knee and ate seed out of my  hand… as if he'd been doing it all his life!
Oh no! I lost my Streak!
About three weeks after Lavender died, I lost my little Streak.  I was so cut up and I couldn't understand what happened to him, but I do know he was very sick.  A couple of days before he died, Silver decided to challenge Streak for his Gracey, and he quite easily won the battle.  At that time I didn't even realise that Streak was sick, but the challenge really took it out of him.  He didn't recover, although I'm certain it wasn't the fight that killed him, but rather that he was already dreadfully sick.  They have the ability to hide their sickness very well so they don't become easy prey for the birds of prey.  Makes sense, doesn't it.
Will they bond or not?
After the loss of Lavender, it meant I had only three girls for four boys.  So I decided to buy another female quickly as I knew it would create trouble if I didn't have them equal, so I bought another silver female to give to my boy, Silver.  This would allow Streak to go back to Grace.  So I bought the new bird and locked her up with Silver for two weeks to allow them to bond… that was my hope.
Well, all my aspirations went belly-up didn't it!  There wasn't any hope of getting these two silver birds to bond and become mates because… it turned out that the new bird was a male.  Oh no!
He had the wattles of a female (flat against the side of the head), but in every other way he was male… very male!  It's funny how I got caught out because I knew his helmet (on top of his head) looked male but it wasn't as big as my other boys.  Although this photo doesn't show it clearly, the wattles are very flat exactly the same as a female.  The boys' wattles are big and puffy. 
Then with Streak dying on me, I was back to having seven birds again… three females and four males.  🙁  Now I thought… if only I hadn't bought the new bird!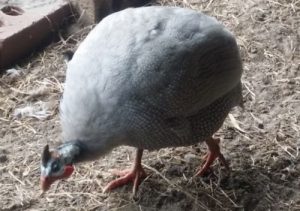 Once I realised the new bird was a male, I called him 'Stirling'.  He has a lovely nature and at least at this time he doesn't terrorise the hens.  He sleeps and eats with them no problems at all.  It will be interesting to see as he becomes more and more used to them, as to whether he will start this annoying habit.
Now the serious fighting begins!
Well, Silver and Stirling, once they were released, began some serious fighting over Grace.  Silver seemed to come out of it alright, but Stirling's feathers were a ruffled mess.  But he is a very determined bird, and kept on.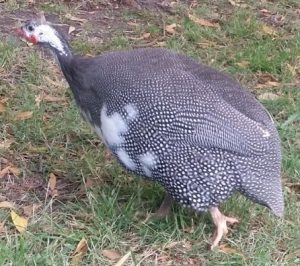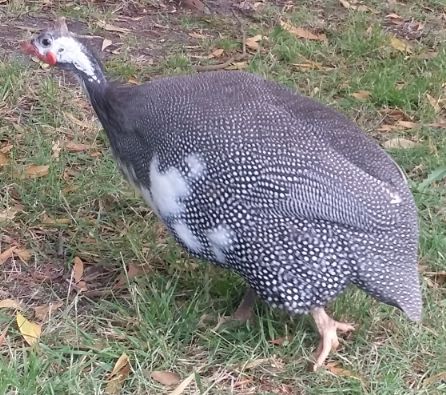 I want Grace… er no… Sally!
Somewhere in all this, I don't know why it happened, or how, there was a change in the girl they were fighting over.  Suddenly, for some unknown reason, they were fighting over Sally!  To add to this, Gray was caught up in it all as well, as Sally was his girl!
Now I had three males fighting over Sally, who didn't know if she was Arthur or Martha, while poor Grace was left by the wayside. 
Now Grace, being left without a mate, began her incessant calling… but no-one came… no, they had their eyes set on Sally.
Gray in hiding!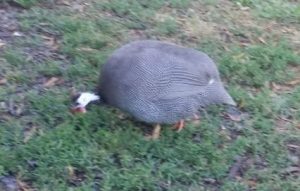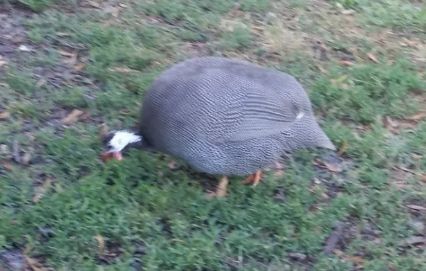 Now Gray had always been the dominant bird, but how this happened I cannot tell, suddenly he was on the run.  Both Silver and Stirling chased him off so much that he went into hiding.  I couldn't find him no matter how much I looked, or called. He appeared at night for his feed and to be locked up, but was gone again first thing in the morning.  What a change… I had never seen him this way before.
After about four days of serious fighting and chasing each other around and around and around… suddenly it all quietened down.  Silver was now with Sally, and Stirling was with Grace.  Gray was back again, but was tending to keep to himself, or sometimes, I noticed him walking around with Pied and Penny.
I  have tried to buy another female but have not been able to find any available.  So at this point in time, my hope is that Pied and Penny will welcome Gray to form a threesome with them.  I've seen this before when Gray & Grace welcomed Pied into a threesome.
Tell me, is your head in a spin?
I guess your head may be spinning with all these names, and the changes.  As I say, mating for life is not always an option.  Some guineas definitely may do it, but not my guys!
This video is when Stirling was after Sally.  You can tell by her calling that she's not completely happy with the idea.  He is also quite agitated, and it's easy for me to know that it's not yet settled.  Look at his ruffled feathers!  Of-course, the outcome was that Silver came back and fought it out for Sally.
Then suddenly Stirling must have realised that Grace was available… and that's when everything finally settled down… I thought!
Yes, I thought it was all over, but my males have continued to spat over the last number of days and I'm not quite sure who they are fighting over.  It seems to be Sally one moment and Grace the next.  I've not seen them quite like this before.  I can't wait to find another female to calm the situation down.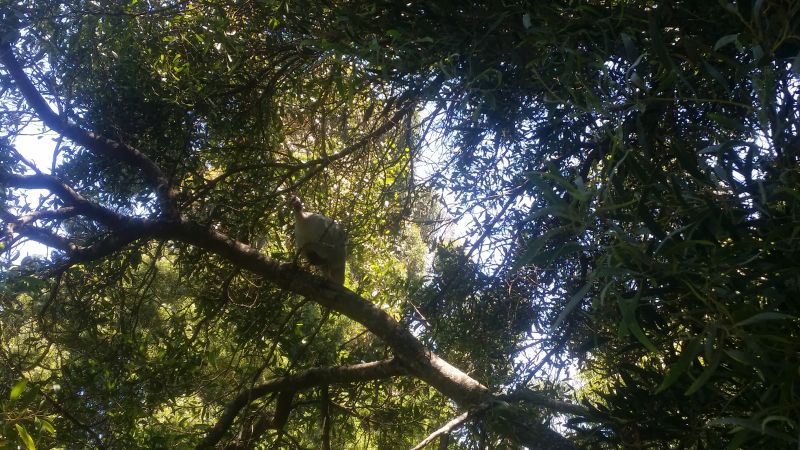 This is Stirling taking refuge high up in a tree.  He's not in hiding, but certainly taking a break from all the fighting.
So, is there a moral to this story?
What have I learned from my experiences?
If you owned a whole group of guineas you wouldn't really know what was going on, but because I have only 4 pairs, or thereabouts, I know each of them intimately.  I wouldn't really want to change this as it's been a wonderful experience learning about their individual habits and customs.
But I would consider having fewer males and more females.  I think if I had two males and four to six females it would have worked better.  The trouble was I loved all my little keets and wanted to keep them all and simply equal it out.
Basically, I have found the males are the more interesting as they have lots of little quirky ways that the females don't have.
What my Guinea Fowl are currently doing…
I have to confess that I had to get up off my chair and go for a wander around the property to check out which birds was with whom!  I can tell you for sure that the current situation is:
Pied, Penny & Gray are wandering around together as a threesome.  I just saw Gray and Penny eating closely together while Pied was about 3 metres away from them contentedly eating grass.  Normally this would never happen as Pied would drive Gray away.  Pied and Gray have always been great mates so I'm happy to see this happening.

Stirling is currently standing guard as Sally is laying an egg in a nest.

Silver and Grace are wandering the property as a couple.
Two weeks later…
It didn't take long before I found they had rearranged themselves again:
Gray has reclaimed Grace

Pied & Penny are happy to continue to be a pair

Silver, Stirling and Sally have created a threesome although Silver is not 100% happy about it, but many times I see the three of them sitting closely together without problems.
A day or two later…
Today Stirling and Silver have decided the fight is on.  Take a look at the video… a lot of running around to start with as it erupts into fighting as the video continues.
So you can see that guinea fowl behaviour when it comes to mating is very different from other domestic birds and overall are a lot of fun to own.
Do you own guinea fowl?  If so, what have you experienced with their antics?