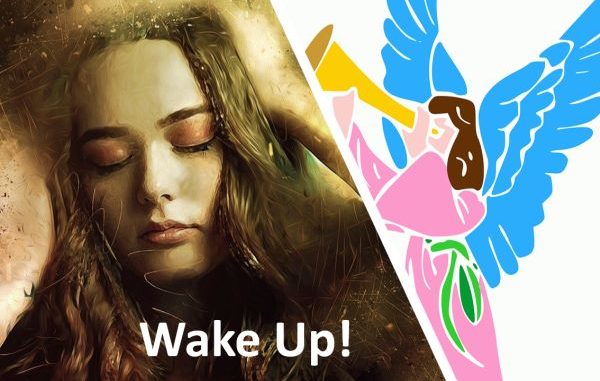 I have decided to address the fact of why don't the sleepers wake up even though everything is so darned obvious to us. This is a question I'm often asked.
What we see in front of us (the awake) is like thunderous trumpet blasts, but still they (the sleepers) sleep on!
Have you ever heard trumpet blasts that can only be heard by a few?
In a theatre… can it be heard only by some?
Over in the park… can only a few hear it?
On a stadium… do most fail to hear?
No!!!
Doesn't happen!
The reality is that as trumpet blasts go out, unless you are deaf, you hear it! Everyone does! Actually even the deaf would know because they'd feel it in their feet.
So why don't the sleepers wake up?
It's so obvious, we say… why can't they see?
For whatever reason, it appears they were not called by God to participate in this great battle.
We were.
Clues are being dropped everywhere!
Not a day goes by that we don't read something, or see a meme, or watch a video, that there are not massive clues being dropped. We see it and can't understand why the sleepers don't wake. The awake want to pull out their hair in frustration.
We shake our heads in disbelief when what is so obvious to us goes straight over the sleepers heads… wake up, we cry!
Yes, we all want this over and done with… absolutely! We so look forward to 'the other side'… but nevertheless you know, there is work still to be done.
Just looking at the strange masks many are wearing should be sufficient, but no… they can't see it. And that's just one of countless clues!
God is always right!
The Bible talks of the seven angels who were given seven trumpets. So there will be seven trumpet blasts. All symbolic language of-course.
And I saw the seven angels which stood before God; and to them were given seven trumpets.

Revelation 8:2
Let's back up a little…
The angels have always known about the horrors that were going on secretly in our world, but they were instructed by God to keep it from us until the right time had come.
We don't fully comprehend why God had to wait thousands of years for 'the right time', but what we do know is that the right time is now and God is always right!
Maybe God had to wait until He had enough people willing to stand up and fight.
We, the awake, have the Mark of God
Before the angels could begin their trumpet blasts, they were instructed to make sure all the 'servants of God' were sealed in their foreheads.
These servants come from every walk of life. This is described by the fact the Bible says they came from the 12 tribes who had been scattered all over the earth.
Do you know that this represents us? We are the ones who have received the seal in our foreheads.
Do I hear you complaining you can't see the seal?
No, we can't see it, but it's really there. Those who have woken up have been marked by God to be part of this massive battle/war against the evil ones.
There's not much talk about this particular mark although we hear so much about the 'Mark of the Beast'. Strange really.
This battle is the Battle of Armageddon
Along the way, many 'truthers' have dropped by the roadside. These people pretended to be 'on our side' but eventually they were exposed. I'm sure this will continue to happen as the truth makes its way up before the light.
If you have been interpreting Armageddon as a battle being fought out on a piece of land somewhere, I encourage you to go look again. You will need God to reveal it to you.
Armageddon
– a final war between good and evil at the end of the world, as described in the Bible
– an event of great destruction
It's interesting that while many are awake, they together with the sleepers, are waiting for certain events to happen before the final battle occurs. Meanwhile, the Battle of Armageddon is well on the way.
It's not a battle between countries, it's a battle between, what we refer to, as 'good and evil'.
There are 'good' people and 'evil' people in every country of the world. The word 'good' refers to those who follow God, or at least have a heart for Him, while the 'evil' people are those who follow Satan. So ultimately, the battle is between God and Satan.
Some could argue with me on this point.
10 As the Scriptures say,

"No one is righteous—
not even one.

Romans 3:10
I know. I know. When using the word 'good' I'm referring to those who have not sold their souls out to the devil. I'm not talking about whether people are righteous before God.
The great destruction is not on us! This destruction is us destroying the evil ones. Yes, they have tried to destroy us but we are the ones who will ultimately destroy them.
Trumpet blasts are symbolic
Fortunately, we know the end from the beginning because our gracious God has given the happenings to us in His Book. We are coming through into a glorious place. In time we will look back on this dark time and only remember how we all played a part in rooting out the enemy. We will rejoice!
In fact, we are told in Revelation that we shall all have a certain song:
…. No one could learn the song except the 144,000 who had been redeemed from the earth.

Revelation 14:3
Can you imagine us all with our own special song?
No-one has been able to interpret the Book of Revelation because it's remained sealed. Sealed from the eyes of our enemy.
Now, because the right time has come and it's way too late for the N/W/O to matter that they can comprehend. Yay! It's surely got them on the run, though many of them were arrested and taken away during White Hat Sting Operations, before they had a chance to know what was going on!
So, it's no longer sealed… it's there for us all to read and interpret as it lines up with exactly what we're seeing in this day. It's not above our ability to comprehend because we can see everything that book describes being played out before us.
If only the non awake sleepers would go read the Book so they could wake up!
Of-course, these last days are mentioned in many books of the Bible, not only in the Revelation.
It's been given to us in a symbolic language, and I believe that was because God was not necessarily keeping it from us, but from the enemy!
Now we need to know, as this is the time!
Don't ever be fooled… our enemies know the Bible, even what is in books from other religious groups.
So who are fighting in this mighty battle endeavouring to wake up the sleepers?
The digital soldiers, as we have come to realise, one way and another, what the enemy has been involved in since… forever. It sickens us to our stomachs, so therefore we do whatever we can to alert others to come join us in the battle.
The servants of the living God (also referred to in the Book of Revelation as the 144,000 – not an actual number but representative) have been given a very important job to do. We have all been called to fight the good fight of faith and see the enemy destroyed.
Fortunately, we know how this battle ends because we've read the Revelation given to us by John. But it doesn't mean we can sit back and take it easy. No way! This battle takes us all!
Some have created channels on Social Media. Others create their own websites and share to their following. With all the videos, posts and memes you can muster, the information has been spread far and wide.
Think of men like the late Dr Rashid Buttar who spoke out so fearlessly. Still a relatively young man with his life snuffed out. I must confess, I'm still hoping to hear he was taken into witness protection. Only time will tell.
But, let us not take anything away from the Worldwide Military Alliance who are physically going to war against the evil ones. These men and women risk losing their lives, as many have done, throughout this dreadful battle.
When you responded to the angel tap on your shoulder, why didn't the other sleepers wake up?
If a trumpet blasted out over a city during the night, not everyone would wake up. In fact, really only a few would wake up.
If a train rumbled by and blew its horn… most would continue sleeping.
When a fierce storm blows its fury during the night, many people don't know anything about it until they see evidence the next morning.
Not everyone wakes up.
When the trumpet blast went out, symbolically speaking, the blast went out to everyone to wake up. Everyone had the same chance, but only a certain number snapped to attention.
Are you the only one in your family?
Fortunately, many husbands and wives have woken up together, but it isn't always the case. I speak with many folk who have their whole immediate family against them. They feel so alone. Why were they the only one to respond? Why does it come across as obvious to them, but their family members can't see it?
But they are not alone. People from all over the world heard that trumpet blast go out, while the vast majority stayed fast asleep.
But you must never forget, if you are the only one in your family who seems to comprehend what is going on, you are one of a very special group of people, called by God.
Yes, others can join us at any time, and are most welcome. We need every single person to come and join with us in the battle to end all battles.
I can't tell you why it was you who woke up and not your partner. Why you are the only member in your family who can see, I cannot say. Apart from the fact that you were chosen by God for this time.
Yes, even you, whoever you are. If you are reading this post and have some idea of what the war is about, you have been chosen to join in the fight. Whether you woke up right at the first, or only just woke up last night. It doesn't matter… you are being called.
Do whatever you can to spread what you have learned. It will not always be easy. Family members can be some of the worst as they need to hear what you're saying from the television before they can or will believe.
We've all found it a tough journey, but that's the way it is
We keep hearing about the EBS (EAS) coming out. Yes, we expected it to come out long ago and here we are all still waiting. All I can say is that it's a lot closer than it was before. 🙂
But, when we are all sitting in front of our TV's watching the explanations coming out, you (that is, you who did wake up) will be in great need to aid the previous sleepers.
People are going to say:
Why?
What?
How come?
Together with a million other questions.
Some may be very upset, especially as it begins to dawn on them the reality of it all.
We will be required to remain calm. We need to try and comprehend what it must be like for them. You and I have woken up gradually, they will be getting all this information over just a number of days. Maybe 10 days, they tell us.
Saying "I told you so" will not cut it, no matter how tempted you are. Being loving and understanding is what will win. We are all in this together.
Seven text messages from Tru/mp
It is believed that we are to receive seven messages from DJT before our phones become disabled. Here is a message found on Telegram: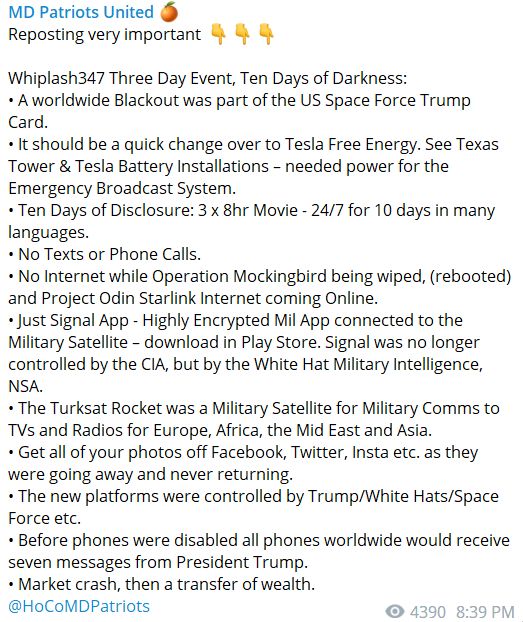 Seven trumpet blasts in the Revelation… seven messages from DJT?? Interesting. 🙂
So, whether you heard the trumpet blasts years ago, or have only just come to the realisation, spread the news. Many say it's already too late for more sleepers to wake up, but truly, don't give up trying.