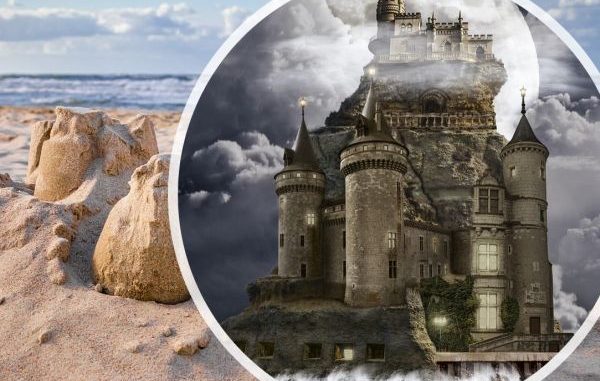 It certainly is true that we are living in a time when we need to question everything!
For far too long, we've trusted those who should never have been trusted!
But, we've been digging for truth, and if there's one thing for absolute sure, it's that we must learn critical thinking and how to question everything we're being told.
We need a solid rock to base ourselves upon
But the truth is, if we don't have a solid rock to stand on, how will we ever be able to ascertain what is true and what is not?
So who or what could this 'solid rock' be?
The Lord is my rock and my fortress and my deliverer…

2 Samuel 2:22
Everyone then who hears these words of mine and does them will be like a wise man who built his house on the rock. And the rain fell, and the floods came, and the winds blew and beat on that house, but it did not fall, because it had been founded on the rock.

Matthew 7:24-25 (As spoken by Jesus)
For all those who have learnt to lean on 'the Rock', know without any shadow of doubt that the Bible, the Word of God, never lets them down.
So for many of us, this is the solid rock we rely upon.
For others, I really don't know what they base their truth upon. There has to be something you can measure your thoughts, or that which you read, against.
When we read or remember what the Book says, we receive the peace that passes all understanding.
Peace that passes all understanding?
It almost appears impossible that in this day and age we could receive peace of this nature, but we do.
Yes, we hear the continual threats being made against humanity in general. The threats of nuclear war for example. The continuing threats we've all become aware of with the D/E/W weapons.
How do we know it's not going to be us next?
It's potentially a very scary thought.
But God…
The question is, do we really believe that God has all what is going on under His total control?
I find there are people questioning the White Hats? Are they really out there? What about the seventeenth letter of the alphabet? Who knows if the med beds are real or not? Maybe it's all fake?
Please remember there are not a group of people out there that go under the name of the White Hats! This is just a term given by those when trying to explain who's doing what.
We are right to question everything
Can we possibly trust that we are being brought out from a very dark place, into a place of light and love?
Or is this all New Age thinking?
Does the Bible talk of such an undertaking?
You'd better believe it!!!
In general words, the removal of those holding us all down by tyranny and the final outcome of a place where all these workers of evil have been removed and dealt with, is spoken of throughout the Word of God. Virtually every Old Testament prophet spoke of it, with many giving a different portion, or a different aspect of the whole.
We can also read about it throughout the Gospels, especially in Matthew. Paul speaks of it in Thessalonians. Then of-course, we have the Book of Revelation!
It's ever so right to question, but it's even more important that you question everything against something solid and proven.
People awakening from all walks of life
In this awakening we are all going through, there are people from all walks of life:
Those who believe in aliens coming from outer space, and those who don't.
Those who have no belief, comprehension or knowing of the Bible, and those who trust it implicitly.
Countless different religions.
And those who believe in some kind of interesting mixture of the Bible and New Age theories.
Many more who do not have anything to do with the Bible, New Age or anything else…
Just to name a few variations.
And yet, somehow we are all waking up together, realising the dreadful treatment of humanity down through the ages, with the ongoing horror experienced by our most vulnerable, the little ch/ildren.
So in other words, if you are a believer in the Bible, take your questions there. Does what you're hearing line up with what we are taught in God's Word?
One of the best ways is to check is… does what you're hearing or reading bring peace? You're not living in a time when there's an indiscriminate God reigning down unbelievable horrors upon you.
Yes I know, the Book of Revelation has been taught within the churches as being just that. As if God has turned into a raging bull in a china shop! No care for anything precious!
But you are precious! You are a child of the living God.
This is a good time to go talk to Him about your life, to see where you stand with God the Father. (Source)
Get personal with Him. That's what He's after. A personal relationship between you and Him.
God is in control
And very unlike a raging bull in a china shop, He cares very much for you and me.
But I can say, He is raging against those who have been treating His children in the most abominable way. All the dreadful happenings you read in the Book of Revelation are being wrought against them, not us!
So this is the time, if you haven't already done it, to choose your side. Are you on God's side?
Go talk with Him and take a stand.
This is surely a battle between good and evil, and we know that good wins, because God wins!
If you are standing on nothing but shifting sand, you will be tossed and turned with every wind of doctrine, and have no idea what to believe. On top of that, you'll experience anything else but peace.
Make a stand today.
So as I've said before, it's right to question everything you hear, but please make sure you are placed firmly on the Rock that the storms of life cannot wash away.
Note: Please be aware this website is copyright. All posts and images are freely available to the public to circulate just as long as they link back to this original source…. marilynjwilliams.com.