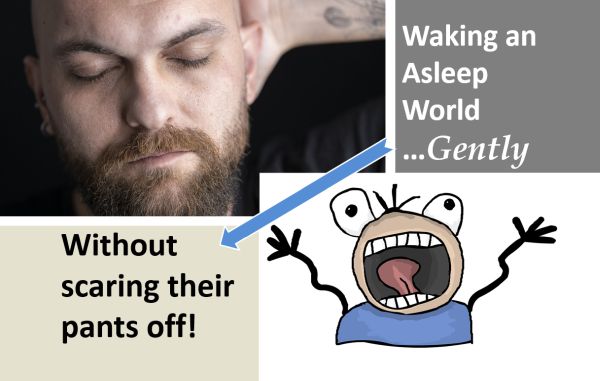 As you watch simple pantomimes being played out before you, ask yourself if it could be real.
For example, Joey Bid/en recently tried to access the Pentagon.
Now surely he would have no trouble as the 'president of the United States of America' would he?
Apparently, an altercation arose between the 200 or so soldiers keeping guard at the Pentagon, and Joey Bi/den with his Secret Service men (if that's what they were… which I doubt!
He got really mad! How dare they try to stop him entering the Pentagon!
So what was this all about?
A couple of things we have to remember…
Joey Biden is being played by an actor. Someone is acting out his position and personality…and…
They DO NOT allow actors into the Pentagon!
Really? Whaaat… I don't understand!
They were performing a pantomime with the intention of making people ask what is going on. People who believe that he is the president would not understand for a minute why they would keep him out of the White House.
Let's look at what pantomimes mean?
A kind of play performed at Christmas time characterized by farce, music, lavish sets, stock roles, and topical jokes.

Sometimes shortened to: panto (as modifier) a pantomime is a theatrical entertainment in which words are replaced by gestures and bodily actions action without words as a means of expression.

1. The art or technique of conveying emotions, actions, feelings, etc., by gestures without speech.
2. A play or entertainment in which the performers express themselves mutely by gestures, often to the accompaniment of music.
3. Significant gesture without speech.
4. An actor in dumb show, as in ancient Rome.

https://www.dictionary.com/browse/pantomime
These acts are referred to as 'taking the mickey' out of someone or something.
Why do you think they have all these clips of Bi/den saying strange things and all the other weird things we've seen him do?
For how long…
As more and more people become aware that there is more to this than meets the eye, a time will come when there will be no more pantomimes.
Very soon, it will be straight out facts for everyone.
The problem has been that it's taking longer to wake up the world than what they originally thought. Instead, people are complicent with whatever they are asked to do. It's crazy really.
The sad thing is that if people were told to walk backwards up the street because they would be less likely to catch co/vid, they'd do it!
We ask, how many more pantomimes do we have to endure before people wake up thinking… "Something's not right here!"
The White Hats are working diligently to show the world what's going on, while at the same time, doing it as gently as they can. They are trying not to scare the pants off the people, but rather to wake them up gently. They are trying not to create panic.
Some absolute facts:
Have people realised that Bi/den has never:
Flown in Air force 1
Flown in Marine 1
Lived in the White House
Signed a true Executive Order
or sat in the Oval Office
The reason he hasn't done any of this is because the real Bi/den is dead.
Yes, this happened sometime last year! He was dealt with because of his many crimes against humanity.
So why the body double?
We can't really tell you the exact reason why. For some reason the White Hats have chosen to do it this way so as not to freak out the public too much.
Most of the people such as the politicians, the Hollywood actors and singing artists, and all those who have been a part of the Deep State, have already been arrested. There are millions of them.
Gradually, behind the scenes, they are going through Military Tribunals, and if found guilty, will either leave this earth or spend the rest of their lives in prison. Meanwhile, most people think there's nothing going on!
Bi//den, the body double, actor or whatever he is, is not allowed to do any of the above things. All he can do is what actors do – act out a part on a theatre set and pretend to be someone that he's not.
A man called Dave Berry sent in some interesting observations:
The White House letterhead only says 'Washington' and not 'Washington DC.'
There is no official presidential seal on any of Bi/den's documentation.
Under his signature, it doesn't state what he is the president of.
Very interesting if I may say so!
All this is going on while many of us believe life is continuing on as usual. Of-course there are a few blimps along the way like Co/vid. But people are believing that when they receive their injection life will go back to normal.
This is dangerous thinking of-course, so 'we the people' have to warn them, every chance we get.
Soon and very soon…
These pantomimes are obviously being directed by the White Hats who on occasion have a little fun!
But truth be told, we are all getting tired of the 'fun' and are ready for the release of truth to the general populace. It is happening, but we must have our 'ears to the ground' to pick up on it. Most of the general public do not.
We have been told that it's very soon. How long is 'soon'? Hopefully… soon!
Lin Wood speaking out without fear
When we see Lin Wood (American attorney) fired up and speaking as he now does, we know it's definitely the beginning of the end for the Deep State. He is saying it like it is. No more pussy-footing around!
I'm sure many of you have already seen this, but maybe those you are sharing with, have not:
https://www.bitchute.com/video/Dv9Ha2uY7TN9/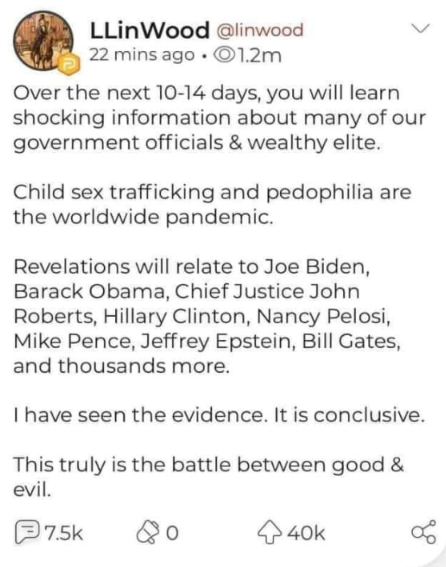 He has called out the various politicians for being involved in 'ch/ild/ s/e/x/ traf/fick/ing. He knows the law, and would not say these things unless he realises that he can.
So what does that tell you?
(I'm not sure what the date of this message is unfortunately.)
So if most all of the 'evil' have been rounded up, arrested and going through military tribunals, it means that basically what's happening now are all pantomimes.
Emergency Broadcasting System
A time is coming, according to what has been advised, there will be a Big Blackout. In place of the Internet, the Emergency Broadcasting System will be used. No-one will be able to watch normal TV. In the place of normal programs, the tribunals will run around the clock.
The reason for this is to finally bring out into the open exactly what has been going on in the earth, and under the earth, for a very long time.
I don't know about you, but I'm ready for it to start happening. How about you? Pantomimes are OK for a season, but let's move on to telling it as it really is, so the world can wake up and we can all move on.