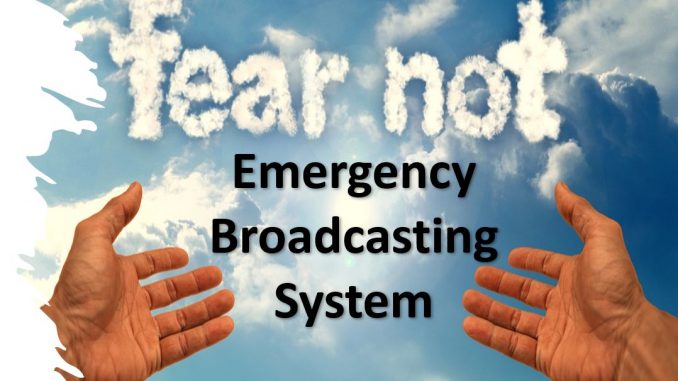 In this article I'm going to cover a little information on how to prepare for the official EBS (Emergency Broadcasting System) that we are told is coming soon.
Many people have been asking me to give them specific information as to what we can expect in the near future. This is an interesting request, as we who are sharing as best we can, have to dig through looking under rocks to find what we hope is information worthy of note.
In many ways, I have not been able to give specific answers because we have't been given any exact timeline.
So today I'm going to direct you to an article written by Judy Byington. Her writings are a compilation of what she finds across the Internet. It's mainly not her thoughts alone.
The State of Emergency
A State of Emergency is being declared around the United States… it's believed so far to be in 17 states. The State of Emergency will start in the USA and then reach out across the world.
This is all a military operation where much will be shut down and we'll enter into the 10 days of darkness. This is also known as a 'Blackout'.
People everywhere are being warned to prepare for such an event. If you haven't already, it would be a great idea if you attended to it now.
So what do you need to do?
It's recommended that each household try to have food and water on hand, together with all essentials… for 2 weeks.
What you need to do is think… what if I can't buy 'such and such' for two weeks? Would I have enough on hand?
What if, for some reason, your taps didn't run; the gas didn't come through; electricity wasn't available?
Would you be able to survive? So think it through, without panic, so you can think logically.
Fuel for the car – not wise to be caught on empty.
Food of all kinds – what if the shops were closed for 2 weeks? What do you need outside of your garden?
Water – what if the taps didn't run? Maybe not likely, but what if? Where would you get your water supply?
Medical supplies – do you have sufficient medications to last for two weeks?
The truth is, you may not need it. We cannot tell exactly what will go down, and what won't. In fact, it's really difficult to advise. Maybe nothing will. It might just be the Internet and not more… we don't know.
But you know what they teach the Boy Scouts… 'Be prepared!'
Prepare for the official EBS
We will be advised when it's to start through alerts coming to our landline phones and mobile/cell phones. This is known as the Emergency Broadcasting System.
Each country has it in place just in case an emergency comes and they need to alert people as quickly as possible.
This same system will be used for us.
What will happen during this time?
It is sometimes referred to as being a 'blackout'. Normally when we think of a blackout, it means our electricity has gone down. I'm sure we've all experienced one or more of them.
I cannot say when it will happen, but from what we are hearing it could be very, very soon. I can think of many reasons why electricity going down would not be good, such as Nursing Homes, Hospitals etc. etc. Especially if it were to last for 10 days.
I don't think it will include electricity, but don't you think it's better to be prepared. What if it does?
Meanwhile, all our TV channels will go off so there will be no watching the news to hear what's going on.
Instead, we are told, that the new Quantum Internet will be sent forth around the world. This wonderful new system will provide us with censor free Social Media and fact-based documentaries. These will begin to teach us what our real history is, as much of what we have been taught is nothing but lies and deception.
It is believed, that during this time, they will run the tribunals of all those who have been arrested, tried and sentenced, belonging to the Cabal. These are the ones who have had tyrannical control of the entire world… up till now.
The reason they want to show us is to help us all understand where things have gone wrong, and why. It will be liberating. Finally, the truth will be revealed for everyone to see.
We can be thankful that the White Hats have worked tirelessly to bring down the Cabal. Their world is crumbling around their ears right now.
Are you helping to spread the news?
Of-course, each person who is sharing this kind of information is also aiding this war. Isn't it amazing we can sit at home, at our own computers, and be an integral part of helping to bring down the enemy!?
Everything is coming to an end as we knew it. The government, politics, financial, pharmaceuticals, social media, even the news media are all toppling over as we speak.
In their place, we can expect:
True and proper government… as it should have been
Politics with fresh new blood… people who actually care about us
The old system of finances will be no more as we experience the new Quantum Financial System
Big Pharma will also be no more and in it's place wonderful natural healings and Med-Beds
yes, the list just goes on and on!
Judy also shares quite a bit of other relevant news… read and enjoy.
As we prepare for the official EBS, please don't be afraid when it all begins to happen. Because you are in the know, it will be important that you are there for others, especially the elderly, who may not have had any chance to learn what is to come.