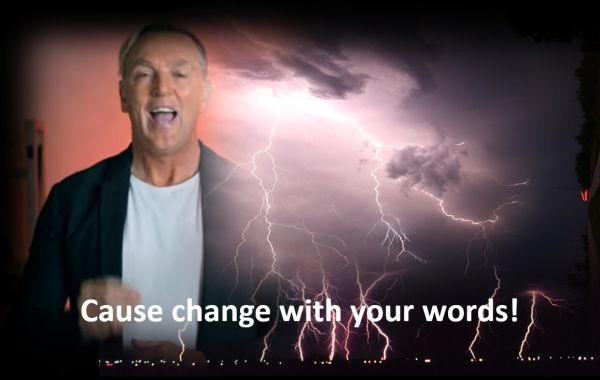 Victory! Isn't that what we are all waiting for?
We're so tired with all the waiting. So many are complaining, just wishing it would all end!
But… are we all actively involved? Is there anything we're doing to aid the process of bringing this war against evil to an end?
"But it's not up to us!"
Oh yes it is!
How?
Well, that's what I'm about to explain…
Speak words of victory, not defeat!
You see, it all comes down to our faith, and our faith comes down to the words we are speaking.
Are you speaking complaining words, which does nothing to bring this huge battle to an end? Or are you speaking words of faith… words of victory?
It's a good question.
We need to become more aware of the words that come out of our mouth. Are they victory words or condemning and/or complaining words?
I keep on saying, that during this amazing war we're currently in, we need to stick together unlike ever before. This is not the time to be speaking out against our fellow soldiers.
OK, ok… so you don't agree with everything people say. So what! The important thing is that you don't go spreading it around. Others may, or may not, agree with you, but this is not the time!
Positive words of faith should be the only words coming out of your mouth.
If you keep it that way, some incredible things will happen. The most of which is victory over the enemy. After all, we receive enough from the dark side already, so please be careful not to join their ranks.
Evil runs deep
As we now know, Baal worship has been going on for thousands of years. We believed it was something from the dim, dark past, but not so.
Baal, or Moloch actually means nothing more than Satan. Satan has a thirst for blood, so the people who worship him offer their children as a sacrifice.
I know, it's unthinkable to us, but perfectly normal to them.
Basically, in a nutshell, this is what this current war is all about. The removal of all those caught up in this evil which has tentacles that reach far and wide throughout our communities.
It's the release of all those precious children they have had locked away from our sight. It's stopping the money chain the evil ones use. No finance = no dealings!
That's the new QFS (Quantum Financial System). Suddenly, the dr/ug lords, the huge sums made from organ harvesting, all the various tr/affi/cking etc… all comes to a grinding halt!
This is a battle that requires us all to put on the armour of God and do our part.
A man who could take it no more!
Back in the day, Ahab became the ruler over Israel. Instead of leading the people in truth, he chose the side of evil. He took Jezebel to be his wife who was from the dark side… and to please her he went completely into Baal worship.
As a result of this despicable thing:
Now there was a man named Elijah living at that time. We know nothing about him before he entered the scene. We read: And Elijah the Tishbite, who was of the inhabitants of Gilead, said unto Ahab:
As the Lord God of Israel liveth, before whom I stand, there shall not be dew nor rain these years, but according to my word.

1 Kings 17:1
Who's word? My word = Elijah's word!
Imagine that! He just marched up to Ahab and declared there would be no more rain for three and a half years! Not even dew on the ground! Zilch! Nada!
Wow!
He was warning Ahab to repent and change his ways, or else.
Did he seeks God's face with words like: "Oh Lord, if it be thy will, cause this man to repent of his evil ways… blah… blah… blah!"
No!
He said!
Or in other words… he declared.
My… (Elijah's) word!
This wasn't a time for talking to God, no, it was a time to declare to Ahab that because of his evil, this is what is going to happen.
Did he go home thinking, oh my goodness, what have I done? I'd better go and check with God about this as He's the only one who can stop the rain.
No, because he was fired up and spoke in the power and authority of His Name!
Long story short!
It didn't rain for three and a half years, just as Elijah said it wouldn't. This exciting story continues through chapters 17 & 18 telling of how he gathered together all the prophets of Baal and slew the lot of them with the sword. Not one remained!
You really should read through these chapters as we are seeing this very thing today. People think these incidents are just 'Bible stories' and don't have much relevance to today.
Many don't even take the time to read through the script that talks of how it was then, is how it is now!
So sad!
There is nothing new under the sun
As God's chosen people of today… we call them the White Hats… are removing these same evil people from the face of the earth, we are called of God to pray.
This is not a matter of praying some insipid prayer, but to speak forth the very words given us to lead us through into victory.
God's words… found in His Book!
Speak them with the power and authority that He has given us.
Every time fear thoughts enter, drive them out using God's words.
God not only will win, He has already won! He always sees the end from the beginning. He asks us to do the same.
The only way we can do that is though speaking as He speaks! Seeing as He sees.
I also encourage you to listen to Pastor Jurgen Matthesius. What a powerful message he brings here as he encourages us to not give up. So very relevant to current events.
He says to 'Pray again!' Not insipid prayers… speaking God's Word type prayers.
Victory prayers!
Another man gives us the example
As I wrap this up I want to bring your attention to another man. His name is Peter.
They came across a man who had been lame all his life. He was begging Peter and John to give him a little money.
But Peter asked him to "Look on us!"
Now the man was really expectant of receiving something, so sure, he looked them right in the face!
Then Peter said:
Then Peter said, Silver and gold have I none; but such as I have give I thee: In the name of Jesus Christ of Nazareth rise up and walk.

Acts 3:6
It goes on to say that the man was 'walking and leaping and praising God'!
Now, the point I want to make here is that Peter did not pray for him! No, instead he simply told him to rise up and walk!
Peter didn't have that power and authority to do that in himself! Of-course not… he was just Peter. But he was using the power and authority that Jesus gave him.
We have this very same power and authority to speak in His Name.
So there are just two men, Elijah and Peter, who didn't set to praying about the situation, but rather, they spoke forth what they wanted to see take place.
Are they special? Many think they are, but really, they are just two men who dared to do what God wants us all to do.
We need to rise up and be counted.
Victory is ours and we claim it in Jesus' Name!