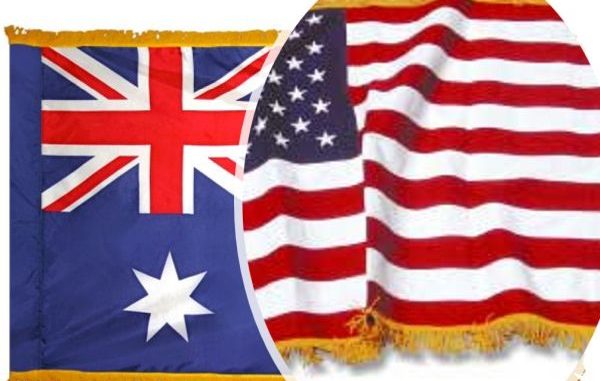 Do you know we're coming out from under Maritime Law? Did you even know that we were under such a law?
The laws that have been governing our lands are corrupt and evil. They are not for the people, but to service the elite… the Cabal… the New World Order… One World Government.
You can read about Maritime Law from Britannica.com. The 'head of this beast'… the 13 families who were ultimately in control of the whole world, (since have been arrested) were gathered in Venice, or more precisely, the Republic of Venice. This is an island city which operated under the Law of the Sea.
But what is this about the Gold Fringe?
These flags above are what we are accustomed to… the ones our good men and women in the past fought and died for.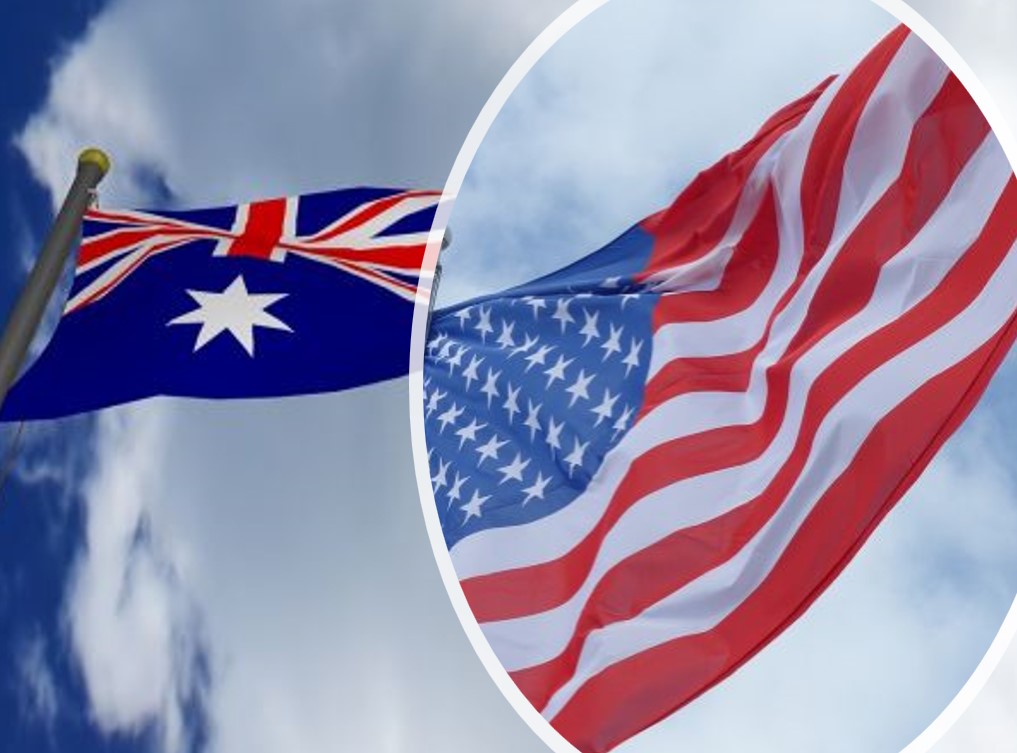 Why do the ones above have a gold fringe around the edges?
It's symbolism!
Hmm… ok, but what does it mean?
The gold fringe represents historically that we are at war!
Well I certainly have to say we are genuinely at war at the moment, and have been for the past four years. It's a war between good and evil! A war between those that stand up for the good of the people versus the Deep State… the Cabal.
While most don't realise it, we are currently in the 3rd World War. It's a war that's greater and more far reaching than any previous war.
So strange really… for most, life continues relatively as normal, but behind the scenes it's very, very real.
A gold fringe symbolizes that we are under Maritime Law, which is Admiralty Law… the Law of the Sea.
You just have to do a google search to find the flags of other nations all fringed with gold. They hang in our government buildings and court rooms.
So what is the significance of this?
Admiralty Law = No Nation = No Constitution!
When you step into a courtroom that displays a gold fringed flag, it means that you have stepped into a place that contains no constitutional law, no common law of the land, no civil law and no statue law!
It is there as a warning sign – you are guilty and must prove that you are not!
What does the Gold Fringe Flag symbolize
Gold Fringed Flags
Gold Fringed Flag Facts
The Shocking Secret about Court Room Flags and its Warning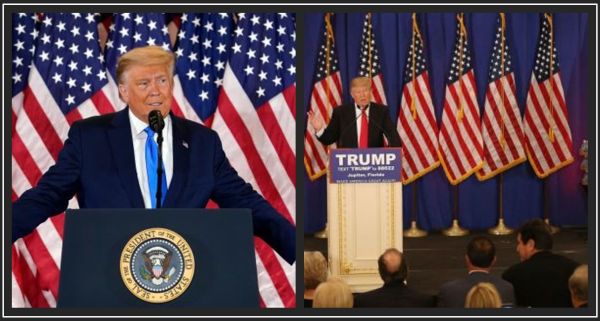 Here are two images. The one to the right shows PT speaking at a rally when he was campaigning before being elected as president. You will notice that all the flags behind him are gold-fringed. In fact, whenever you see the flags portrayed behind him in this manner, they all contain the fringes.
To the left is an image of him in the same situation but taken since the current elections. Guess what? There were no gold fringes around the flags! He was relaying a message to us.
So what is the true significance of this?
Donald Trump is a very clever man and is big on symbology, so much so that many call it 'Trumpology'! An astute person would have noticed that the fringes were no longer on the flags behind him. This means we are already moving into Nesara/Gesara. America will no longer be under Admiralty Law – as it will be for the entire world.
When PT explained many times that he was going to be 'cleaning out the swamp', not one of us had any idea of what he really meant. But we can see it so clearly now. We just had no idea of how big the swamp was… that it was worldwide!
This war has been carried on using… Stealth – Undercover – Sting Operations. Quietly they have been rounding up all those involved in acts regarding children, drug lords, human trafficking, voting fraud etc. etc. They will all be brought to account.
There will be a moving away from the Admiralty Law – the Law of the Sea, back to the Common Law Constitutional Law.
Unemployed Pollies!
All the people such as the governors, the prime ministers, and government officials worldwide will no longer have a job! They were all employed under the old system – the Law of the Sea, Maritime Law… but once Common Law comes back they are no longer employed.
The System Drained
That system represents part of the swamp that President Trump vowed to drain… and drain it he has… along with Hollywood (closed down), the Vatican (closed down), Buckingham Palace (boarded up)… and all evil governments, around the world. This includes countless CEO's, and all those in positions that run our individual countries.
Capitulation and Arrests
We have to realise and understand… all governments around the world have capitulated (surrended to) President Trump. In other words, he was able to go to them and show dossiers of evidence against them. Most of which were involved in child and human trafficking together with the sex and drug trades). They had to surrender and many were arrested.
If they were found to be involved in these things, they were to be executed. If they agreed to help the good guys – the White Hats – they were allowed to remain alive to facilitate that job.
I am not sure exactly who has been executed and who hasn't… or who have been taken. This information hasn't really been officially released yet. It is due to come out over the coming weeks and/or months. I have seen some leaked information of who is on the list and it fair took my breath away. We need to wait and see.
Many can still be seen going about their business but once again we have to realise that many high profile people have a number of body doubles. Some potentially are clones, I've been led to believe. That would explain a lot of crazy actions we've seen going on. It's sometimes very hard to tell the difference, one way or another.
Goodbye Maritime Law… Hello Nesara/Gesara!
Nesara/Gesara requires that all governments have to step down and re-elections have to take place within a 120 day period after the inception of it.
What is happening in America is soon to happen across the world. Nesara takes care of America under Donald Trump, while Gesara is worldwide.
NESARA = National Economic Security and Recovery Act
GESARA = Global Economic Security and Recovery Act
No-one can say that Nesara/Gesara will be exactly as we've been told, but it does give us a good idea of what is to come.
Arrests and Re-election
With the use of the Quantum Voting System, together with all the rest of the information they have on the crooked elections, they have more than sufficient to take the evil men and women out.
Having said that, what do I see as ahead?
Many, many arrests taking place first while they take all the evidence to the courts.
Within, I have a distinct feeling, that this will lead into Nesara/Gesara being released which will then require a new election within 120 days.
I may be wrong easily enough, but the writing is on the wall.
Worldwide Re-elections
Who are we going to choose to lead us? Certainly not any of the evil and corrupt politicians that have been currently leading us all astray.
Imagine all the retired business men we have in our countries… I would think many of them could be outstanding.
It will be a new chance for all the good men and women to stand up who have previously stayed out of the dirty scene, understanding how corrupt it was.
Watch as the Movie Plays Out
While all this carry-on is going on with the US elections, it's a time for us to be very excited. Although it looks like things are not going to plan, they really are.
We need to trust the well rehearsed plan and watch it as it plays out… and the draining of the swamp becomes complete.
Down the Gurgler They'll Go
One of the last to go down will be the corrupt media… I can't wait for that one to happen! I'm really over all their lies and deceit. I detest the way they twist every little thing of good and show it as being bad. The only way to stay positive through this time is to not listen to their news. People only have to open their mouths and I can tell if they watch the msm news or not!
Good times are ahead… let's go!
For further information – "Super Round Table with Charlie Ward & Friends"
So finally, the time is almost upon us when we will be coming out from under Maritime Law. Who-Hoo! I can't wait… how about you?